The Trans-Pacific Partnership: How Tea Party rage could actually help American workers
Free trade deals have a history of benefiting the rich, but the TPP may get squashed by a very unlikely enemy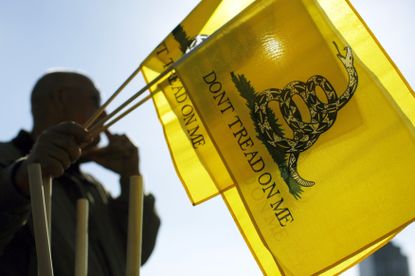 Sign up to our 10 Things You Need to Know Today newsletter
A free daily digest of the biggest news stories of the day - and the best features from our website
Thank you for signing up to TheWeek. You will receive a verification email shortly.
There was a problem. Please refresh the page and try again.
The Trans-Pacific Partnership, a mega deal that would lower trade barriers between the U.S. and 11 other nations that border the Pacific Ocean, is getting hit by increasingly ferocious opposition. The surprising part, for this day and age, is that the opposition is bipartisan.
The possible demise of the free trade deal — which President Obama has been trying to shepherd to completion for nearly his entire time in office — is a lesson in the complexities of international negotiations, the drawbacks of abstract economic theories, and the ways the powerful can leverage both to their advantage. But it's also a lesson in how political grievances can interact with those complexities in unexpected, maybe even unintentionally beneficial ways.
What's at issue at this specific moment is "trade promotion authority," or "fast-track" promotion as it's colloquially known. That's where Congress grants the executive the ability to negotiate all the different parts of a trade agreement, then bring it to Congress for a simple up-or-down vote. Lawmakers can't amend and haggle over different parts of the deal while it's being negotiated. Fast-track authority has to be re-authorized every five years, and the last time it expired was in 2007.
Subscribe to The Week
Escape your echo chamber. Get the facts behind the news, plus analysis from multiple perspectives.
SUBSCRIBE & SAVE
Sign up for The Week's Free Newsletters
From our morning news briefing to a weekly Good News Newsletter, get the best of The Week delivered directly to your inbox.
From our morning news briefing to a weekly Good News Newsletter, get the best of The Week delivered directly to your inbox.
Now the Obama administration wants it back to bring the Trans-Pacific Partnership (TPP) home.
But according to The New York Times, the push has run up against an unusual but highly motivated alliance, with left-wing populists like Sen. Bernie Sanders (I-Vt.) and Rep. Rosa DeLauro (D-Conn.) on one side and Tea Party–aligned Republicans on the other. That's left the White House fighting a two-front battle, with establishment Republicans like Rep. Paul Ryan (R-Wisc.), Senate Majority Leader Mitch McConnell (R-Ky.), and House Speaker John Boehner (R-Ohio) as its unlikely allies.
Now, Sanders and DeLauro's reasoning is straightforward enough; they're not so much opposed to fast-tracking specifically as they're opposed to the TPP entirely. The era of free-trade agreements has also been the era of off-shoring and declining jobs for the middle and working class, all amidst rising inequality.
The theory behind the trade deals boils down to factors like "specialization" and "comparative advantage." That's economics-speak for how, in modern economies, people don't do everything for themselves; they pick one or a small number of goods and services they're really good at providing, earn their money with those, and then trade with other people doing other things well for everything else they need. The quality of goods and services across the board goes up, prices come down, and everybody wins.
To an extent, this can be generalized to the country level as well. If we break down regulatory barriers and tariffs between countries, that same process of trade and specialization and comparative advantage can take place. In 2012, the Peterson Institute for International Economics ran an analysis on the shape of the TPP deal at the time and determined it would increase the U.S. economy by $78 billion a year.
But that theory has difficulty mapping on to messy reality. There's a gargantuan number of moving parts that need to be brought into sync for goods and services to flow freely between two countries (let alone 12): copyright laws, tariffs, regulations for goods, labor laws, standards for manufacturing, environmental codes, and even how different companies or countries can address trade grievances in international courts.
Different combinations will effect different groups within countries in different ways. The way it's generally played out in the past is that the types of trade that cut the incomes and jobs of middle- and working-class Americans get unleashed, while those that cut the incomes and jobs of upper-class Americans remain restrained. The Center for Economic and Policy Research responded to the Peterson Institute by analyzing how the TPP would effect the distribution of incomes in the U.S. if the pattern followed what happened after previous trade deals — the CEPR found a very, very slight improvement for the bottom third of workers, massive gains for roughly the top 5 percent, and losses for everyone else.
"Fast track" authority is understandably attractive for the way it can simplify negotiations. But in practice what tends to happen is that powerful interests wield disproportionate influence, shaping the trade-offs over different policy questions to their benefit. More than 600 corporate lobbyists have already had access to the negotiation texts, while Democrats and other groups are still calling for drafts to be made available to the general public.
What's weird here, though, is the opposition from certain Republicans. "This president has tried to rule by dictate in a number of arenas," said Rep. Dana Rohrabacher (R-Calif.). "A lot of people think this president has been much more aggressive in centralizing power." The Tea Party–friendly Heritage Foundation expressed "serious concerns" about trade promotion authority given "the president's frequent usurpation of legislative authority."
The lack of concern for workers shouldn't be surprising — the GOP's coalition of voters relies more heavily on the upper class and the wealthy, and less heavily on the working class, than the Democrats' coalition. (Keep this in mind whenever outlets like the Times continue that annoying tic of calling the Tea Party "populist.") Instead, what seems to be motivating the Republican opposition is raw hostility to the whole idea of giving Obama expanded power over anything, for any reason. The president is their bête noire, so giving him more authority in any sphere is just ipso facto bad.
It's an incredibly silly position. But it also might be an instance in which a fit of Tea Party pique actually winds up helping everyday American workers.
Continue reading for free
We hope you're enjoying The Week's refreshingly open-minded journalism.
Subscribed to The Week? Register your account with the same email as your subscription.
Sign up to our 10 Things You Need to Know Today newsletter
A free daily digest of the biggest news stories of the day - and the best features from our website
Jeff Spross was the economics and business correspondent at TheWeek.com. He was previously a reporter at ThinkProgress.