Duck Dynasty's Phil Robertson, and the secret conservative obsession with celebrity
Giving the reality TV star a free speech award is the height of embarrassment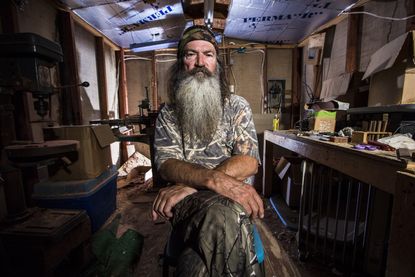 (Image credit: (AP Photo/A&E))
Sign up to our 10 Things You Need to Know Today newsletter
A free daily digest of the biggest news stories of the day - and the best features from our website
Thank you for signing up to TheWeek. You will receive a verification email shortly.
There was a problem. Please refresh the page and try again.
Try to think of a multi-millionaire whose comments annoy a lot of people, especially liberals. It would be best if he were a celebrity, too, among conservatives at least. He would be the sort of person who could draw a crowd that is notorious for ducking out into hallways, smaller rooms, and nearby restaurants when a possible GOP presidential candidate isn't at the podium.
Okay, got someone in mind? You've got a great candidate for Citizens United's ludicrously named "Andrew Breitbart Defender of the First Amendment Award" at CPAC, the Conservative Political Action Conference. This year the free speech award is going to Duck Dynasty's Phil Robertson, mainly for saying the following to Drew Magary: "It seems like a vagina — as a man — would be more desirable than a man's anus."
Or maybe he's getting the award because the cable network that airs Duck Dynasty briefly freaked out about that statement. And lo, many articles were written about it on the internet.
Subscribe to The Week
Escape your echo chamber. Get the facts behind the news, plus analysis from multiple perspectives.
SUBSCRIBE & SAVE
Sign up for The Week's Free Newsletters
From our morning news briefing to a weekly Good News Newsletter, get the best of The Week delivered directly to your inbox.
From our morning news briefing to a weekly Good News Newsletter, get the best of The Week delivered directly to your inbox.
Either way, as you can plainly see, no instance of speech was more profoundly necessary. Nor was any attempt to punish a speaker more totalistic and chilling. What does it say about America when millionaires can suffer a nine-day "suspension" by a cable network while it organizes face-saving meetings with GLAAD and the NAACP, before everyone calms down and the cash-printing reality show can be set back to the "on" mode? Can any of us really say we have freedom of speech? Thank the heavens Citizens United is highlighting the threat to our freedoms with this star-truckling gesture named after a star-truckling muckraker.
Look, Citizens United is not the first organization to use an award to lure a celebrity to an event in the hopes of raising its own profile. But there's something rancid about exploiting one of the conservative movement's biggest stages and invoking the First Amendment to highlight a famous rich person, who said nothing interesting and suffered no real consequences for it, certainly not from the government.
There are lots of fascinating debates about speech codes and trigger warnings happening across academia and even corporate life. There are a number of free exercise and religious liberty cases in court. Surely Citizens United could find a person involved in one of these cases more needful of attention and resources than Phil Robertson.
One such case even involves a cable network, though it is less famous than the one Duck Dynasty is on. EWTN, which airs Catholic programming 24/7, is still arguing with the government over whether it must cover contraception and sterilization in its employee health insurance plan.
If the point of this award is to leave a bad taste in the mouths of liberals, there's always Terry Jones of Koran-burning fame. He's not a TV star or as rich as Croesus. But at least powerful government figures were trying to dissuade him from his speech act.
Or Citizens United could be even more creative and give a First Amendment award to someone who faced persecution for speech or the practice of their religion overseas. Christians across the Middle East are facing the destruction of their homes and churches, exile, and even death. If Citizens United wanted to generate some press, they could make the occasion one of protest against FIFA's decision to hold the 2022 World Cup in Qatar, where the penalty for converting to Christianity is death.
But the conservative movement has an odd, barely admitted infatuation with celebrity. The resentment conservatives aim at Hollywood and the entertainment industry is really a backhanded way of acknowledging Hollywood's power. And so you have these odd spectacles of denouncing celebrity while craving proximity to it.
See Sean Hannity dedicating so much of his show to Arnold Schwarzenegger during his first campaign for governor, rather than the eminently more conservative Tom McClintock. Or the way conservative institutions have indulged Donald Trump's fake presidential ambitions. Or Sarah Palin decrying "Hollywood leftists" on her Facebook page but having no problem joining SNL's 40th anniversary special a month later. Or Clint Eastwood's infamous conversation with a chair at the 2012 Republican National Convention.
The real lesson of Phil Robertson's "triumph" is that if you have control over an asset that makes the entertainment industry millions of dollars, you, too, can say what you want about men's anuses and retain your lucrative TV deal. Honoring him amounts to a celebration that one man has the financial power to defy the imposition of newer social mores. The First Amendment has nothing to do with it. There's nothing free about it, except publicity for the man who already can afford top publicists. Its an embarrassment.