Standing with Israel — while hating Benjamin Netanyahu
The Israeli prime minister is a demagogue and a war-monger. But Israel's position toward Iran is eminently justifiable.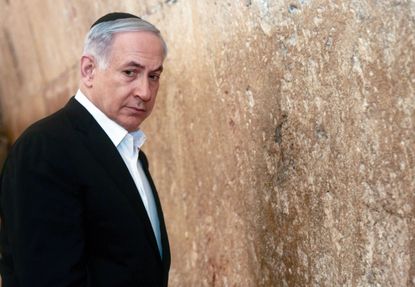 (Image credit: (AP Photo/Marc Sellem, Pool))
How do I hate Israeli Prime Minister Benjamin Netanyahu? Let me count the ways.
This being the day of The Speech, it's only fitting to begin with Netanyahu's ruinous decision to accept an invitation from Republican House Speaker John Boehner to address Congress two weeks before a (very tight) Israeli election and without clearing it first with the White House, both of which violated diplomatic protocol. Then, of course, there's Netanyahu's plan to use the platform to publicly sabotage Barack Obama's negotiations with the government of Iran over its nuclear program — an unprecedented act of meddling in American policy by a foreign power.
But this behavior is nothing new. Netanyahu has defied the wishes of the American president for years, not least over the expansion of settlements in disputed areas of the West Bank, even though the policy is obviously contrary to Israeli interests and only encourages elements within Israeli society that would like to continue the occupation indefinitely and even annex large chunks of Palestinian territory.
Then there's the 2014 Gaza War, a profoundly counterproductive escapade that grew out of Netanyahu's demagogic manipulation of the killing of three Israeli youths in the West Bank. It may have temporarily stopped rocket fire from Gaza, but it returned the region to an unjust status quo that will surely erupt into violence again, demonstrating that the war (like so many before it) settled precisely nothing.
As I said, I'm not at all a fan.
But I think it's important to make clear that none of this changes my underlying support for Israel and sympathy for the dilemmas it faces. I am an unapologetic Zionist. From that standpoint, I think many criticisms of the country (very much including those lodged by the stridently self-righteous BDS movement) are often far too broad and fail to take into account two crucially important mitigating facts about the Jewish state.
Subscribe to The Week
Escape your echo chamber. Get the facts behind the news, plus analysis from multiple perspectives.
SUBSCRIBE & SAVE
Sign up for The Week's Free Newsletters
From our morning news briefing to a weekly Good News Newsletter, get the best of The Week delivered directly to your inbox.
From our morning news briefing to a weekly Good News Newsletter, get the best of The Week delivered directly to your inbox.
The first mitigating fact follows from Israel's birth out of the singular trauma of the Holocaust, which was itself a kind of demonic, world-historical culmination of centuries of often violent Jewish persecution. The result is a nation suffering from a severe case of collective post-traumatic stress disorder. Just as it would be supremely foolish to threaten the life of a well-armed soldier in the grips of PTSD, so the leaders of Iran, Hamas, and Hezbollah ensure the impossibility of peace in the region by repeatedly stating their intent to eliminate Israel from the map of the Middle East.
As an American living in a continent-wide nation 6,000 miles away from Tehran, I find it easy to dismiss such threats as idle bluster. There is simply no historical precedent for a nation preemptively launching nuclear weapons at another country, especially when that nation has good reason to suppose it would face an immediate retaliatory nuclear strike by the targeted nation or its powerful allies. Political entities, as opposed to individual terrorists, do not typically choose collective suicide. An empirically based foreign policy must therefore presume that Iran's leaders are bluffing when they talk about annihilating the Jewish state.
On the other hand there was no empirical basis in the late 1930s for predicting that Nazi Germany would soon systematically murder six million Jews. The only way to anticipate such an unprecedented act was to take Hitler at his word. That's why, if I were an Israeli haunted by Jewish history and living in a country the size of New Jersey a mere 1,000 miles away from the Iranian capital, where existential threats regularly emanate, and with two militant Iranian proxies sitting on its borders, I might take talk of elimination much more seriously.
As long as Iran's mullahs continue to spout eliminationist rhetoric, Israel will feel justified in doing whatever it can to protect itself. And understandably so.
The second mitigating fact has to do with the morally troubling character of political foundings — very much including Israel's founding. As Mark Lilla put it in a 2003 essay for The New Republic:
In an American context, the obvious comparison is to the treatment and fate of the Native American cultures that European settlers encountered upon their arrival in the New World. A civilization was decimated, its people displaced over and over again, with the remnant eventually consigned to impoverished, otherwise unwanted tracts of land.
No historically informed, morally discerning modern American can fail to be disturbed by this history — by the outrages committed by our ancestors against the native populations of this continent.
Yet what was the alternative? Somewhat fewer acts of displacement? Larger reservations in more appealing places? That might have been marginally better. But wouldn't such historical alterations have been merely cosmetic? Isn't the true crime — the source of all subsequent injustices — the original act of colonization and settlement of the continent?
If the United States is worth having, then some version of our harsh, unjust actions against the native population of the Americas was necessary and inevitable.
The same can and must be said about the displacement of the Palestinians by Israel's founding.
This presumes, of course, that you're prepared to say that Israel is worth having.
And therein lies the crux of the problem. Unwilling to settle for anything less than complete compensation for every injustice wrapped up with Israel's founding, a majority of the Palestinians remain wedded to a fantasy of the Jewish state disappearing from their midst. That obviously isn't going to happen; nations don't simply wink out of existence, or pick up and relocate. As long as the Palestinians continue to act as if they think it's possible, Israel will continue to feel existentially vulnerable, which will only prolong its nearly seven-decade-long founding moment, with new acts of injustice piled continually on top of old.
Nations, like individuals, are rarely on their best behavior when they feel their very lives are at risk.

Continue reading for free
We hope you're enjoying The Week's refreshingly open-minded journalism.
Subscribed to The Week? Register your account with the same email as your subscription.