Marco Rubio and Mike Lee have cooked up the first great tax cut plan of the 21st century
But Democrats are sure to attack its deficits and tax cuts for the rich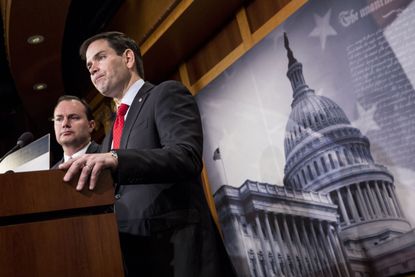 (Image credit: (Drew Angerer/Getty Images))
Welcome to the 21st century, GOP! A new tax plan just released by Sens. Mike Lee (R-Utah) and Marco Rubio (R-Florida) — the latter may soon announce a White House run — represents a long-overdue attempt to modernize the party's stale, 1980s-era policy agenda. The blueprint might also be a big step toward persuading middle-income America that Republicans care about more than just the richest 1 percent.
Democrats and other progressives, of course, will portray the plan as warmed-over Reaganomics. The obligatory Paul Krugman column or blog post trashing it will surely be written. After all, Lee and Rubio wouldn't just cut investment taxes for middle-class families; the rich would also pay less. Lee and Rubio would also cut taxes for businesses both big and small. In addition to lower tax rates, all business capital investment — such as equipment, building, inventories — would be immediately and fully deductible.
So what's new and novel about the Lee-Rubio plan? For starters, it eschews the popular GOP idea of deeply cutting top tax rates on labor income back to 1920s levels. The plan's 35 percent rate, although down from 40 percent currently, is smack in the middle of where rates have been for nearly 30 years.
Subscribe to The Week
Escape your echo chamber. Get the facts behind the news, plus analysis from multiple perspectives.
SUBSCRIBE & SAVE
Sign up for The Week's Free Newsletters
From our morning news briefing to a weekly Good News Newsletter, get the best of The Week delivered directly to your inbox.
From our morning news briefing to a weekly Good News Newsletter, get the best of The Week delivered directly to your inbox.
More importantly, the plan seemingly acknowledges this reality: The GOP's "rising tide lifts all boats" approach to economics isn't working so well for middle-class families in the age of automation and globalization. Faster economic growth is necessary but not sufficient in 2015 to generate broadly shared prosperity. So Lee and Rubio create a new $2500 child tax credit — in addition to the current $1,000 CTC — that can be applied to both income and payroll tax liability.
The idea of greatly expanding this "kiddie credit" has been controversial and frequently disparaged on the right. Some old-school Reaganauts argue that every dollar spent on this credit is one less that could be used to lower top income tax rates. But while their math is correct, their history is lacking. They forget the Gipper cut rates to both boost growth and supply middle-class tax relief. And rate cuts alone won't directly help the more than 40 percent of Americans who pay no federal income tax.
So Lee and Rubio seem to be following the same general Reagan formula, just updated for modern realities. They would immediately attack income stagnation for the middle-class. And they would transform the income tax code into a consumption tax code, which economists tend to agree would promote more investment and long-run economic growth. The highly influential anti-tax group Americans for Tax Reform said the plan is "what pro-growth looks like in the 21st Century." So much for a tax-cut civil war on the right.
But the plan does have a significant downside. It would lose something like $4 trillion in federal tax revenue over a decade, maybe half that if you apply "dynamic scoring" that factors in the effects of economic growth. Unless paired with entitlement reform — something Lee and Rubio favor — the tax cuts are too much. Democrats will surely kvetch about red ink, although if Lee and Rubio were instead advocating a $2 trillion infrastructure plan, those Dem debt hawks might quickly turn to doves.
If a future President Rubio did have to compromise over the plan, he should start with the bits that mostly help rich folks. Maybe cut that top income tax rate by just a point or two — if at all. Maybe only reduce capital gains and dividend taxes for long-term investors. One possible twist would be to tax investment income the same as labor income and then phase it out over four or five years.
At some point, however, Republican pols, pundits, and policymakers are going to have to contend with the likely reality that the aging of America means spending and taxing more over the next generation will need to be greater than during the previous one. That's a 21st century reality, too. Lee and Rubio might have cooked up the first great tax cut plan of the 2000s — but it might also be the last.

Continue reading for free
We hope you're enjoying The Week's refreshingly open-minded journalism.
Subscribed to The Week? Register your account with the same email as your subscription.