Hey, libertarians: Don't give up on Rand Paul!
He's not libertarians' ideal candidate. But he brings a lot of good libertarian limitations to America's lousy politics.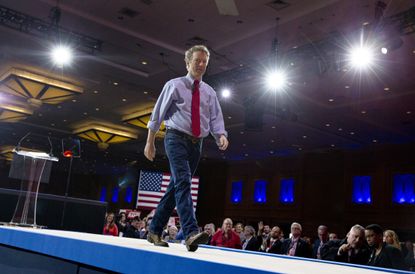 (Image credit: (AP Photo/Carolyn Kaster))
Sign up to our 10 Things You Need to Know Today newsletter
A free daily digest of the biggest news stories of the day - and the best features from our website
Thank you for signing up to TheWeek. You will receive a verification email shortly.
There was a problem. Please refresh the page and try again.
Rand Paul will betray us.
No, Rand Paul is outfoxing the enemy.
Rand Paul is too clever for his own good.
Subscribe to The Week
Escape your echo chamber. Get the facts behind the news, plus analysis from multiple perspectives.
SUBSCRIBE & SAVE
Sign up for The Week's Free Newsletters
From our morning news briefing to a weekly Good News Newsletter, get the best of The Week delivered directly to your inbox.
From our morning news briefing to a weekly Good News Newsletter, get the best of The Week delivered directly to your inbox.
Rand Paul has already betrayed us.
At least libertarians have something to argue about besides whether government should control lighthouses! But more and more, libertarians just seem fed up with Paul.
Consider Justin Raimondo, the editorial leader of antiwar.com, and a longtime supporter of Rand Paul. Raimondo, like other libertarians, is letting his doubts and frustrations out. After Rand Paul signed Tom Cotton's blustery Iran letter, which sought to disrupt or ruin President Obama's negotiations with Iran (which Raimondo believes can prevent the U.S. from launching another disastrous war in that region), the game was up. "This was the last straw," Raimondo said. "I've put up with a lot from that guy! I've had to defend him like a Jesuit. I'm done. Let somebody else do it."
"Real libertarians hate Rand Paul," The Daily Beast declared, not untruthfully.
I understand Raimondo's frustration. And no doubt, pure-hearted libertarians are going to be offered lots of bad arguments in favor of letting Paul off the hook. Such arguments don't extend much further than "This is politics, we have to be practical" and "Stop being unhelpful, and get on the team." Or, most disillusioning of all: "You have nowhere else to go."
Some of what bothers libertarians is just politics itself. Ron Paul was an elected official, but was hardly a political figure. Part of the senior Paul's appeal to his libertarian fans was his absolute purity. He was "Dr. No." He would not vote for anything that did not meet his strict ideological standards. He did not engage in politics as a means of acquiring power or advantage over adversaries. In his presidential campaigns, Ron Paul's approach on the stump tried to be educative rather than charming. As my occasional colleague W. James Antle III pointed out, in 2008, when Ron Paul staged a post-debate event to give Rudy Giuliani a foreign policy reading list, it was a totally transparent effort to give his new fans a curriculum in Paulite thinking. Ron Paul didn't ever let the work of coalition building or policy formation get in the way of a good argument. Rand Paul is not like this.
Another reason libertarians are frustrated with Rand Paul is that he very purposely declines to directly challenge America's special relationship with Israel, an issue which has enormous symbolic importance to opposing foreign policy camps. A number of center-right and libertarian critics of America's post-Cold War foreign policy believe that America's relationship with Israel makes a rational, national-interest-based foreign policy in the Middle East impossible. For neoconservatives and other hawkish critics of Paul's, there is practically no point in America having a strong foreign policy unless it can support a liberal democratic Jewish state that is surrounded by illiberal and hostile regimes. Paul seems to believe that American foreign policy can still be dramatically improved without a total rhetorical and strategic abandonment of the Jewish state.
Sometimes I share Raimondo's frustration with Paul. Sometimes the Kentucky senator's rhetorical and political compromises seem silly. He'll ramp up criticism of Obama and Clinton's intervention in Libya, but in the next breath support needless sanctions on Russia that I suspect he privately thinks are pointless.
But that's not a reason to just chuck Paul overboard, just as Paul's family name and his opposition to unlimited drone warfare aren't a reason to twist oneself into Jesuitical knots to defend him at every turn. One of the nice things about being a libertarian (and a columnist) rather than an employee of Paul or an operative is that we are free to choose when and on what issue we support the likely 2016 presidential candidate.
And on the whole, Rand Paul seems to be inching the party in the right direction, if slowly and against much headwind. Paul often offers rhetorical hostility instead of sanctions, sanctions instead of conflict, and limited constitutionally authorized conflict instead of open-ended war. He is working to improve bad policies in the face of his party's lousy instincts, not to mention fickle but generally bellicose public opinion.
But precisely because he has credibility with his caucus, Paul's filibusterer against unlimited drone warfare was not a one-man show. It drew support from other members of his party. It was an educative and energizing act. His votes on the authorization of military force in Iraq, and on other surveillance issues, are more libertarian than anything in the record of realists and Israel-skeptics like Chuck Hagel. Taken as a whole, Paul leads the libertarian way on foreign policy and national security, and there is more room to run. And when his protest would be useless or very antagonizing, his "support" consists almost entirely in the form of setting limits, conditions, and constitutionality on American policy.
Instead of saying "I'm done" and walking away forever, libertarians should take as much good policy as they can get. They should welcome limits on bad policies, even if these limits are incremental. And when they disagree, say so. Then grant yourself the liberty to support Rand Paul again later.
Continue reading for free
We hope you're enjoying The Week's refreshingly open-minded journalism.
Subscribed to The Week? Register your account with the same email as your subscription.
Sign up to our 10 Things You Need to Know Today newsletter
A free daily digest of the biggest news stories of the day - and the best features from our website
Michael Brendan Dougherty is senior correspondent at TheWeek.com. He is the founder and editor of The Slurve, a newsletter about baseball. His work has appeared in The New York Times Magazine, ESPN Magazine, Slate and The American Conservative.