I'm a feminist, and I'm glad the Senate sex trafficking bill stalled
It doesn't do what you think it does...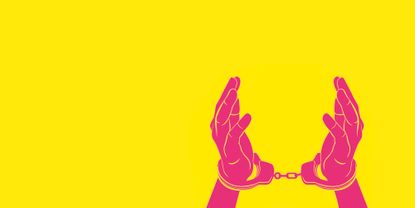 (Image credit: (Illustration by Lauren Hansen | Image courtesy iStock))
The fight against human trafficking should be "one of the top priorities of this nation," Sen. Heidi Heitkamp (D-N.D.) told fellow lawmakers from the Senate floor on March 12. For several days the legislature had been been hearing about the "Justice for Victims of Trafficking Act" (JVTA), a bill with an impressive roster of bipartisan co-sponsors and almost no discernible opposition. But its sure-thing status was swiftly challenged by party-line disagreement over an abortion-funding provision. Thank goodness. This is one time that lawmakers using abortion as a political tool may actually be a boon for civil liberties.
Supporters claim the bill is necessary to hold those who traffic in people — perpetrators who sell victims for sex or labor — accountable. Human trafficking is nothing short of "modern slavery," they say, even going so far as to suggest that slavery is now "more vast than ever." While this rhetoric can clearly veer into the hyperbolic, no one — least of all me — wants to suggest that human trafficking isn't abhorrent or a proper target of law enforcement efforts. But this doesn't mean we should blindly endorse all efforts to target human trafficking.
Since the abortion-amendment trouble began, liberal and conservative media have been quick to castigate the other side for "playing politics" at the expense of victims. But in all this indignation, few have stopped to question why the JVTA is needed now or what it will actually do.
Subscribe to The Week
Escape your echo chamber. Get the facts behind the news, plus analysis from multiple perspectives.
SUBSCRIBE & SAVE
Sign up for The Week's Free Newsletters
From our morning news briefing to a weekly Good News Newsletter, get the best of The Week delivered directly to your inbox.
From our morning news briefing to a weekly Good News Newsletter, get the best of The Week delivered directly to your inbox.
Federal law already prohibits a wide range of conduct related to human trafficking, slavery, and child sexual exploitation. It's against the law to "recruit" or "entice" anyone for forced sex or labor, or any person under 18 years old for commercial sexual activity. "Harboring," "transporting," or in any way "obtaining" them is also illegal. So is "providing" or "benefiting from" them. Additionally, all 50 states have laws specifically criminalizing human trafficking and the commercial sexual exploitation of minors.
One should always be skeptical when politicians insist on new laws to target things that are already targets. At best, they may be trying to capitalize on a sympathetic issue for attention and kudos. At worst, it belies efforts to grant government agencies new powers and more money without people paying much attention. The "Justice for Victims of Trafficking Act" seems to be a product of both.
One under-looked but worrisome aspect of the bill would set up several cybercrime-fighting units within the department of Immigration and Customs Enforcement. These units, along with a team of military veterans known as the HERO corps ("Human Exploitation Rescue Operative"), would work with the Department of Defense and be deputized to fight all manner of "cyber economic crime," digital intellectual property theft, cyber-enabled money laundering, and "illicit e-commerce (including hidden marketplaces)." They would also participate in research and development on "digital forensics," and the bill would "provide computer hardware, software, and forensic licenses" for Immigration and Customs staff.
Among the bill's main provisions, anyone found guilty of crimes related to sex trafficking would be required to pay $5,000 to the Domestic Trafficking Victim's Fund (in addition to other penalties). This fund would cover costs for a range of anti-trafficking activities, from FBI programs to church-based rescue missions, as well as subsidize the salaries of police officers and prosecutors engaged in anti-trafficking efforts nationwide.
At first blush, this may seem like a good idea. But there's a real danger in making criminal justice funding contingent on arrests and convictions. In places from Ferguson, Missouri, to L.A., we've seen how relying on petty fees and fines for city revenue leads to police harassment and abuse. Policing becomes more about ringing money from citizens over minor infractions than keeping the streets safe. And this same dynamic can be seen in efforts directed at the sex trade already, where "anti-trafficking" stings most typically involve police officers posing online as sex workers and luring "johns" for arrest, public pillorying, and various fees.
The JVTA sets up similar incentives. One of the bill's other main provisions is to make soliciting or patronizing a victim of sex trafficking a crime tantamount to sex trafficking itself, with ignorance to the victim's age or unwillingness not necessarily a defense. Lawmakers call this strategy "ending demand" for sex-trafficking.
Women's groups working on trafficking issues suggest that ending supply would be better — victims' biggest barrier to escape is a lack of emergency services and shelter, along with an inability to turn to police or other government officials for help for fear that they'll be the ones treated as criminals. Even in state's with "safe harbor" laws, victims are first arrested for prostitution and then given the option to prove they've been trafficked in court. At a hearing earlier this month, the Inter-American Commission on Human Rights (IACHR) said that the United States routinely treats sex-trafficked minors as criminals, arresting and jailing them for prostitution and fueling their return to their abusers. In response, U.S. Ambassador Patricia Butenis, acting director of the Office to Monitor and Combat Trafficking in Persons, told the hearing that "politics in the United States are complicated."
As Jay Michaelson pointed out recently at The Daily Beast, "sexual slavery is just a rhetorical frame for eradicating prostitution" to many in the anti-trafficking movement. These groups have formed an uneasy alliance with the more feminist-minded women's groups, but while their stated goals are similar, their desired ends are not. "Given the choice between fighting trafficking and fighting prostitution, social conservatives pretend to do the former, but actually do the latter," Michaelson writes.
In 2010, the national action plan for anti-"sexual exploitation" activists Demand Abolition noted that "framing the Campaign's key target as sexual slavery might garner more support and less resistance, while framing the Campaign as combating prostitution may be less likely to mobilize similar levels of support." In local media nationwide, vice-squad turned trafficking-task-force officials opine that even adult women who claim to choose sex work are actually victims. "Everybody's trafficked by something," says Phoenix Police Lieutenant Jim Gallagher, exemplifying the new conventional wisdom.
By conflating all prostitution with sex trafficking, organizations that receive federal anti-trafficking grants can use it to go after prostitution more generally — something conservative rescue-orgs like because it fits their anti-prostitution agenda and police departments like because they can now use this money toward existing vice efforts. And the more arrests and/or "rescues" they make, the more money they get. But absent from this incentive structure are emergency resources for victims or any of the 'end supply' strategies that advocates demand.
"We really need to think about our priorities," Kate D'Adamo, a policy advocate with the Urban Justice Center, told RH Reality Check. "Do we want to lock up people based on fake stings, or do we want to actually fund the resources that keep people from getting into exploitative situations?"
Despite the tens of millions already going to anti-trafficking task units, few have produced data showing their effectiveness. "It is not apparent how their expansion will result in more young people being identified," Alix Lutnick, senior research scientist with RTI International, told RH Reality Check. The Senate's anti-trafficking bill "prioritize(s) the needs of the state, prosecution, and law enforcement over the needs of people who have experienced trafficking," Lutnick said.
Last week, Democrats blocked the JVTA for a third time over the abortion amendment (Republicans are holding up the Loretta Lynch nomination in response). A compromise is still possible, but far from assured. The media, from feminist bloggers to Breitbart to Jon Stewart, have been united in condemning Senators for this unconscionable inaction, though everyone says it's the other team's fault. For pundits, lawmakers, and advocacy groups, it's been too good a finger-pointing opportunity to pass up.
But with all these fingers pointing across the aisle, we've lost sight of the legislation itself. And the legislation itself is too full of perverse incentives, potential civil-rights infringements, and funding initiatives only marginally or not-at-all related to trafficking. We all — especially trafficking victims — deserve better than a bill that lets law enforcement and Christian conservatives play "HERO" via overcriminalization rather than looking to less coercive, more nuanced, and more effective solutions.

Continue reading for free
We hope you're enjoying The Week's refreshingly open-minded journalism.
Subscribed to The Week? Register your account with the same email as your subscription.