Why there's no such thing as 'women's rights'
Assigning gender only obscures the fact that these are human rights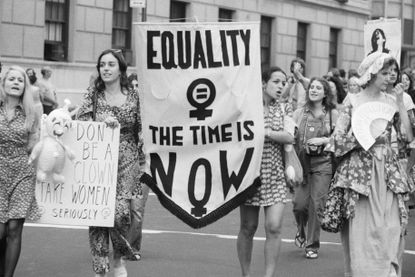 (Image credit: (Bettmann/CORBIS))
You may have noticed the word "feminism" cropping up frequently in recent news stories: Hillary Clinton's presidential run; the poorly-reported-then-entirely-retracted UVA rape story; Ellen Pao's gender discrimination trial; women's clothing in comic books. Gamers, young actors, and purveyors of tasty ice cream all find themselves grappling with the place of feminism in discourse both high and low: Is this a feminist issue? Is that? Are feminist values being upheld? Are feminists ruining everything?
There is, of course, a need to discuss feminism, and an even greater need to get people on board with the idea of feminism — I don't doubt that these conversations are necessary. It's just that the older I get (and I am, if you ask my children, pretty old), the more this reality baffles and angers me. Because there is no human activity that is not about feminism.
I say this not because human society is riddled with sexism and misogyny, although it most certainly is. I say this not because of pay inequity or sexual harassment, nor because of the prevalence of rape or laws designed to limit the physical autonomy of people who happen to possess vaginas. I say this because half of humanity is female.
Subscribe to The Week
Escape your echo chamber. Get the facts behind the news, plus analysis from multiple perspectives.
SUBSCRIBE & SAVE
Sign up for The Week's Free Newsletters
From our morning news briefing to a weekly Good News Newsletter, get the best of The Week delivered directly to your inbox.
From our morning news briefing to a weekly Good News Newsletter, get the best of The Week delivered directly to your inbox.
At its base, feminism is nothing more or less than the radical notion that all people are of equal value, regardless of gender identity. If all humans are of equal value, it follows that every human possesses an equal, inalienable right to life, liberty, and the pursuit of happiness.
Thus, strictly speaking, there is no such thing as "women's rights" — there are only human rights. There is no such thing as "women's issues" — only human issues. How we design video games and who sits in the Oval Office are not questions that can be peeled away and isolated from the genders of the people playing or voting.
And please don't sputter that women do or do not participate in this or that activity, or that they participate differently, in some fashion, than do men. If, for example, women aren't traditionally identified as members of the gaming community — why is that? What happened in the course of creating and promoting a particular technology and art form that led developers to largely ignore half of humanity? Or if women are more (or less) likely to vote for candidates with certain positions — how is that a niche issue? Does 50 percent of voters really constitute a "niche"?
Furthermore, are my son and husband (or anyone's son, husband, father, or brother) unaffected by the lives of the women they know? Lower wages, the extra costs of reproductive health, the damage wrought by constant belittlement, and the threat (and/or reality) of physical attacks — men and boys pay the price for these "women's issues" their whole lives. What looks like winning the gender wars actually amounts to living in a world cramped and crabbed by the limitations imposed when half of humanity must daily fight battles that no one should have to fight.
I raise these questions knowing that in the world in which I live and work, none are recognized as the broadly human issues I know them to be. I know that while I find this baffling, it's the stuff of common sense to seemingly nearly everyone else — or at least those with power and access to a cultural platform. We'll continue to call some things "women's issues" and other things just...things, because we've done so for time out of mind and cannot yet collectively imagine living any other way. The need for a feminist discourse hasn't grown any less urgent.
I also understand that a pattern of erasure by some leading members of the modern feminist movement has led many women (particularly women of color and trans women) to disassociate from the label "feminist," even if they very much champion the cause of gender equality. I understand that the word has become so loaded with ugly cultural baggage that some people deny that they're feminists even as they enjoy the fruits of the feminist struggle. I understand that for yet others, the word is an insult, to be wielded as a weapon rather than embraced as a way out of human misery. I can only act to broaden and deepen the conversation from within those understandings.
Because at the end of the day, feminism is about human dignity and human worth, in all human endeavors. Foreign policy is a feminist issue; police brutality is a feminist issue; climate change is a feminist issue; baseball is a feminist issue. All of life is a feminist issue. Because women are humans.
I don't believe I'll live to see genuine equality; I can only act to further the goal. As Ellen Pao recently said: "You need to work through these issues because they are here, and they're not going to go away." It's feminism, all the way down.

Continue reading for free
We hope you're enjoying The Week's refreshingly open-minded journalism.
Subscribed to The Week? Register your account with the same email as your subscription.