Man Up and Sleeping with Other People: Why are rom-coms no longer mainstream?
Two standout crowd-pleasers from the Tribeca Film Festival show that the genre has plenty of steam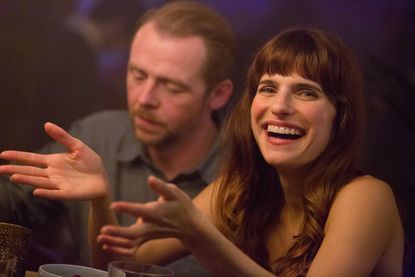 (Image credit: (STUDIOCANAL LTD & BBC FILMS LTD))
There was a time, not so long ago, when the box office was practically overrun by romantic comedies. But as a slew of "death of the rom-com" stories has indicated, the genre's mainstream heyday seems to be behind it. This year has seen the wide release of just one movie that can plausibly be described as a romantic comedy — The Wedding Ringer — which is to be followed by May's Aloha and July's Trainwreck.
Where are all the rom-coms? Improbably, they're popping up at film festivals, where movies that used to command the mainstream now play to a smaller, more select crowd. Two of the biggest crowd-pleasers of the Tribeca Film Festival were Man Up and Sleeping with Other People, both of which offer the kind of love stories that have been sorely absent from the box office. And in good news for rom-com fans, both have already been picked up for wider distribution later this year.
Man Up is pure confection — an unapologetic rom-com that simultaneously recalls the genre's highs (When Harry Met Sally) and lows (27 Dresses). This is apparently by design: At the screening I attended, screenwriter Tess Morris introduced the film with a jokey warning that Man Up was, in fact, a romantic comedy, and proud of it.
Subscribe to The Week
Escape your echo chamber. Get the facts behind the news, plus analysis from multiple perspectives.
SUBSCRIBE & SAVE
Sign up for The Week's Free Newsletters
From our morning news briefing to a weekly Good News Newsletter, get the best of The Week delivered directly to your inbox.
From our morning news briefing to a weekly Good News Newsletter, get the best of The Week delivered directly to your inbox.
Man Up follows Nancy (Lake Bell), a 34-year-old woman who would rather spend an evening alone, eating a room service hamburger in her hotel suite, than attend the party in the ballroom below. On the way to attend a party for her parents' 40th wedding anniversary, Nancy runs into Jack (Simon Pegg), who, for reasons too contrived to explain, assumes that Nancy is Jessica, the blind date arranged by his friends. Nancy, for reasons too contrived to explain, plays along.
It's easy to imagine a terrible version of this movie with an identical script — starring, say, Katherine Heigl and Gerard Butler. (The awful title certainly suggests it.) But you can also imagine a version from the mid-90s, starring Meg Ryan and Tom Hanks, or Julia Roberts and Richard Gere. Fortunately, Man Up found a pair of absurdly overqualified leads in Bell and Pegg, who manage to glide through the film's weaker moments unscathed while making its stronger ones pop off the screen.
To its credit, Man Up dispenses with this too-cute premise pretty quickly. The meat of the movie comes after Nancy's deception is revealed, when the film pivots to more relatable problems like Nancy's unwillingness to take risks and Jack's insecurity following a contentious divorce. Man Up's riskier elements — including a creepy stalker from Nancy's past (Rory Kinnear) — never completely gel. But it does scratch an itch I suspect many moviegoers have been feeling: the yen for a cheesy, cheery rom-com that plays straight to the genre's big-hearted past.
For anyone who doesn't have nostalgia for the mid-90s style of rom-com, Tribeca Audience Award runner-up Sleeping with Other People is probably a better bet. Writer/director Leslye Headland, best known for 2012's undercooked Bachelorette, has a real winner in her witty sophomore feature.
Sleeping with Other People opens, like countless rom-coms before it, with a meet-cute. Freshman Lainey (Alison Brie) throws a tantrum in her dormitory hall after being stood up for a date. When the R.A. confronts her, Jake (Jason Sudeikis) intervenes, pulling her into his dorm room before she gets kicked out. The pair hit it off, and eventually lose their virginity to each other — but after parting ways, they don't reunite until 12 years later, after a chance encounter at a Sexaholics Anonymous meeting. Despite obvious sexual tension, Lainey and Jake quickly strike up a new friendship, dating other people while saving real emotional intimacy for each other.
Sleeping with Other People has a very familiar premise at its core: two friends who should obviously be together, but are stupidly standing in the way of their own happiness by refusing to take the leap. However, the film itself is refreshingly situation-free. Like Man Up, Sleeping with Other People's greatest pleasures come when the chemistry between the lead actors is given precedence over the plot, as they trade stories, jabs, and sex tips while wandering around the city together. When the inevitable third-act complications kick in, Sleeping with Other People loses steam — but until then, it's a sharp, balanced, and refreshingly sex-positive take on the rom-com, featuring career-best performances from Brie and Sudeikis, along with strong supporting turns from Adam Scott, Jason Mantzoukas, and Amanda Peet.
The only frustrating thing about seeing movies like this at a film festival is the sense that they'd go gangbusters in a massive, nationwide release if they were given the chance. We may be in the midst of summer blockbuster season, but there's no reason films this charming and accessible shouldn't be playing in the theater next door to Avengers: Age of Ultron.

Continue reading for free
We hope you're enjoying The Week's refreshingly open-minded journalism.
Subscribed to The Week? Register your account with the same email as your subscription.