Why Big Business needs to stop calling people 'human capital'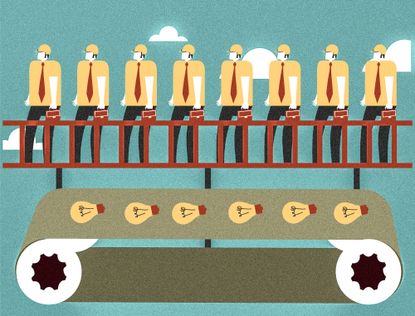 (Image credit: (Illustrated | Image courtesy iStock))
Can we ban "human capital" from American political discourse already?
"Human capital" has become de rigueur with certain economists and broad portions of the right, particularly the reformicon movement. On the face of it, the term refers to individuals' knowledge, skills, tricks of the trade, habits, creativity, intelligence, etc, and seems relatively harmless. Arthur Brooks, the president of the conservative American Enterprise Institute, clearly thought he was reaching for common ground on what to do about poverty when he invoked "human capital" at a summit with President Obama this week.
Calling them "assets" seems to respect the poor, doesn't it? Implying they have value, while suggesting the potential for empowerment and uplift? So what's the problem?
Subscribe to The Week
Escape your echo chamber. Get the facts behind the news, plus analysis from multiple perspectives.
SUBSCRIBE & SAVE
Sign up for The Week's Free Newsletters
From our morning news briefing to a weekly Good News Newsletter, get the best of The Week delivered directly to your inbox.
From our morning news briefing to a weekly Good News Newsletter, get the best of The Week delivered directly to your inbox.
In economics, assets and capital are things you put to work to create wealth. They can be factory machines, cars, desks, bulldozers, computers, even a humble tool box. They are a means to an end. But human beings are supposed to be ends in and of themselves. And that's where we get to the problem with all this "human capital" talk: At a basic conceptual level, it mucks up the proper relationship between human beings and the economy.
The whole purpose of the economy is to make human life better. To provide greater freedom from fear, deprivation, toil, suffering, sickness and all the rest. Presumably this is why we concern ourselves with job creation numbers and GDP growth and productivity and inequality: because we see them as proxies, however incomplete, for human well-being writ large.
This is also the big defense of capitalism over socialism that really does make sense. Whatever its distributive injustices, of all the systems we've tried so far, capitalism does a much better job producing the collective piles of wealth that make human lives better. The economy is the means, and human beings are the end. So how the economy is designed should be subservient to human needs.
"Human capital" inverts this equation. Suddenly it's people who are the assets and the means, and some abstract, quasi-deity like "economic growth" becomes the end.
Consider Brooks' own plan for Social Security reform. He would reduce the benefit checks to a basic income designed to keep people above the poverty threshold and no more. He would also raise the retirement age to 70, and shift younger workers onto managed accounts of investments in the private market.
Most people do not want to spend their retirements eking by just above the poverty threshold. And private savings tend to work out poorly as a retirement vehicle for everyone except the upper class and the flat-out rich — which is also the population that has enjoyed almost all the growth in lifetime expectancies. In short, this is a plan to ensure that people work to a far older age than they do now, and that people in the middle and lower classes literally work until they die.
To go to an even bigger point, whenever societies become richer and more productive they face a choice: They can work the same amount and enjoy a higher collective income, or they can work less and enjoy the same level of income. The second option doesn't show up as GDP growth. But doesn't it make sense that more leisure time — to travel, to learn a craft, to help out your church, to spend time with friends and family — is something our economy should give us as it becomes more advanced?
That would be putting human needs ahead of abstract economic goals, and most Western countries outside of the U.S. have, in fact, lowered the average annual hours their workers take on — by mandating generous national paid leave and paid vacation programs, and with large and relatively universal safety nets.
But leisure time is only possible if you're getting enough income to meet your needs while you're engaged in that leisure time. By definition, this will require redistributing incomes in a generous way that goes well above the poverty threshold. It is the opposite of what Brooks recommended when he said, "The safety net should be limited to people who are truly indigent."
And as for the truly indigent, the overwhelming majority of the people in poverty are children (30 percent), students (10 percent), the elderly (10 percent), the disabled (15 percent), and the involuntarily unemployed (20 percent). The remaining 20 percent are largely people who do have jobs, or who are caring for another family member. In short, these are either people who should not be working, or who haven't been able to find a job because they've been failed by macroeconomic policy. Brooks' urging that "help should always come with the dignifying power of work" is simply a non sequitur.
If our economy cannot deliver some modicum of comfort and leisure to people in the last decade or two of their lives; if it cannot ensure a decent livelihood to a child and the mother tasked with the full-time job of raising her; if it cannot provide for the disabled; well then what the hell is the bloody thing for?
Well that's the final irony: The traditional definition of capital is that owning it allowed you to earn an income without working. Which is why Branko Milanovic argued "human capital" doesn't make any sense: Workers still have to work to get an income from their skills and so forth.
Unless, of course, they're not the ones who actually "own" their skills. Who does? Probably the people actually getting the money produced by all the work going on in the U.S. economy, a bigger and bigger share of which is going to the tippy-top. That's who "owns" everyone's skills, and who is getting all the revenue from all this "human capital" — businesses owners, shareholders, CEOs, top-rung professionals, and the rest of the elite.
Whether intentionally or not, that's the world Arthur Brooks is helping create, one in which "noncapital humans" reap all the benefits of this "human capital."

Continue reading for free
We hope you're enjoying The Week's refreshingly open-minded journalism.
Subscribed to The Week? Register your account with the same email as your subscription.