Hillary Clinton has fewer problems with the Democratic base than you might think
Out there in America, Democrats love Hillary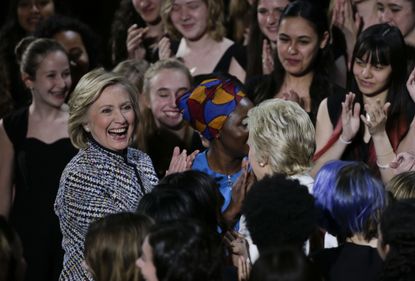 (Image credit: AP Photo/Julie Jacobson)
Sign up to our 10 Things You Need to Know Today newsletter
A free daily digest of the biggest news stories of the day - and the best features from our website
Thank you for signing up to TheWeek. You will receive a verification email shortly.
There was a problem. Please refresh the page and try again.
If you're part of the DC establishment, you know that liberals' feelings about Hillary Clinton are nothing if not complicated.
Your average professional liberal here in the nation's capital, whether it's a think-tank wonk, a Capitol Hill staffer, an interest group activist, or a writer like me, has always had and will always have mixed feelings about Clinton. We acknowledge her talent, her smarts, and her tenacity. We recognize how historic it would be if she became president. And sooner or later we find ourselves defending her, if for no reason other than the craziness of her enemies.
But then there are the things that give us pause.
Subscribe to The Week
Escape your echo chamber. Get the facts behind the news, plus analysis from multiple perspectives.
SUBSCRIBE & SAVE
Sign up for The Week's Free Newsletters
From our morning news briefing to a weekly Good News Newsletter, get the best of The Week delivered directly to your inbox.
From our morning news briefing to a weekly Good News Newsletter, get the best of The Week delivered directly to your inbox.
There's the fact that, as much as Republicans and the media make a mountain out of every ethical molehill having to do with her and her husband, it's usually Hillary or Bill who put the molehill there in the first place. Committed Democrats in particular wish she was more of a natural politician, like you know who. And then there's her history of policy centrism, particularly her hawkishness on foreign affairs, that doesn't endear her to the left. That's part of what undid her in the 2008 primaries, particularly her vote in favor of the Iraq War. So it isn't hard to find a liberal in Washington whose attitude toward Clinton is something like, "I hope this works out, but I don't know…"
The Washington liberals themselves and the journalists who know them might both consider their mixed feelings representative of liberals and Democrats more generally. But here's thing: Out there in America, Democrats love Hillary Clinton. They don't just like her, they love her.
This is something that coverage of the Clinton campaign hasn't really captured yet, not only because her campaign hasn't done much so far, but also, perhaps, because reporters suspect that Democratic voters are only grudgingly accepting Clinton's candidacy. After all, those voters don't have many other options.
But if you look at what the polls are telling us so far, Democrats seem quite happy to have Clinton as their presidential nominee. In the latest Pew poll, 77 percent of Democrats see her favorably, and she has strong approval across ages, incomes, and races. (African-Americans, the most important Democratic sub-group, rate her particularly highly, at 87 percent favorable.)
That approval may not be universal, but it's a lot better than any Republican candidate gets.
In the same poll, the Republican with the highest rating from GOP voters is Mike Huckabee, at 54 percent. While it's true that the Republicans aren't as well known as Clinton, most of them get healthy disapproval numbers too: 35 percent of Republicans don't like Jeb Bush, 23 percent don't like Huckabee, and 20 percent don't like Marco Rubio. (Scott Walker scores best on that question, with only 17 percent disliking him, but 36 percent don't know enough to have an opinion.)
Part of this may be the point of comparison; if you're a Republican and you get asked whether you like Jeb Bush, you may be comparing him to other candidates you like more. But what's undeniable is that the number of Democratic voters who dislike Clinton is quite small (and her husband's approval among Democrats, at 81 percent, is essentially the same).
Approval may be a pretty low bar, but we need to understand that there are lots and lots of Democrats who think Hillary Clinton is the bee's knees. Many of them are women, and for them the possibility of America's first woman president is likely to become more and more exciting as election day approaches.
But they're already getting stirred up.
Take a look at this Bloomberg focus group of Iowa Democrats, for instance. Although the story is presented as a portrait of voters with mixed feelings, if you actually read it, all the hesitation seems to be coming from the men, while the women are enthusiastic about Clinton. ("She's a bad mama jama," says one.) Or look at this bit from a Washington Post report about her latest campaign stop:
Sure, that's partly just the power of celebrity. But even if liberals in Washington don't get swept up in her candidacy the way they did in Barack Obama's back in 2008, that doesn't mean Democrats in the rest of the country aren't embracing her.
Just like any candidate, Clinton has plenty of problems she'll have to overcome if she's going to win the White House. But uniting the Democratic base behind her may be less of an issue than many of us suspect.
Continue reading for free
We hope you're enjoying The Week's refreshingly open-minded journalism.
Subscribed to The Week? Register your account with the same email as your subscription.
Sign up to our 10 Things You Need to Know Today newsletter
A free daily digest of the biggest news stories of the day - and the best features from our website
Paul Waldman is a senior writer with The American Prospect magazine and a blogger for The Washington Post. His writing has appeared in dozens of newspapers, magazines, and web sites, and he is the author or co-author of four books on media and politics.