How GOP candidates feed the social conservative narrative of oppression
It's partly because, in a very real sense, the country is leaving them behind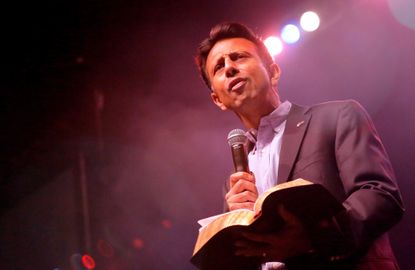 If you want to get a sense of what social conservatives are thinking and feeling, there are few better ways than watching how Republican candidates seek their votes. Call it empathizing or pandering, but the candidates know it isn't enough to say "I agree with you on the issues" — you have to demonstrate that you feel what they feel and look at the world the same way they do. That's true to a degree of any constituency group, but it may be particularly important with voters who feel as besieged as social conservatives do today.
Which is why many of the GOP presidential candidates are repeating a narrative of victimhood and oppression that has become common on the religious right. It says that the forces of secularism — cruel, immoral, and on the march — are consolidating their gains and preparing to make it all but illegal to be a Christian.
"There are consequences when you don't genuflect to the latest secular dogmas," said Jeb Bush in a speech at Jerry Falwell's Liberty University. The left, says Bobby Jindal, wants to "essentially outlaw firmly held religious beliefs that they do not agree with." Not only will opposing same-sex marriage get you branded a hater, says Marco Rubio, "what's the next step after that? After they're done going after individuals, the next step is to argue that the teachings of mainstream Christianity, the catechism of the Catholic Church, is hate speech. That's a real and present danger." "We are moving rapidly toward the criminalization of Christianity," says Mike Huckabee.
Subscribe to The Week
Escape your echo chamber. Get the facts behind the news, plus analysis from multiple perspectives.
SUBSCRIBE & SAVE
Sign up for The Week's Free Newsletters
From our morning news briefing to a weekly Good News Newsletter, get the best of The Week delivered directly to your inbox.
From our morning news briefing to a weekly Good News Newsletter, get the best of The Week delivered directly to your inbox.
It may sound ridiculous to assert that this majority-Christian country with a stronger tradition of religious freedom than any other country on Earth is about to start rounding up Christians and putting them in jail for their beliefs. But to many on the religious right, that doesn't seem like such a remote possibility.
It's partly because, in a very real sense, the country is leaving them behind. The rapid change in public opinion and laws on gay rights is the most vivid current reminder, but it's part of a process that has been going on for decades. The truth is that American society has been drifting away from the "traditional" values to which they hold for some time now, whether it's on things like corporal punishment, women working outside the home, or the infusion of Christian practices into government-sponsored activities (like prayer in schools). That's not to mention the discomfort they feel upon seeing a celebrity undergoing a sex change hailed for her courage and splashed across the covers of glamorous magazines.
And Christians themselves are shrinking as a proportion of the population. According to recent data from the Pew Research Center, in 2014 Christians made up 70.6 percent of the American population, down 8 points from just seven years before. Meanwhile, the population of the "unaffiliated" — atheists, agnostics, and people who don't identify with any religion in particular — has grown to 23 percent of the public. Most strikingly, only 56 percent of millennials identify as Christian, while 35 percent are unaffiliated, suggesting that the trend will continue.
So it's perfectly understandable for social conservatives to feel like they're living in a society that no longer shares their values, because they are. I might say, "Welcome to the world everybody else lives in" — if you're a Jew or a Muslim, you aren't going to complain that unless the department store puts up a banner acknowledging your particular holiday that you're suffering under the bootheel of oppression.
Nevertheless, many conservative Christians have constructed out of these developments an uplifting story for themselves, where their supposed persecution gives them nobility and heroism. They can now tell themselves that just by doing what they've been doing — having lots of kids, staying chaste until marriage, or just going to church — they're courageous revolutionaries, underdogs fighting the odds on behalf of their principles and God's desires. When they oppose gay marriage, they aren't the equivalent of George Wallace barring the schoolhouse door, they're the equivalent of the Soviet refusenik in 1975 or the American patriot in 1775.
Liberals may dismiss this kind of rhetoric, but it's mostly sincere, and it will likely become louder as social progress continues in the direction it's going. It'll be particularly interesting to see what the candidates say if the Supreme Court rules that gay people have a constitutional right to marry, as it may well do in a matter of weeks.

Continue reading for free
We hope you're enjoying The Week's refreshingly open-minded journalism.
Subscribed to The Week? Register your account with the same email as your subscription.