Game of Thrones recap: A simple twist of fate
In this week's grim episode, characters like Stannis Baratheon and Daenerys Targaryen grapple with who's really in control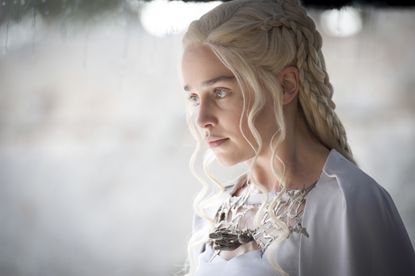 (Image credit: Macall B. Polay/courtesy of HBO)
In a very grim season, the redemption of Stannis Baratheon has been one of Game of Thrones' few consistent bright spots. Having reached the Wall and saved the Night's Watch at the eleventh hour at the end of season four, Stannis has repeatedly proved his courage, wisdom, and valor: advising Jon Snow, challenging the Boltons for control of the north, and correcting bad grammar. Best of all was his wonderful, humanizing scene with his daughter Shireen in "Sons of the Harpy," when he explained why he refused to cast her aside after she was struck with greyscale. "You were the Princess Shireen of House Baratheon," he said. "And you are my daughter."
In this week's "The Dance of Dragons," Shireen reveals how much her father's words meant to her when she echoes them back: "I'm the Princess Shireen of Baratheon. And I'm your daughter." Trusting and loving to the last, Shireen offers to do anything she can to help him — which is convenient timing, since Stannis needs to burn her at the stake as a blood sacrifice to the Lord of Light. "Sometimes a person has to choose," Stannis says. "Sometimes the world forces his hand. A man knows who he is and remains true to himself, and the choice is no choice at all. He must fulfill his destiny and become who he is meant to be. However much he may hate it."
What else is there to say, besides "forgive me"? As soon as Stannis becomes convinced that his daughter needs to die, her fate is sealed. The scene of Shireen's death is the latest boundary-pushing extremity in a season full of boundary-pushing extremities. We may not see Shireen burning, but her screams are graphic enough. Stannis' loyal guards look away from the fire. Even Stannis' wife Selyse — as devout a follower of the Lord of Light as we've seen — breaks away from the crowd in a desperate, last-minute attempt to save her daughter.
Subscribe to The Week
Escape your echo chamber. Get the facts behind the news, plus analysis from multiple perspectives.
SUBSCRIBE & SAVE
Sign up for The Week's Free Newsletters
From our morning news briefing to a weekly Good News Newsletter, get the best of The Week delivered directly to your inbox.
From our morning news briefing to a weekly Good News Newsletter, get the best of The Week delivered directly to your inbox.
But Stannis never flinches. Despite the very real paternal love Stannis has for Shireen, he lets her burn, because nothing as simple and trivial as his emotions can get in the way of his lofty fate. What matters to Stannis, more than anything, is Melisandre's prophecy, which foretells that he and his burning blade will be the salvation of Westeros — as long as he's willing to do whatever the Lord of Light requires on his bloody path to the Iron Throne. Is it any consolation that Stannis believes they'll all die if he doesn't sacrifice Shireen on a flaming pyre? Or does that just make his actions more horrifying?
Game of Thrones is a story about people who believe in fate — but it doesn't absolve them of responsibility for their actions. After defying Melisandre, Stannis' army was defeated at the Battle of Blackwater. If you asked Melisandre, she'd say Stannis' loss was the inevitable outcome of defying her god. If you asked Tyrion, he'd say Stannis' loss was due to planning, luck, and some well-placed Wildfire.
But the show is less concerned with who is right and more concerned with how what they believe influences how they behave. Take Cersei Lannister, who spends the entirety of the episode rotting away in a cell off-screen. Cersei — who was told as a child that she was fated to be replaced by a newer, more beautiful queen — once guessed that her struggles were the price she was paying for her sins. But Game of Thrones viewers have spent an entire season watching her set a trap for herself: alienating the Tyrells, sending all her closest allies away, and elevating a man whose motives she didn't fully understand. Is her incarceration the fulfillment of a long-awaited prophecy? Or did her own, very obvious missteps seal her fate?
This is a question that gets at the very heart of Game of Thrones, which offers plenty of evidence on both sides, from Daenerys Targaryen (basically born to conquer the world) to Littlefinger (the epitome of a scheming nobody pulling himself up by his bootstraps). Game of Thrones has always had the sense of building to a long, inevitable conflict — but the show's consistent ability to surprise offers its characters plenty of room for jazzy improv within the broader strokes of the plot.
If you're looking for an alternative to Melisandre's dour prophesying in "The Dance of Dragons," look no further than Doran Martell. Last week, the stage was set for a grisly showdown between Jaime Lannister and the Sand Snakes, with the lives of both Princess Myrcella Lannister and Prince Trystane Martell at risk. It's easy to imagine a version of this scenario that ended with one or both of them dead — another grisly chapter for the Westeros history books that document the decades of hatred between House Lannister and House Martell.
That's the weird thing about fate: though it seems like it's all about the future, it's actually rooted in the past, with an inescapable path, endlessly unwinding from an immutable past, eventually leading a person to a crisis point. Given Game of Thrones' emphasis on the long histories of storied families, it couldn't be easier to place everything that happens on a historical continuum, with the gods meting out justice on their own cosmic scale.
But given the chance in "The Dance of Dragons," Doran Martell simply refuses to let the horrors of the past dictate his actions in the present. At the brink of what almost became open violence, he insists on a different, much unlikelier outcome: Jaime returns safely to Dorne, with Myrcella in hand — on the condition that the Lannisters honor her engagement to Trystane Martell, and offer Trystane a seat on King Tommen's small council.
It's a brilliantly strategic move, and one that would likely sit well with Tyrion Lannister, who has taken the seat at Daenerys Targaryen's right hand in Mereen. As both the audience surrogate and the closest thing Game of Thrones has to a modern man, Tyrion tends to reject anyone who talks about prophecies and fates, focusing instead on how individuals have the power to shape the world.
In Daenerys, Tyrion has finally found a ruler worthy of his counsel, but she still has plenty to learn — and plenty of allies whispering more conventional wisdom into her ears. Hizdahr zo Loraq, Daenerys' fiancé, staunchly believes that the way things have been is the way they'll always be. "What great thing has ever been accomplished without killing or cruelty?" he asks Tyrion as they watch the brutality of Mereen's fighting pits. "It's easy to confuse what is with what ought to be," replies Tyrion. "Especially when what is has worked in your favor."
But this abstract moral debate becomes painfully concrete as the fighting continues, and Tyrion realizes how much blood has needlessly been spilt. "You can end this," he tells Daenerys, as the brutal bloodshed in the fighting pit reaches its climax. "You cannot," cautions Hizdahr. "You can," insists Tyrion.
It's worth noting that Tyron gets the final word, though Daenerys' ultimate decision is interrupted by the violence she can't control, as the Sons of the Harpy launch a surprise attack that nearly leads to her death. (Only a well-timed entrance from Drogon, her dragon, is enough to ensure her safety, as she climbs onto his back and flies away.)
But the question still hangs in the air: Can Daenerys really put an end to the endless cycle of violence that seems destined to rip Westeros to shreds? Or is her future — and, by extension, the future of everyone else — already set in stone? Her bid for the Iron Throne carries both legacy and merit. Daenerys may come from a legendary ruling house, but her list of accomplishments — Khaleesi of the Great Grass Sea, Breaker of Chains, Mother of Dragons — is all her own. Game of Thrones may be bleak, but the show has proven, time and time again, that its characters are the ultimate masters of their fates.
Read more Game of Thrones recaps:
* Game of Thrones recap: Winter is here
* Game of Thrones recap: Why can't we be friends?
* Game of Thrones recap: 'Unbowed, Unbent, Unbroken'
* Game of Thrones recap: 'Kill the Boy'
* Game of Thrones recap: In the mood for love
* Game of Thrones recap: Goin' to the chapel
* Game of Thrones recap: 'The House of Black and White'

Continue reading for free
We hope you're enjoying The Week's refreshingly open-minded journalism.
Subscribed to The Week? Register your account with the same email as your subscription.