Time to get real: Iran is playing the world for suckers
Recent events show that Iran is intent on getting the bomb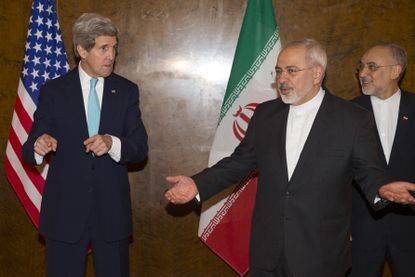 The dovish case for negotiating with Iran on its nuclear program always was an "if-then" proposition.
If Iran was prepared to give up its military nuclear program in exchange for inducements, then wouldn't that be great?
The answer, of course, is that it would be. But is Iran really prepared to do that?
Subscribe to The Week
Escape your echo chamber. Get the facts behind the news, plus analysis from multiple perspectives.
SUBSCRIBE & SAVE
Sign up for The Week's Free Newsletters
From our morning news briefing to a weekly Good News Newsletter, get the best of The Week delivered directly to your inbox.
From our morning news briefing to a weekly Good News Newsletter, get the best of The Week delivered directly to your inbox.
Iran hawks answered in the negative, and argued that any negotiations would merely allow Iran to buy time to expand its nuclear activities even further.
Given that it really would be really great if the "if" was true, there was a very strong case, for a very long time, for giving Iran the benefit of the doubt. But now the jury is pretty much out. And we have to get real: Iran is playing us for fools.
The report last week by The New York Times that Iran kept growing its nuclear stockpile throughout the negotiations, despite White House assurances to the contrary, was the last nail in the coffin.
Iran has been caught red-handed lying, cheating, and double-talking throughout this process. It is still developing missiles designed to carry nuclear warheads, according to the Pentagon. It is reportedly still working with North Korea on military nuclear technology.
In other words, everything we know suggests Iran is still on its nuclear trip, despite its promises and despite the ongoing negotiations.
Iran has every reason and incentive to pursue the bomb. After Libya gave up its WMDs, its government was overrun by President Obama's 2011 intervention, signaling that no country in the region is truly safe without them. Combine that with the Iranian regime's longstanding project of national greatness and its apocalyptic anti-Semitism, and you can see why Iran would make an audacious bet that Israel and the U.S. will not attack if it continues to develop nuclear weapons.
That is the story that matches up with the facts. The other story — Iran is willing to give up its nuclear ambitions — no longer does.
Yes, yes, it would be absolutely great if we could work out a win-win deal whereby Iran gives up the nukes, becomes a good global citizen, and rejoins the community of nations. Nobody disputes that.
There is a point, however, where optimism shades into wishful thinking, and wishful thinking into self-delusion.
The only reasonable interpretation of recent events is that Iran is fully determined to get a nuclear weapon at whatever costs, and is only using negotiations with the West as a delaying tactic in its rush for the bomb. That nobody thinks this is a good idea isn't a reason for denying the facts.
The fact is that Iran is playing us for suckers. So let's stop being suckered.

Continue reading for free
We hope you're enjoying The Week's refreshingly open-minded journalism.
Subscribed to The Week? Register your account with the same email as your subscription.