Here's the real problem with Hillary Clinton's electoral strategy
It's called the Electoral College, and we should kill it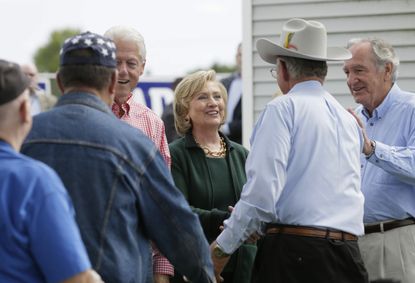 (Image credit: AP Photo/Charlie Neibergall)
Hillary Clinton is beginning to unveil her campaign strategy, and so far there are no surprises. She's going to focus on the usual handful of swing states, and shape a platform designed to excite the liberal base. But because it differs from the way her husband campaigned more than 20 years ago, her strategy has led to outrage from the usual centrist suspects. Ron Fournier argued that this is the "wrong way" to win, since it will rule out trying to persuade moderates as her husband did in the olden days.
Brendan Nyhan responds that Clinton is just being realistic. American politics runs on hate and fear. Nobody can unite the country anymore, not when half the country loathes the other half. Combine that polarization with the Electoral College, and you have a recipe for campaigns that focus maniacally on the dwindling number of swing states.
It's senseless to think that the people who manage to claw their way to the top of our rattletrap political structure will somehow change it by force of will alone. Polarization, in particular, has been gaining steam for generations, and is driven as much by the leadership of presidential candidates as its absence. For evidence, look no further than the bridge-building efforts of one Barack Obama.
Subscribe to The Week
Escape your echo chamber. Get the facts behind the news, plus analysis from multiple perspectives.
SUBSCRIBE & SAVE
Sign up for The Week's Free Newsletters
From our morning news briefing to a weekly Good News Newsletter, get the best of The Week delivered directly to your inbox.
From our morning news briefing to a weekly Good News Newsletter, get the best of The Week delivered directly to your inbox.
However, the same is not true of the Electoral College. This is a completely senseless institution that is quite literally bad for every citizen — but luckily, it is one we can get rid of if we so choose.
The problems with the Electoral College are threefold. First, it massively over-represents less populous states like Wyoming, whose voters are weighted about three times more heavily than those of Pennsylvania. Second, it is possible to win the presidency while losing the popular vote (by as much as five to one), which has happened in roughly 5 percent of presidential elections. Third, it distorts presidential politicking by forcing the candidates to pay rapt attention to the handful of states with a close ideological balance, partially disenfranchising the vast majority of the population.
The first and second problems are fairly self-explanatory. Democracy is good, and therefore one citizen should get one vote.
The third is more interesting, and bears on the above discussion about the growing narrowness of political campaigns. The political effects of the Electoral College are noxious for everyone involved. It's worse for big, partisan states like Texas and California, since their overall votes are worth less. Furthermore, they have millions of people whose votes are essentially worthless. If you're a Democrat in Texas, or a Republican in California (about 40 percent of voters in both states), you might as well vote for the Rent is Too Damn High candidate for all the impact your vote will have. The situation is scarcely better for the victors, since you're only checking a preordained box that had zero influence on any candidate's strategy or thinking.
This dynamic is reflected in the states where candidates choose to campaign and spend advertising dollars. During the last two months of the 2008 election, just four states accounted for a majority of campaign events and candidate spending — and only 18 states got visited at all. This trend seems to be getting worse: In 2012, after the conventions were finished, just 12 states were visited at all, and the big four (Florida, Virginia, Iowa, and Colorado) accounted for over two-thirds of the campaign events. A good 80 percent of states were basically ignored. It's possible to imagine a near future in which there are no swing states at all, and the election is entirely determined by geographic-demographic chance.
But even for current swing states, elections are still awful. Outsiders may imagine that it's great to have a vote that is massively more important than everyone else's, but the actual experience is by all accounts horrible. All the political money and effort from a nation of 320 million being concentrated in a few states means nonstop harassment, from television advertising to door-to-door campaigns, much of it with the object of convincing you the other side will grind your children into soup.
An interstate compact to do an end run around the Electoral College and thereby institute a national popular vote for president has now reached 61 percent of the support needed to change our voting system. This really ought to be a bipartisan issue. Though mainly left-leaning states support the cause, because of the 2000 election, the truth is that it could definitely fail the other way next time, with Hillary Clinton getting elected without a popular vote majority. What's more, the states that get hosed by the Electoral College are both liberal and conservative — inevitably, since it includes four-fifths of them.
So come on Texas, Michigan, and Nebraska, or even Wyoming and Florida — let's have a proper democratic election, where the candidate who gets the most votes is guaranteed to win.

Continue reading for free
We hope you're enjoying The Week's refreshingly open-minded journalism.
Subscribed to The Week? Register your account with the same email as your subscription.