Will sex become purely recreational by 2050?
Don't count out old-fashioned reproduction just yet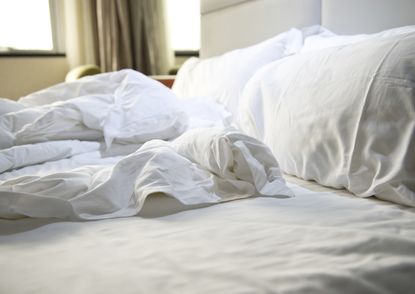 (Image credit: iStock)
Decades ago, it was hard to imagine public support for unconventional baby making. In vitro fertilization's first "test tube baby," Louise Brown, was born in 1978 to a world still enraptured by the futuristic genetic caste system put forth in Aldous Huxley's Brave New World.
But Brown is 36, and by now millions of families have experienced that same sense of joy as her parents had. The stigma of the practice — in which eggs are fertilized by sperm in a lab — certainly isn't gone, but it's lessening. A 2013 Pew survey showed only 12 percent of adults think IVF is morally wrong.
The late Austrian scientist Carl Djerassi, a key player in the development of the birth control pill, boldly proclaimed last year that IVF is the future of procreation.
Subscribe to The Week
Escape your echo chamber. Get the facts behind the news, plus analysis from multiple perspectives.
SUBSCRIBE & SAVE
Sign up for The Week's Free Newsletters
From our morning news briefing to a weekly Good News Newsletter, get the best of The Week delivered directly to your inbox.
From our morning news briefing to a weekly Good News Newsletter, get the best of The Week delivered directly to your inbox.
"Over the next few decades, say by the year 2050, more IVF fertilizations will occur among fertile women than the current five million fertility-impaired ones," he told The Telegraph. "For them the separation between sex and reproduction will be 100 percent."
In Djerassi's estimation, healthy, fertile young women will freeze their eggs in greater numbers to beat their biological clocks. As a result, sex could become purely recreational, he argued. So, was he right?
Djerassi was probably getting ahead of himself, big time. IVF treatment is required to be part of insurance policies in only a handful of states. A few big-name employers, like Facebook and Apple, are getting onboard with treatment coverage, but not everyone can work for a tech giant. The average cost of treatment is $12,400, according to the American Society for Reproductive Medicine. That's still prohibitive for a huge number of families.
And it isn't just about the money.
"I think IVF is a lot to go through," said reproductive endocrinologist Tom Molinaro of the Reproductive Medicine Associates of New Jersey. "It is a big deal to take hormones for two to three weeks, to having anesthesia. It's a roller coaster ride. I think there are lots of people who have to do IVF who don't want to do it."
Plus, lingering ethical questions about who should be eligible for the treatment and how to make that treatment more efficient and successful may not be answered quickly.
"Currently there are strict moral and ethical and legal boundaries surrounding genetics," said John Zhang, New Hope Fertility Clinic's founder and medical director, in an email to The Week. "It might take longer than 40 years before we are truly ready to start toying with these ideas."
In others words, just because a certain technology exists doesn't mean there's a consensus about when and how to use it. IVF might be available to a huge range of patients, technically speaking, but that doesn't mean fertile patients will start getting treated by infertility clinics in droves.
"I think it's one thing to have available these technologies when nothing else is going to work, but I would have a hard time recommending it when you don't need it," said Jim Toner, reproductive endocrinologist and Society for Assisted Reproductive Technology president.
OK, so sex as the primary means of human reproduction probably isn't going away any time soon. But there still might be something to what Djerassi hints at: That people having sex could be more focused on how technology could make sex more fun, absent the pressure of needing to reproduce that way.
Sex educator and relationship therapist Laura Berman teased a wild future of sex in the Wall Street Journal:
Some surreal innovations in sex are slowly taking root already. The Japanese sex toy manufacturer Tenga has taken a stab at virtual reality sex. Vice called the experience "more creepy than erotic," so there's probably a ways to go before an anime woman offering up sexual favors feels satisfying for the masses.
Aside from advances in virtual reality, there's robot potential. That scene in Unbreakable Kimmy Schmidt where Jane Krakowski tries to kill her husband's sex robot out of jealousy is silly, sure, but some scientists think sex could actually be headed that way.
The level of customization possible with a robot (think: Her) could be an appealing way to find a partner, especially as online dating makes us choosier. And New Zealand researchers wrote in Futures last year about how robots may make good prostitutes. Weird? Maybe. Safer? Almost definitely.
It's not so easy to picture robots and virtual reality winning out against physical intimacy. For now, two things are certain: We'll still want to have sex and we'll still want to have babies. There's bound to be a huge amount of overlap between those two desires for the foreseeable future. Even so, by 2050, both of those activities could look pretty different than they do now, as IVF becomes more effective and accessible, and as sex becomes even more, well, fun.

Continue reading for free
We hope you're enjoying The Week's refreshingly open-minded journalism.
Subscribed to The Week? Register your account with the same email as your subscription.