Why the U.S. should invest a lot more in nuclear research
In theory, nuclear power could be a lot safer and cheaper. But it will require a big influx of cash.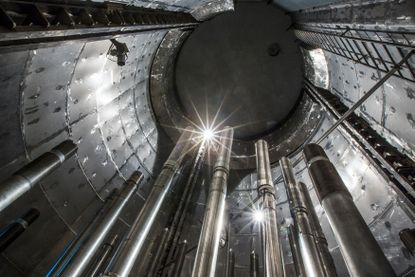 (Image credit: REUTERS)
For the past several years, nuclear power has been a focus of sharp disagreement in the debate over climate change. Traditional environmentalists tend to oppose it, while climate trolls argue it is the savior of mankind, only stopped by green ignorance. For all the hyperbole, both sides make some good points. Nuclear power is not as dangerous as it is often portrayed, at least compared to coal, while the trolls fail to acknowledge the major problem with traditional nuclear power: its stupendous cost.
However, there are reasons to hope there could be a way to end this impasse. The answer lies in moving away from existing nuclear technology, and towards general research. The theoretical benefits of non-standard nuclear technologies are very great, but these technologies are not currently in a workable form. Thus, more research could pay off handsomely.
The Department of Energy is moving in just this direction, with $60 million recently awarded towards new nuclear research. That's a good step, but an insufficient one. We ought to be doing much more.
Subscribe to The Week
Escape your echo chamber. Get the facts behind the news, plus analysis from multiple perspectives.
SUBSCRIBE & SAVE
Sign up for The Week's Free Newsletters
From our morning news briefing to a weekly Good News Newsletter, get the best of The Week delivered directly to your inbox.
From our morning news briefing to a weekly Good News Newsletter, get the best of The Week delivered directly to your inbox.
The main problem with traditional nuclear power plants is that they're too big. Existing nuclear technology is based on uranium fission, which requires enormous generators to work properly. The plants are huge, complicated, dangerous, and therefore extremely expensive to build and insure. Typically, that means large government subsidies are required to get one actually built, and cost overruns and other headaches are very common. As a result, many nuclear projects have been abandoned outright.
What's worse, nuclear has stagnated or even increased in price over the years. Like any big piece of infrastructure these days, American institutions struggle to get them done on time and within budget. That stands in stark contrast to wind and especially solar, which have been plummeting in price. Faced with a likely price assault from renewables, many utilities are attempting to capture regulated ratepayers who can be forced to pay for their unprofitable nuclear plants.
Then, of course, there is the small but real danger of nuclear meltdown, which could turn huge swaths of country into a radioactive wasteland for centuries.
Newer reactor designs have the potential to alleviate most or all of these problems. Some research funded by the Department of Energy concentrates on smaller, modular reactors, which could standardize the manufacturing process and bring down prices, since one of the expensive aspects of traditional design is having to build custom parts and equipment for huge generation facilities.
Another, even more promising research area is in thorium reactors. This is another fission reactor, but with several major advantages. Thorium is vastly commoner than uranium, making the fuel cheaper. The reaction pathway generates far less waste. Such a reactor also must be constantly bombarded with neutrons to keep the reaction going, instead of being modulated with control rods — meaning that it will tend to naturally cool down on its own during an emergency loss of power, rather than spiral out of control.
In perhaps the most promising design, thorium is dissolved in a molten fluoride salt, which means the reactor can be operated at atmospheric pressure, instead of the very high pressure of traditional reactors. It can even include an electric-cooled reactor plug, so if power fails, the plug will melt and the reactor will automatically drain and shut itself off.
Aside from cold fusion, this has long been the holy grail of nuclear energy. So why hasn't it been figured out? Nuclear weapons, for one. It's nearly impossible to get weapons-grade plutonium or uranium out of a thorium reactor — a potential benefit today, but a major strike against thorium during the Cold War. The U.S. actually had a prototype thorium reactor back in the 1960s, but President Nixon fired the major thorium proponent because Nixon was more interested in the nukes.
To be clear, thorium research isn't included among the current grants, since it would cost a lot more than $60 million — though the Department of Energy is reportedly helping China develop a prototype, while Oak Ridge National Laboratory, which housed the '60s prototype, is helping Canada build one.
All that said, we shouldn't be counting our nuclear chickens. By all accounts, the theory here checks out, but it would have been done by now if the implementation weren't very, very hard. Nuclear reactors — even small ones — are some of the most difficult engineering humankind has ever attempted. Even if these theories can be made to work, it will likely take years and a great deal of money to move from the prototype to the mass-implementation phase.
Still, at the very least it's worth a shot. Just last year the government gave billions in loan guarantees to two additional units at the Vogtle nuclear plant — potentially groundbreaking research ought to get at least equal support.

Continue reading for free
We hope you're enjoying The Week's refreshingly open-minded journalism.
Subscribed to The Week? Register your account with the same email as your subscription.