Republicans may actually be evolving on the Confederate flag
It's just happening at a glacial pace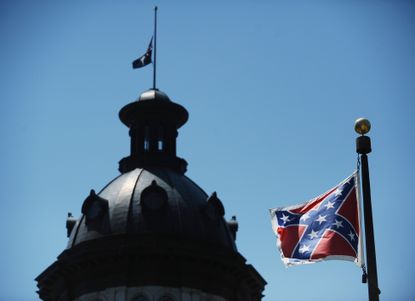 (Image credit: AP Photo/Rainier Ehrhardt)
When you run for president, you know that sooner or later, an issue is going to come up that you'd really rather not talk about. An important event occurs, perhaps even an awful one, and you find yourself confronting questions that you had hoped to avoid. So it is with the Republican candidates, who because of the terrorist attack in Charleston are now being asked questions about racism, which always makes Republicans uncomfortable. One of those questions is whether they think the Confederate flag, which flies next to the state house in Columbia, ought to be taken down.
This issue has come up multiple times in primary races because of South Carolina's important place in the primary process. But this time, we may actually see signs of evolution from Republicans — evolution at a glacial pace, but evolution nonetheless.
Because it holds the first primary in the South, soon after the Iowa and New Hampshire contests, South Carolina is often the site of a festival of pandering, as candidates seek to convince the state's extremely conservative Republicans that their culture, their perspective, their resentments, and their anger are shared by the national party and its representatives. Inevitably, the Confederate flag issue comes up, and candidates have to wrestle with two competing impulses: to seek the favor of the conservative white South Carolinians who will be going to the polls, and to avoid embracing a symbol of treason and slavery in a way that could turn off voters in the rest of the country.
Subscribe to The Week
Escape your echo chamber. Get the facts behind the news, plus analysis from multiple perspectives.
SUBSCRIBE & SAVE
Sign up for The Week's Free Newsletters
From our morning news briefing to a weekly Good News Newsletter, get the best of The Week delivered directly to your inbox.
From our morning news briefing to a weekly Good News Newsletter, get the best of The Week delivered directly to your inbox.
The debate was particularly acute in 2000, since that campaign happened amidst a raging controversy about whether the flag should stop flying over the state's capitol. It had been placed there in 1962, as a giant middle finger to the federal government over efforts to desegregate and dismantle Jim Crow, and South Carolina was the last state to keep flying it atop their seat of government. An eventual compromise took the flag off the capitol building and put it a stone's throw away, where it remains today. During that election, George W. Bush resolved those two competing impulses by refusing over and over to say what he actually thought about the flag, insisting that it was for the people of South Carolina to decide, and he could not possibly express an opinion about it. John McCain couldn't get his story straight, first calling the flag a "symbol of racism and slavery," then reversing himself (presumably after looking at some polls) to say it was a "symbol of heritage."
So often a trail-blazer, Bush showed how one could simultaneously pander and retain plausible deniability, a template some followed afterward. Eight years later, Mike Huckabee took the same they-should-decide-for-themselves position, but wrapped it in a bunch of Yankee-hating bluster. "You don't like people from outside the state coming in and telling you what to do with your flag," he said. "In fact, if somebody came to Arkansas and told us what to do with our flag, we'd tell them what to do with the pole; that's what we'd do."
But things are a bit different today. Republicans may not have any illusions about getting the votes of African-Americans, but they know that "reaching out" to other minority groups requires a general attitude of welcoming. So it would be extremely surprising if any of the candidates came out in support of the flag, even in an indirect way. Even South Carolina's own Lindsey Graham has been equivocating — asked if the flag should come down, he said that "would be fine with me, but this is part of who we are," making it hard to figure out whether he wants it to come down or not. But Jeb Bush ordered Florida's confederate flag taken down when he was governor, and when other candidates chime in, they're unlikely to be pro-confederate, particularly with the memory of this attack still fresh.
They can get some cover from conservative intellectuals who are telling Republicans to give up the flag already. But they'll also be running up against another strain of conservative opinion, the one coming from conservative media. While the flag may not have been much of a topic of discussion lately, race is a constant obsession there, particularly the many ways in which Barack Obama and Eric Holder are keeping white people down as they pursue their Black Panther-esque agenda of racial revanchism (and if you think I'm unfairly caricaturing what they say, I'd encourage you to listen to an episode or two of Rush Limbaugh's show).
The current conservative narrative has it that racism is now the sole province of people like Dylann Roof, lone extremists consumed by hatred, while the institutional and societal forms of racism have disappeared. Indeed, to listen to them tell it, the only pervasive and meaningful form of racism that remains is the racism that consists of conservative whites unfairly being called racist. The real victims are white people, who just can't catch a break. (As Bill O'Reilly says, "If you're a Christian or a white man in the U.S.A., it's open season on you.")
The candidates surely understand that their primary voters have been fed this meal for years, which may explain why Jeb Bush can't even bring himself to say that the Charleston shooting was racist — when reporter Laura Bassett asked him directly, he said, "Nine people lost their lives, and they were African American. You can judge what it is," as though saying the word was too dangerous. And we shouldn't forget that the party continues to carry out a comprehensive, nationwide effort to make it as difficult as possible for certain people, including black people, to vote.
Nevertheless, if most or all of them acknowledge that if nothing else, the state government of South Carolina shouldn't fly the Confederate flag, it will be progress. Slight progress, to be sure, and way, way overdue. But it would at least be something.

Continue reading for free
We hope you're enjoying The Week's refreshingly open-minded journalism.
Subscribed to The Week? Register your account with the same email as your subscription.