Did you like George W. Bush? Then you'll love Marco Rubio.
A President Rubio would expand the Pentagon's budget, over-extend the military, and broaden NATO's mission through sheer bellicosity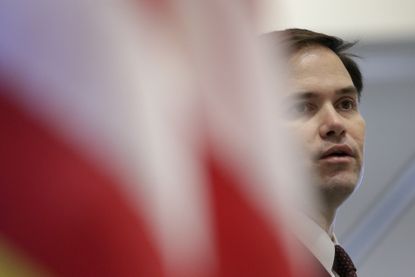 (Image credit: AP Photo/Jae C. Hong)
Sign up to our 10 Things You Need to Know Today newsletter
A free daily digest of the biggest news stories of the day - and the best features from our website
Thank you for signing up to TheWeek. You will receive a verification email shortly.
There was a problem. Please refresh the page and try again.
Want a return to the foreign policy of the George W. Bush era? Vote Marco Rubio.
At least that's what Rubio is thumping for in his misguided article in Foreign Affairs. He wants to strengthen America's military, involve it in more missions, humiliate and box in multiple great power rivals, and foment pro-American ideological change wherever possible.
First, let's talk about the one part of his essay that made a little sense. Rubio smartly notes that the U.S. has interests beyond the Middle East, a point that has constantly been forgotten over the last two decades. And he's right that the sea lanes in the South China Sea kept open for trade by U.S. naval power and a delicate balance of interests remain vitally important to the prosperity of several nations.
Subscribe to The Week
Escape your echo chamber. Get the facts behind the news, plus analysis from multiple perspectives.
SUBSCRIBE & SAVE
Sign up for The Week's Free Newsletters
From our morning news briefing to a weekly Good News Newsletter, get the best of The Week delivered directly to your inbox.
From our morning news briefing to a weekly Good News Newsletter, get the best of The Week delivered directly to your inbox.
Rubio's observation that the U.S. must husband some of its resources and diplomatic energy to maintain open sea lanes is correct. But it cuts against the thrust of the rest of Rubio's foreign policy agenda, which is strikingly aggressive when it comes to Russia, ISIS, and Iran.
On the one hand, Rubio says that the United States needs a broadened coalition of partners to fight the Islamic State. He seems to not recognize that this puts us on the side of Iranian clients like Syrian President Bashar al-Assad. (Or if he wants to see Assad and ISIS go at the same time, then he is hiding the fact that he wants to involve the U.S. in defeating several sides in a fractious civil war.) On the other hand, he says that the United States must rescind President Obama's deal with Iran over its nuclear ambitions and start over. In just a few paragraphs, Rubio has already outlined an extremely busy foreign policy agenda.
Rubio writes that the United States should have been much tougher on Iran in the negotiations, even at the risk of the Iranians walking away. He maintains that "increased pressure would have eventually forced it to back down." But one of the problems for U.S. negotiators was that military pressure was not really on the table. War was not simply abhorrent to a peacenik in the White House, but was almost unthinkable at a time when the U.S. is engaged against ISIS in both Syria and Iraq, as part of a coalition of anti-ISIS partners that includes Iran by proxy.
It also would have been a lot to ask that Russia and China make greater efforts on behalf of the United States by applying more sanctions against Iran, so that America could somehow regain its strength. How does that help Russia and China again?
That brings us to Russia. Rubio says that Russia's aggression in Ukraine is a dangerous disruption of the post-war order. He can't be serious. The post-war order was immediately defined by a Cold War in which Russia was far more aggressive, sponsoring a regime 90 miles off the coast of Florida, invading Hungary and killing 50,000 people in little over a weekend, and launching subversive campaigns against governments around the planet. If annexing Crimea and running a few provocative military exercises along Estonia's border were the sum of bad things Russia did in any year of the Cold War, it would have been considered an unusually great year for America and its allies.
Rubio also exaggerates the sovereignty and the mandate of Kiev's previous pro-Western government. In a sense, Rubio is trying to retroactively induct Ukraine into NATO by rhetorically casting it as a virulently pro-Western government in the most generous terms possible.
Rubio writes:
Will it really? It seems that Eastern Ukraine is much more important to Russia for reasons of history and geopolitics than it is to the safety of the United States or its property.
Rubio's contention is that any bad behavior on the part of these regimes is somehow caused by the latitude the United States provides them. It casts the United States as omnipotent force on the world stage. And this leads to a hyper-interventionist mindset that says that foreign governments behaving badly is the fault of American non-interventionists, and that American-inflicted chaos and death is the fault of foreign states intransigently resisting benevolent Yankee will.
Rubio further contends, like George W. Bush, that the promotion of American "values" will reliably work to extend American interests. What this means in practice is three things: 1) an added dose of hypocrisy to any American foreign policy decision in which there are no liberal counterparties, like, say, forming an anti-ISIS coalition in the Middle East; 2) an exaggeration of the importance and revolutionary potential of liberal political movements around the globe; and 3) an enticement to potential rebels, of whatever stripe, to falsely dress their bid for power in the rhetoric of Western liberalism and the colors of the American flag, in the hope of receiving American aid or, better yet, air support.
Rubio's vision is a recipe for expanding the budget of the Pentagon, over-extending an already war-wearied military class, broadening NATO's membership and its mission through sheer belligerence, and involving the United States more deeply in a region where it has shown no ability to create peace.
Rubio's vision is for a Great Society gone global, in which everyone is taken care of by Uncle Sam. If he or anyone else seriously tries to implement this vision, we will get precisely what Bush gave us: economic and diplomatic exhaustion.
Continue reading for free
We hope you're enjoying The Week's refreshingly open-minded journalism.
Subscribed to The Week? Register your account with the same email as your subscription.
Sign up to our 10 Things You Need to Know Today newsletter
A free daily digest of the biggest news stories of the day - and the best features from our website
Michael Brendan Dougherty is senior correspondent at TheWeek.com. He is the founder and editor of The Slurve, a newsletter about baseball. His work has appeared in The New York Times Magazine, ESPN Magazine, Slate and The American Conservative.