How Donald Trump is forcing the GOP to confront its ugly side
Can the Republicans save their party from racist right-wingers?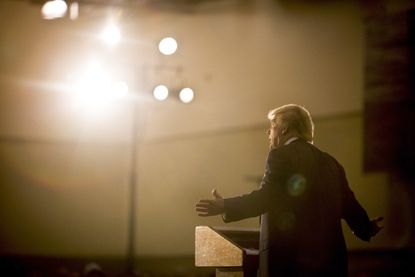 (Image credit: REUTERS/Ben Brewer)
Sign up to our 10 Things You Need to Know Today newsletter
A free daily digest of the biggest news stories of the day - and the best features from our website
Thank you for signing up to TheWeek. You will receive a verification email shortly.
There was a problem. Please refresh the page and try again.
Since the late 1970s, when conservatives consolidated their grip over the Republican Party, the GOP has become consistently more right-wing with every election, making the current House majority the most conservative in a century at least. The Democrats have become more liberal as well (though not by nearly as much), resulting in the most polarized Congress since possibly before the Civil War.
This raises the question: Where will the radicalization stop? Each new election has presented a chance for the GOP to turn back towards the center — or at least halt at its extremely conservative position. But with each election, including the one in 2014, relative moderates retired or were defeated, replaced by loonier ultraconservatives.
With the phenomenon of Donald Trump, that turning point may have been reached. Paid-up, credentialed movement conservatives are in open rebellion against Trumpism and all it represents — a crack-up of the machine that has been consistently pushing the GOP to the right.
Subscribe to The Week
Escape your echo chamber. Get the facts behind the news, plus analysis from multiple perspectives.
SUBSCRIBE & SAVE
Sign up for The Week's Free Newsletters
From our morning news briefing to a weekly Good News Newsletter, get the best of The Week delivered directly to your inbox.
From our morning news briefing to a weekly Good News Newsletter, get the best of The Week delivered directly to your inbox.
First, it's important to note the methodologies of these studies. The political scientists who measure ideological polarization typically use a technique called DW-NOMINATE, a purely mathematical tool that measures how closely parties align among themselves. They find that, most of the time, a single dimension of difference is largely sufficient to explain the outcomes of political events. Today, that's economic ideology — liberalism versus conservatism — but in antebellum days it was slavery. (Sometimes, a second dimension is needed to account for issue-splitters like the Blue Dog Democrats, though such people are all but extinct today.)
This is to say that GOP extremism has thus far mostly been expressed in economic policy tilted toward plutocrats, such as abolishing campaign finance law and preserving the carried interest loophole. But the weird thing about galloping economic extremism in the GOP is that it seems to be fueled by forces other than economic concerns. People have often remarked that Republican elites whip their base into a frenzy over social issues, but are far more reliable when it comes to delivering huge gobs of money for the rich than they are at redressing social grievances.
Moreover, when it comes to policy brass tacks, Republican base voters often do not support the small government agenda of the party's elite and donor class. Republicans generally (and even Tea Party voters!) strongly oppose cuts to Medicare and Social Security — probably the most left-wing programs in the American state, which happen to be utterly loathed by the party elite. What gives? Among Republican voters, social issue politics have been channeled into pro-rich policy.
Donald Trump totally blows up that relationship. On a whole slew of policy, he is no extremist — on the contrary, his list of liberal heresies is a mile long. His lead in the polls, sustained in the face of multiple enormous gaffes and even a brief assault from Fox News, illustrates what really drives a substantial fraction of the Republican electorate: grievance politics and racism.
As society keeps evolving, beliefs that were once widely held (opposition to gay marriage, or interracial marriage before that) have been firmly labeled as bigoted. That hatred of being judged is the root of grievance politics, leading many to instinctively valorize anything that goes against the cultural elite. Hence, Trump: It turns out that pissing off liberals, refusing to submit to their cultural standards, and never apologizing can inspire deep loyalty among a large swath of the conservative electorate. Like Sarah Palin, a great deal of Trump's popularity can be chalked up to the fact that he has the right enemies. The fact that he is such an outrageous buffoon is a positive good, simply because it inspires even more left-wing dislike.
Trump's appeal to racists, meanwhile, is by now stone obvious. He makes frequent reference to Mexican immigrants being criminals and rapists. He says he will magically deport 11 million undocumented workers and build a gigantic wall to keep them from coming back. And now he's bringing back Nixon's dog-whistle crime politics, talking about a "silent majority" that supports his views. Put these things together — such as when Trump contemptuously ejected a prominent liberal Latino journalist from a press conference — and it's the political equivalent of a crack rock:
But that's not the end of the race issue. Many Trump supporters are outright white nationalists, open racists, and/or anti-Semites. Full-blown, unapologetic bigotry, complete with bizarre sexual hang-ups, is perhaps more visible now than at any time in the last several decades.
Some Republicans — like the GOP elites who are beside themselves at the damage Trump is doing to the party brand — seem most upset that he's throwing a wrench into their plans to turn cultural resentment into more tax cuts. But others seem genuinely stunned and horrified at the emergence of neo-Nazi and KKK rhetoric in a Republican primary.
It's hard to say where it will end. Trumpism could introduce to American politics something similar to France's National Front — a party that is very hard right on social issues, particularly immigration, while cutting center-left on the welfare state. If Trump runs as a third party, it could be a spoiler for the 2016 presidential election, or mutate into a different kind of primary challenge for House and Senate seats. Or traditional Republicans could be so disgusted with the bigotry of Trumpism that they purge his followers from the party — likely sapping much of their base's fervent energy.
Either way, this poses a real challenge to the mechanism that has ratcheted the Republican Party economically rightward over the last four decades. If that mechanism breaks down, you can thank Trump.
Continue reading for free
We hope you're enjoying The Week's refreshingly open-minded journalism.
Subscribed to The Week? Register your account with the same email as your subscription.
Sign up to our 10 Things You Need to Know Today newsletter
A free daily digest of the biggest news stories of the day - and the best features from our website
Ryan Cooper is a national correspondent at TheWeek.com. His work has appeared in the Washington Monthly, The New Republic, and the Washington Post.