How the upcoming government shutdown fight will help Donald Trump
It plays right into his hands...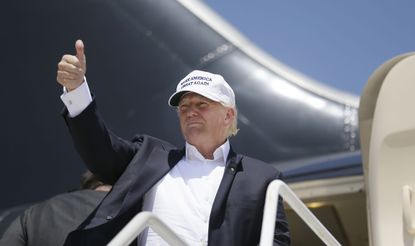 (Image credit: AP Photo/LM Otero)
Sign up to our 10 Things You Need to Know Today newsletter
A free daily digest of the biggest news stories of the day - and the best features from our website
Thank you for signing up to TheWeek. You will receive a verification email shortly.
There was a problem. Please refresh the page and try again.
You might not be aware of it unless you're weird enough to follow these sorts of things, but we're about to have yet another government shutdown controversy on our hands. And when it ends, the biggest beneficiary is likely to be none other than Donald Trump, who couldn't find his way through a continuing resolution if there was a solid gold toilet waiting at the end of it.
This time around, it's about Planned Parenthood. After the release of secretly recorded videotapes showing that the organization transfers fetal tissue to researchers — which is perfectly legal, no matter how many conservatives think it's icky — Republicans all got on board with "defunding" the group, which they have tried to do in the past. Since most of the federal money Planned Parenthood gets comes from Medicaid reimbursements for things like gynecological exams and cancer screening, it amounts to Congress telling poor women where they can and can't get their medical care.
The conservatives have an opportunity now to cause a confrontation because Congress has to pass a continuing resolution by September 30 to keep the government open. (Unlike a real budget that sets all federal spending line by line, a CR essentially keeps funding at current levels, perhaps with some tweaks. It's what Congress does when it can't pass a budget, as it's been unable to do for a few years now.) So now a couple of dozen House Republicans are saying they'll withhold their support for the CR unless it defunds Planned Parenthood. Which in theory could lead to a shutdown. Except it won't.
Subscribe to The Week
Escape your echo chamber. Get the facts behind the news, plus analysis from multiple perspectives.
SUBSCRIBE & SAVE
Sign up for The Week's Free Newsletters
From our morning news briefing to a weekly Good News Newsletter, get the best of The Week delivered directly to your inbox.
From our morning news briefing to a weekly Good News Newsletter, get the best of The Week delivered directly to your inbox.
Here's how these things almost inevitably go: First, congressional conservatives, mostly in the House but sometimes with the assistance of a senator or two (especially Ted Cruz), find something they're really mad about and threaten to do something drastic. (And the "something" is never far away, since continuing resolutions are short-term.) The conservatives say unless they get what they want, they'll withhold their support for the next CR that will keep the government operating. Their leaders, understanding the history of government shutdowns, tell them that it really won't accomplish anything and will only hurt Republican goals. The insurgent conservatives get lots of support from right-wing talk radio, telling them to stand up for principle and stick it to all those Washington insiders. Eventually, the CR passes, usually with the support of Democrats. The conservatives say that their leaders have betrayed them. And what remains is a lot of ill feeling among conservative legislators and their constituents.
That's what has happened before, and it's going to happen this time around too, particularly since Mitch McConnell and John Boehner have been clear that they won't allow any more shutdowns. In any case, the most important thing to know about these confrontations, whether they end before the shutdown starts, or, as happened two years ago, end after the government has been closed for a while, is this: the conservatives never get what they want. The last time they shut down the government, they were demanding the repeal of the Affordable Care Act, which as you may remember was not actually repealed. And this time they're not going to get Planned Parenthood defunded.
Which is how we get to Trump. The remarkable success of his candidacy can be explained by multiple factors, but a key one is the dissatisfaction among Republican voters with their party's leaders. And a big part of that dissatisfaction is that those leaders keep promising their constituents things they don't deliver. The defunding of Planned Parenthood will be simply one more thing to add to the list. So when Trump comes along and says that unlike all those stupid and ineffectual politicians he knows how to get things done, it's extremely appealing.
So if we have another shutdown crisis, even one that never actually gets to a shutdown, Trump will say, "See? This kind of baloney is just what I'm talking about. Send me to the White House and all this garbage is done." The other candidates in the race, most of whom have at least some idea how the world actually works, will be far less emphatic, and will sound to a lot of Republican voters like exactly the kind of mealy-mouthed politicians they've grown so tired of.
There was never going to be much the Republican Congress could do to help its presidential candidates, since they can't pass the laws they'd like with President Obama holding the veto pen. But they can hurt those candidates, by creating spectacles that remind people that giving this party complete control of Washington might not be such a hot idea. They've refrained from it for a while, so another legislative pratfall is just about due. And the only Republican who'll benefit is the one most of the party is horrified by.
Continue reading for free
We hope you're enjoying The Week's refreshingly open-minded journalism.
Subscribed to The Week? Register your account with the same email as your subscription.
Sign up to our 10 Things You Need to Know Today newsletter
A free daily digest of the biggest news stories of the day - and the best features from our website
Paul Waldman is a senior writer with The American Prospect magazine and a blogger for The Washington Post. His writing has appeared in dozens of newspapers, magazines, and web sites, and he is the author or co-author of four books on media and politics.