Beware of Republicans bearing plans to 'simplify' the tax code
It only sounds like a good idea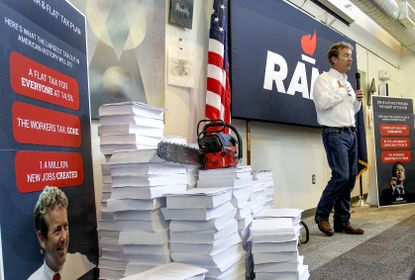 (Image credit: AP Photo/Cheryl Senter)
"Our life is frittered away by detail," wrote Henry David Thoreau in Walden. "An honest man has hardly need to count more than 10 fingers, or in extreme cases he may add his 10 toes, and lump the rest. Simplicity, simplicity, simplicity!" This would seem to be the guiding principle behind every Republican's idea of how to reform the tax code.
The code is too complex, they cry, sometimes hefting copies of it or, in Rand Paul's case, literally taking a chainsaw to it as evidence of their commitment to simplification.
Yet when it comes time to explain exactly how they want to change the tax code, they always seem to arrive at the same destination: reduce the number of income tax brackets. It sounds like it serves the self-evidently noble goal of simplification, but the truth is that the number of brackets is just about the least complex thing about the tax code. And the really complicated stuff? They barely go near it.
Subscribe to The Week
Escape your echo chamber. Get the facts behind the news, plus analysis from multiple perspectives.
SUBSCRIBE & SAVE
Sign up for The Week's Free Newsletters
From our morning news briefing to a weekly Good News Newsletter, get the best of The Week delivered directly to your inbox.
From our morning news briefing to a weekly Good News Newsletter, get the best of The Week delivered directly to your inbox.
Donald Trump is the latest candidate to release his tax plan, and it's only marginally more specific than the rest of what he has to say about policy. But like other Republicans, he wants to reduce the number of tax brackets, from seven down to four. Marco Rubio would make two brackets. Rand Paul and Ted Cruz have both proposed a flat tax — in other words, just one bracket — while other candidates haven't released actual plans, but will commonly say that they want the tax code to be "flatter," which would mean either the poor would pay more or the rich would pay less (or some combination of the two).
But it's important to realize that the number of brackets contributes almost nothing to the tax code's complexity. In fact, if anything we should want more brackets, not fewer.
If we're going to have a progressive tax system — and many Republicans, like Paul and Cruz, think we shouldn't, though most Americans disagree — then we're already saying that the more you earn, the more you pay. So there's little justification for saying that we want to lump people making a wider range of income together at the same rate. For instance, right now if you're an orthopedist making $500,000 a year, you pay a marginal rate of 39.6 percent on your income over $413,201, which is where the top rate kicks in. But if you're a Wall Street titan making $50 million a year, or a hundred times as much as the orthopedist, you pay the same 39.6 percent marginal rate. Is that fair?
The same is true at the other end. What's the justification for someone making $38,000 and someone making $90,000 paying the same 25 percent marginal rate? You can say "simplicity," but whether there were seven brackets or seventeen, you'd still just have to look up your income on a table to find out your tax (or have your software do it for you). It would be no less simple to have more brackets.
That's because the real complexity comes in all the adjustments and deductions and loopholes. And what's important to understand is that everyone thinks the things other people take advantage of are "loopholes," while the things you take advantage of are perfectly justified tax provisions.
So watch closely what the candidates say when they start talking about getting rid of loopholes. They tend to be very vague about it; in fact, they're more likely to tell you which loopholes they want to keep than which ones they want to get rid of. Deductions for charitable giving? Oh, you'll still have that, don't worry. How about the mortgage interest deduction? Fear not, that's not going anywhere. It'll be all those other loopholes that disappear — you know, the ones that don't actually benefit you.
And they know full well that when it comes time to actually start cutting out loopholes, things will get awfully difficult. Every loophole was created for a reason — to help out a particular industry, to encourage a certain kind of activity, to pay the fees of the lobbyists who devised it. So every loophole has a constituency willing to fight to maintain it. The more significant the loophole is, the more likely it is to have powerful people behind it.
There's nothing wrong with simplicity, and it is something we should seek out, all else being equal. The trouble is that in tax policy, all else is seldom equal. For instance, Marco Rubio's plan would completely eliminate all taxes on inheritances and capital gains, which would certainly be simple (most of the other candidates would also like to eliminate the inheritance tax, which they find deeply vulgar). But is it fair that Paris Hilton wouldn't pay any taxes while people who work for a living still would? And how would we make up the lost revenue? Those are the kinds of questions that need answering before you decide whether such a proposal is good or bad, not just whether it's simple.
But instead of addressing those questions, the candidates will say things like, "You'll be able to file your taxes on a postcard!" Which would certainly be simpler. But it wouldn't necessarily be better.

Continue reading for free
We hope you're enjoying The Week's refreshingly open-minded journalism.
Subscribed to The Week? Register your account with the same email as your subscription.