Yale, Mizzou, and the death of liberal toleration
Can a liberal democracy thrive if its citizens embrace the blatantly illiberal proposition that freedom of thought and tolerance of dissent are incompatible with human flourishing?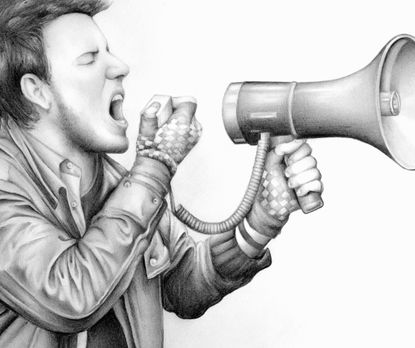 (Image credit: Cath Riley/Ikon Images/Corbis)
Sign up to our 10 Things You Need to Know Today newsletter
A free daily digest of the biggest news stories of the day - and the best features from our website
Thank you for signing up to TheWeek. You will receive a verification email shortly.
There was a problem. Please refresh the page and try again.
Perhaps the most distinctive characteristic of American culture is its tendency to deny that there is any distinctive characteristic of American culture. Our truths, no matter how sectarian, are self-evident. Our partisan convictions — all of them, from far right to far left and everything in between — all somehow boil down to a matter of common sense. Other nations are burdened by the baggage of history. But not Americans, who alone live in the crisp, bracing air of freedom, each generation beginning the world anew, fashioning its preferences, hopes, and ideals from scratch.
This, of course, is a fiction — the American national myth, maybe even more fundamental than the myth of American exceptionalism with which it is often linked. Like all myths, this one can serve positive social purposes while also managing to obscure aspects of reality that lie right under our noses. In the case of this particular myth, the danger of obscurantism is especially great because the American myth explicitly denies the presence and influence of myth on how we view the world. The more vociferously we deny the influence of any external influence on our thinking, the more we testify to the myth's power over our thinking.
I've begun with this excursion into the American mythos because it seems to me that for all the attention that's been given to recent student protests at Yale University and the University of Missouri, we have so far failed to appreciate the import of what's going on. (See Conor Friedersdorf for the best account by far of recent bizarre events in both New Haven and Columbia, Missouri.)
Subscribe to The Week
Escape your echo chamber. Get the facts behind the news, plus analysis from multiple perspectives.
SUBSCRIBE & SAVE
Sign up for The Week's Free Newsletters
From our morning news briefing to a weekly Good News Newsletter, get the best of The Week delivered directly to your inbox.
From our morning news briefing to a weekly Good News Newsletter, get the best of The Week delivered directly to your inbox.
Briefly: At Yale, an email pushed students to avoid racially insensitive Halloween costumes, another email from a lecturer questioned whether colleges were now "places of censure and prohibition," and students protested. At Mizzou, the university system president resigned after protests exploded because university leaders were accused of failing to address race-related incidents on campus.
But this isn't just about Yale, or the University of Missouri, or Ivy League privilege, or "identity politics" run amok, or "grievance mongering." Over the past few years, angry protests against "microaggressions," insistent demands for "trigger warnings," and furious calls for "safe spaces" have rocked campuses across the country, from Harvard to Northwestern to Brandeis to the University of Missouri again, and beyond.
There's something happening here, and what it is is abundantly clear: Whereas the campus unrest of the 1960s began with a series of protests at the University of California, Berkeley in defense of free speech, campuses are erupting today for the opposite reason — because a shockingly large number of current college students (51 percent in a recent poll) believe speech and expression should be curtailed in the name of keeping those students safe from emotional harm.
How has it happened that at this moment of history, large numbers of young people have come to associate exposure to dissenting views with suffering an injury so egregious that it requires university administrators and professors to respond by publicly validating the wound and stamping out further expressions of dissent?
The best explanation can be found in a recent Atlantic cover story by constitutional lawyer Greg Lukianoff and social psychologist Jonathan Haidt. Titled "The Coddling of the American Mind," the article traces the unprecedented fragility of today's college students to the attitudes of their parents and schools about safety. Consistently taught that the world is a perilous place — with everyone and everything from sexual predators, playground bullies, and hit-and-run drivers to monkey bars and peanut butter threatening to inflict damage or injury — young people have learned the following lesson: "Life is dangerous, but adults will do everything in their power to protect you from harm, not just from strangers but from one another as well."
Growing up in an era of ideological polarization and reared on social media from a formative age, young people today have also learned that disagreements are often rancorous — and that comfort can be found in forming communities of the likeminded that define themselves against outsiders. (Talk among the Yale protesters about how their residential college should serve as a "place of comfort and home," rather than an "intellectual space," seems to follow from this model of social-media interaction.)
The point is that the protesters didn't spring into existence out of nothing. Their preferences and convictions aren't self-evidently true. And they aren't giving voice to common sense. They are thinking and feeling a certain way, and making specific demands, because of how they were raised — by their parents, by their schools, and by their culture.
By our culture.
We made them this way.
This should give all of us pause — and not only because, as Lukianoff and Haidt point out, today's student activists could well grow up to become miserable adults suffering from acute anxiety and depression.
It should also trouble us because of the likely civic consequences.
Can a liberal democracy thrive if a good portion of its citizens embrace the blatantly illiberal proposition that freedom of thought and tolerance of dissent are incompatible with human flourishing and should therefore be repressed?
A corollary of the American myth of spontaneous self-generation is the view that any and all human beings, if given a free choice, would choose to live as we do, to abide by liberal democratic norms and institutions. But this, too, is a fiction. The truth is that liberal democratic citizens need to be made, and then they need to be reproduced, cultivated. (If the failures of our multiple democratization projects in the Middle East and South Asia over the past 14 years haven't taught us both how essential and how monumentally difficult this task often is, I don't know what would.)
The United States is a liberal democracy that is producing significant numbers of citizens who do not think and act like citizens of a liberal democracy.
If the trend continues and spreads, it will not end well.
A wise man once wrote: "To realize the relative validity of one's convictions and yet stand for them unflinchingly is what distinguishes a civilized man from a barbarian." Striking and maintaining the right balance between absolutism and relativism, confident self-advocacy and intellectual humility can be a tricky business. Achieving it is indeed a mark of civilized life.
But it is also a precondition for liberal citizenship, which demands that people stand up for what they believe in while simultaneously remaining alive to the inevitable partiality of their perspective on the truth — and therefore to the possibility that someone else just might end up being right.
Toleration is the name we give to this moral and epistemological balancing act. It is the preeminently liberal virtue.
Which is why the rejection of it by so many on our college campuses — and our response to that rejection — is so important.
How can we inculcate the virtue of toleration in those who reject it? What good does that virtue serve? And how does it fit into higher education and a good human life?
If the wave of recent protests fills us with apprehension, it is because at some level we recognize the need to confront such questions — while realizing that we don't have the foggiest idea of how to answer them.
Continue reading for free
We hope you're enjoying The Week's refreshingly open-minded journalism.
Subscribed to The Week? Register your account with the same email as your subscription.
Sign up to our 10 Things You Need to Know Today newsletter
A free daily digest of the biggest news stories of the day - and the best features from our website
Damon Linker is a senior correspondent at TheWeek.com. He is also a former contributing editor at The New Republic and the author of The Theocons and The Religious Test.