Do political TV ads even matter anymore?
More money than ever is being spent on TV ads, yet they seems less important than ever. What gives?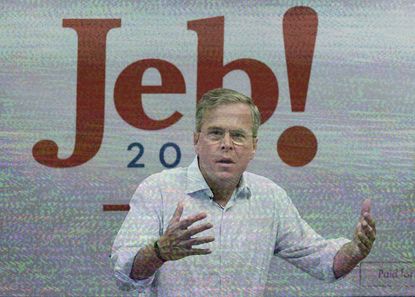 (Image credit: Photo Illustration | Images courtesy of Ethan Miller/Getty Images, iStock)
When Jeb Bush's campaign announced recently that it was pulling its TV ads from the Iowa airwaves, one might have expected it to be treated as the final acknowledgement of defeat for the onetime frontrunner. After all, TV advertising is the voice of the modern campaign, the place where all those plutocrat dollars are poured into the ears and eyes of a waiting electorate. Yet Bush's move was greeted with something like approval, since he'll be putting the money to better use in his ground operation.
There's a contradiction at the heart of the 2016 presidential primary: While more money than ever is being spent on television advertising, television advertising seems less important than ever.
According to some projections, spending on TV ads in the 2016 election will be around $4.4 billion, up from $3.8 billion in 2012. The expanding role of super PACs, which can raise unlimited money, has a lot to do with it. And no super PAC this year has been as successful as Jeb Bush's Right to Rise, which met its goal of raising $100 million, spent much of it on television ads, and is now left with a candidate currently running fifth in Iowa and sixth in New Hampshire, and winning the support of around one in every 20 Republicans in national polls.
Subscribe to The Week
Escape your echo chamber. Get the facts behind the news, plus analysis from multiple perspectives.
SUBSCRIBE & SAVE
Sign up for The Week's Free Newsletters
From our morning news briefing to a weekly Good News Newsletter, get the best of The Week delivered directly to your inbox.
From our morning news briefing to a weekly Good News Newsletter, get the best of The Week delivered directly to your inbox.
TV ads certainly didn't work for Jeb, but are they really less effective than they've been in the past? It's a difficult question to answer when there are so many variables involved (there may be no amount of advertising that could turn Jeb Bush into a compelling candidate). But TV was always a blunt instrument; when you air a TV ad, you're paying to reach lots of people who won't vote at all, and others who won't consider voting for you. You can do a bit of targeting — you'll reach more people who are likely to be voters by advertising on news programs, for instance, and more young people by putting your spots on The Daily Show — but it isn't particularly fine-grained.
And at a time when campaigns are getting more and better data about voters, there are many more effective ways of homing in on exactly the voters you want to reach. Campaigns are using that data to employ a spectrum of communication techniques, reaching voters through targeted web ads, emails, and social media. You may have been creeped out when you did a web search for shoes and then saw shoe ads popping up on every website you visit; campaigns can use the same kind of data to figure out which ads to put in your browser. Old-fashioned techniques like phone calls and knocking on doors are now deployed with highly specific information about every voter, not just which party they belong to but what issues they're likely to care about and what kinds of appeals they might respond to.
The smarter political operatives are coming to understand the many limitations of TV advertising. One of the problems is that whatever persuasive effects the advertising has will decay quickly; within a few weeks at most, it will be as though you never aired your ads at all. And with news and information about the campaign coming from so many different directions, TV ads have a harder time cutting through the noise. Dollar for dollar, it seems a much better investment to put money into more personal forms of communication.
Yet campaigns, and especially super PACs, continue to spend millions of dollars on television. Why is that? There are a number of reasons. One is that if their opponents are doing it, they feel they have to match them, lest they let their voice be drowned out. They also know that TV remains the most-used medium for news and entertainment, so you can reach more people there than in any other medium. Another reason is that the people who run campaigns have been doing it this way for a long time, and that's part of the strategy they know and understand. There are also financial considerations involved, since the networks of consultants who run campaigns tend to scratch each other's backs. If I'm a consultant running one candidate's race, I hire my buddy the media consultant and my other buddy the pollster, knowing that soon enough they'll do the same for me.
TV ads also provide something concrete the super PACs can present to their billionaire benefactors, to say, "This is what your contributions paid for." It's much more compelling to show that billionaire a fancy TV spot starring the candidate and tell him that everyone in the state will see it a dozen times, than to show him a dusty office in a strip mall where volunteers are making phone calls, even if the latter might yield more bang for his buck.
Are things going to change? It's hard to predict, but this election must surely make TV advertising a less appealing tool. Donald Trump is leading the Republican race despite having aired no TV ads at all (he recently announced that he'll begin TV advertising, though it's hard to see why). Even major donors are getting smarter; the Koch brothers, for instance, have decided that instead of just turning money over to political operatives to put on the air, they'd build an enormous political organization focused on grassroots voter contact. Other mega-rich donors may follow their lead.
But until then, if you live in a place like Iowa or New Hampshire right now or if you're in a swing state next fall, you'll still be inundated with political ads whenever you turn on your TV. Even if it's mostly a waste.

Continue reading for free
We hope you're enjoying The Week's refreshingly open-minded journalism.
Subscribed to The Week? Register your account with the same email as your subscription.