Trumpvangelicals are the new evangelicals
Immigration, Islamophobia, and guns: How Donald Trump is revolutionizing the religious right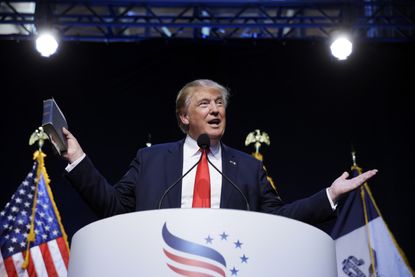 (Image credit: AP Photo/Charlie Neibergall)
Trumpvangelicals are the new evangelicals — the new religious force within the Republican Party. When Donald Trump says, as he often does, that "the evangelicals love me and I love them," he really means the Trumpvangelicals.
With Trump's sweep of the Deep South on Super Tuesday, he demonstrated that he can win in places where the Christian right thrives. But many evangelicals are aghast at Trump's ascendancy. These conservative white Christians who reliably vote Republican have for decades prioritized abortion, religious freedom (the kind at issue in the Hobby Lobby case), and Israel. Trump has de-prioritized abortion, barely gives lip service to religious freedom, and has declared himself "neutral" on Israel.
Trump and the Trumpvangelicals are revolutinizing the culture wars. The priorities now are immigration, Islamophobia, and guns.
Subscribe to The Week
Escape your echo chamber. Get the facts behind the news, plus analysis from multiple perspectives.
SUBSCRIBE & SAVE
Sign up for The Week's Free Newsletters
From our morning news briefing to a weekly Good News Newsletter, get the best of The Week delivered directly to your inbox.
From our morning news briefing to a weekly Good News Newsletter, get the best of The Week delivered directly to your inbox.
Trump draws evangelical support because even though evangelical political activists have long focused on abortion, same-sex marriage, and support for Israel — in part because they had allies in other religious communities such as Catholics and Jews — the issues Trump is now making prominent have long simmered in evangelical culture.
Although there is a movement within evangelicalism to support immigration reform, it has not moved a single Congressional Republican to act on it. Trump was diabolically savvy in exploiting this visible disconnect between some evangelical elites and an anti-immigrant evangelical base.
Trump also capitalized on Islamophobia. Of all religious demographics, white evangelicals are the most likely to say that Islam is "at odds with American values and way of life."
As Trump's positions on deporting undocumented immigrants and banning Muslim immigration hardened through December and January, his support among white evangelicals grew, culminating in his victories in many evangelical-heavy states, including South Carolina, Alabama, Tennessee, and Georgia. More than six in 10 Republican voters in these Southern states support his proposed Muslim ban, according to exit polls.
White evangelicals also are ardently pro-gun. Just ask the Rev. Rob Schenck, who has futilely sought to end what he calls evangelicals' "unholy alliance" with the National Rifle Association after he experienced his own change of heart. Schenck readily acknowledges the link, too, between gun worship and race. Evangelicals, he has told me, are driven by fear of a president they think "might be a crypto-Muslim" as well as black-on-white crime.
Trump appears to have tapped into the disaffection among neo-Confederates and white supremacists, who can be counted among Trumpvangelicals. While the religious right has for decades worked to distance itself from its segregationist roots, Trump has played games with the press questioning his white supremacist support. He claimed not to know anything about David Duke, the former Ku Klux Klan grand wizard and well-known anti-Semite and white nationalist. Trump's surrogate, Jeffrey Lord, defended him from criticism on national television by claiming the KKK was a "leftist" organization.
Then came news that James Edwards, a racist, anti-Semitic radio host, received VIP press treatment at a Trump rally last week in Tennessee, broadcasting from inside the press pen and interviewing Trump's son, Donald Trump, Jr., for a program to be broadcast Saturday.
The Feb. 20 edition of Edwards' show, The Political Cesspool, extolled Trump's "triumph" in South Carolina, particularly among white evangelicals. Edwards said, "in spite of the apostate church leadership cucking against Trump in the pages of The New York Times and elsewhere, my people have finally decided to be sensible."
"Eat that, Russell Moore," Edwards added, referring to the outspoken Trump critic and president of the Southern Baptist Convention's Ethics and Religious Liberty Commission. Noting his own affiliation with the Southern Baptist Convention, Edwards added, "The people who actually fill the pews are having none of it." He read aloud poll numbers showing that among Trump voters in South Carolina, 38 percent said they wished the South had won the Civil War. The results, he added, showed "the South is rising again."
The Trumpvangelicals are giving the anti-Trump evangelicals heartache because they don't want to be lumped in with them. A big driver of misconceptions here is the ridiculous question exit pollsters ask Republican voters: Are you "evangelical/born again" or "not?" That's like asking, "Are you a Christian, or not?" Or, more to the point, "Are you a God-fearing American, or not?" The exit polls therefore over-count evangelicals, lumping evangelicals and Trumpvangelicals together.
Despite his imprimatur from a handful of evangelical figures, notably Jerry Falwell, Jr., son of the Moral Majority founder and now president of Liberty University, and Robert Jeffress, a Texas megachurch pastor who in 2011 tried to derail Mitt Romney's nomination by calling Mormonism a "cult," Trump is persona non grata for many evangelicals.
But for the first time in memory, conservative Christians have been sidelined in the Republican Party by another religious movement. The Trumpvangelicals show that, even for values voters, which values matter can change a lot.

Continue reading for free
We hope you're enjoying The Week's refreshingly open-minded journalism.
Subscribed to The Week? Register your account with the same email as your subscription.