How Sheldon Adelson is burnishing Donald Trump's image in Israel
Israel's most read newspaper is going to bat for The Donald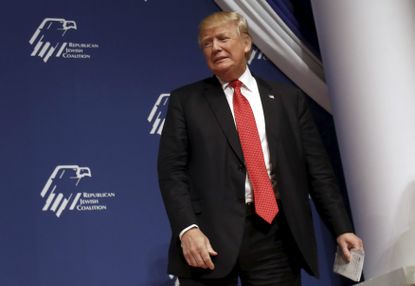 (Image credit: REUTERS/Yuri Gripas)
Israel Hayom, the free daily newspaper owned by Las Vegas casino magnate Sheldon Adelson, appears to be on a mission to make Republican presidential frontrunner Donald Trump palatable to the Israeli public. In the so-called Adelson primary, Trump, who has boasted that he'd never let a Jew buy him off, is not angling for Adelson's generous campaign contributions. He just wants his fawning press coverage.
Adelson, who has been mum about his preferred candidate, reportedly told a questioner at a February event about whether he would support Trump, "why not?"
As American rabbis mobilize to protest Trump's speech at the American Israel Public Affairs Committee policy conference today, damage control in Israel has become more urgent for Trump.
Subscribe to The Week
Escape your echo chamber. Get the facts behind the news, plus analysis from multiple perspectives.
SUBSCRIBE & SAVE
Sign up for The Week's Free Newsletters
From our morning news briefing to a weekly Good News Newsletter, get the best of The Week delivered directly to your inbox.
From our morning news briefing to a weekly Good News Newsletter, get the best of The Week delivered directly to your inbox.
Israel Hayom, now the most widely read newspaper in Israel, has long been criticized for being a mouthpiece for the right-wing government of Israeli Prime Minister Benjamin Netanyahu. Here in the United States, Adelson has faced scrutiny for his less-than-transparent purchase of the Las Vegas Sun, ostensibly so he could dictate negative coverage of his critics.
In their zeal to control the media, Trump and Adelson might well be bosom buddies. In January, Trump staffers ejected New York Times reporter Trip Gabriel from an Iowa campaign stop after he wrote an article questioning the efficacy of Trump's ground operation in the state.
More recently, Politico's Ben Schreckinger was refused press credentials for Trump's press conference qua victory party at Mar-a-Lago, his Palm Beach mansion and golf club, the night of the Florida primary. Schreckinger had shared a byline on an article about the "quick temper and heavy-handed leadership" of Corey Lewandowski, Trump's campaign manager, who had just been accused of assaulting Breitbart reporter Michelle Fields. At the Mar-o-Lago event, Trump congratulated Lewandowski on his "good job," moments before declaring the press corps "disgusting," which drew laughs from the audience.
But one newspaper laid out the journalistic red carpet for Trump — and Trump, apparently, made the reporter feel as if the generosity was reciprocated. Boaz Bismuth, Israel Hayom's U.S. campaign correspondent, wrote reverently of Trump's ostentatious wealth, admiring the gold bathroom fixtures and "huge" chandeliers that adorn Mar-a-Lago. Bismuth recounted bumping into the candidate, who recognized him from an interview they had done in — where else? — Las Vegas last year. Bismuth gushed at the hold Trump has established on the global imagination, declaring him "fascinating," as if he is to politics what the Dos Equis man is to beer.
At times, it's hard to distinguish Bismuth's campaign trail dispatch from a Trip Advisor review. "I must admit I was excited to be among the 300 media members (most of them Americans) invited to the press conference," Bismuth wrote, calling a Trump event "the best show in town." Seeing Trump "on his home turf in a luxurious setting," he continued, "is an incomparable experience."
The real point of the story, though, was to put some proverbial gold plating on Trump's tarnished image with Jews. Trump raised eyebrows after saying he'd be "neutral" in the Israeli-Palestinian conflict, a position Israelis are fully unaccustomed to hearing from American politicians. When supporters raised their hands in a gesture reminiscent of a Nazi salute after he urged them to pledge to vote for him, images and video went viral in Israeli media. But from Mar-a-Lago, Bismuth was Trump's dutiful stenographer, transmitting his declaration to the Israeli public: "Your friend is leading in the primaries. I've always been your friend, even at the toughest moments. And that's not going to change. I love you."
Although many conservatives question Trump's support for Israel, Trump and Israel Hayom may well be simpatico on other issues. In 2013, the Israeli financial paper Globes obtained a document revealing that Netanyahu's administration had hatched a secret plan to hire Bismuth as "special project manager for the expulsion of migrants," paying him a monthly fee, travel expenses, and commissions for each migrant expelled, according to the Israeli news site Ynet and other outlets. Bismuth reportedly was prepared to accept the deal, which was eventually shelved for unexplained reasons.
Bismuth reportedly was Netanyahu's favored candidate for the task of returning "the infiltrators to Africa." As the country's former ambassador to Mauritania, Bismuth was familiar with Africa, speaks fluent English and French, and could operate "under the radar" to negotiate the return of "infiltrators" where Israeli diplomatic channels had failed.
The revelations drew scrutiny across Israeli media. For its part, though, Israel Hayom criticized the negative coverage of its correspondent. "One can argue that he was the target of criticism due to the nature of the position he was offered — dealing with African infiltrators," columnist Dan Margalit wrote. Expressing support for the government's efforts to "reduce the number of African migrants in Israel," Margalit added, "I have no doubt that the government is entitled to demand that those who sneak across the border (before the fence was built) return to their countries."
Sound familiar?

Continue reading for free
We hope you're enjoying The Week's refreshingly open-minded journalism.
Subscribed to The Week? Register your account with the same email as your subscription.