The Bernie Sanders revolution would take a ton of work and sacrifice. Is America really up for it?
Sanders is very clear that you don't stop feeling the Bern after Nov. 8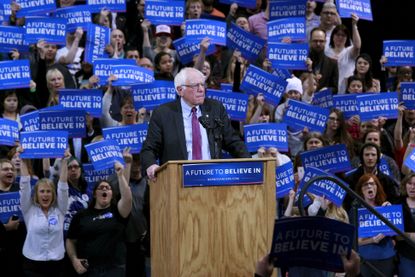 (Image credit: REUTERS/Brian Losness)
A big knock against the young, idealistic supporters backing Bernie Sanders is that they are in it for the proverbial free lunch — things like "free" health care and college tuition. That's not really fair. After all, when you sign on for a "political revolution," you're committing sweat equity. Attending a rally and pulling a lever in the voting booth are the easy parts. Sanders has been pretty clear about this, if a little vague on the specifics.
"[N]o president, not Bernie Sanders, or anybody else, is going to implement that agenda, or literally do anything of significance for the American people, unless there is a political revolution," he told the Los Angeles Times editorial board.
The real question is whether Sanders' supporters truly understand what that means. Because a true political revolution would require an awful lot of work and sacrifice.
Subscribe to The Week
Escape your echo chamber. Get the facts behind the news, plus analysis from multiple perspectives.
SUBSCRIBE & SAVE
Sign up for The Week's Free Newsletters
From our morning news briefing to a weekly Good News Newsletter, get the best of The Week delivered directly to your inbox.
From our morning news briefing to a weekly Good News Newsletter, get the best of The Week delivered directly to your inbox.
To enact the scope of change he is proposing — from breaking up banks to offering free college tuition — big changes would be needed in Washington. It isn't entirely clear what form the Sanders revolution would take. In one part of the Los Angeles Times interview, he talks about how "there are already candidates coming forward, running for Congress, running for whatever," adding: "Somehow this is the beginning, not the end." In another part he describes pushing his legislation through with something like a giant march on Washington, threatening to topple Senate Majority Leader Mitch McConnell (R-Ky) if he doesn't play ball:
Sanders made a similar point in his long sit-down with the editorial board of the New York Daily News, except this time he gave a concrete example:
On its surface, that seems to suggest the revolution mostly involves voting. But to stick with the college tuition example, voting for president or even House and Senate candidates won't suffice. Education, as Hillary Clinton points out, is almost entirely the purview of states and local districts, and that is especially true of the public colleges Sanders hopes to make tuition-free. (Federal military academies, like West Point and the U.S. Naval Academy in Annapolis, are already more or less free for students.)
For the Sanders plan to work, his civic revolutionaries would have to fill statehouses with governors willing to either allocate state resources to the free-tuition plan (which would probably also require sympathetic state legislatures), or hand a good deal of control of their state universities over to the federal government.
The upside of this sort of ballot-box revolution is that once you get simpatico lawmakers in power, you're good for the rest of the election cycle — if they support free tuition, they are probably on board for other big aspects of the Sanders revolution. But running campaigns takes time, good candidates, and money — and since the Sanders plan gets rid of super PACs and "big money" donations, that means a lot of fundraising calls, and lots of volunteers.
The point here is not to tell Bernie Sanders or his supporters that his aspirations are impossible. They're not. The Tea Party didn't wrest control of the White House from President Obama, but the movement did help turn a lot of state governments and the U.S. Congress red.
But it's important to realize what a commitment he's asking of his supporters. The Bernie Sanders revolution wouldn't end on Nov. 8 — that's when it would start. Sanders points to the gay rights and Civil Rights movements as models for the grassroots revolution he wants to help build, if not lead — but those took decades of work and organization, and they required literal blood, sweat, and tears.
Sanders is right that if you want big, fundamental change, lots of people have to be involved and put in a lot of work. There's a kind of nobility in that idea. But if you want to elect someone to do her job and let you live your life in peace (until the re-election fundraising emails in 2019), Bernie Sanders may not be your candidate. And you can't say he didn't warn you.

Continue reading for free
We hope you're enjoying The Week's refreshingly open-minded journalism.
Subscribed to The Week? Register your account with the same email as your subscription.