No political makeover can save Donald Trump
A little campaign makeover certainly won't change what is now the most well-defined and lustily disliked campaign in modern memory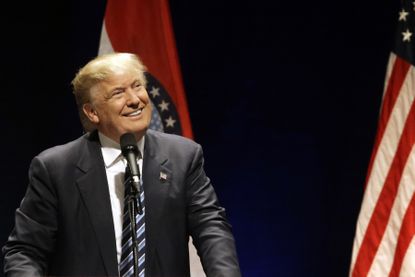 (Image credit: AP Photo/Seth Perlman)
Donald Trump is about to get a makeover.
Paul Manafort — who is effectively Trump's new campaign manager — told a group of knob-turners at the Republican National Committee late last week that the version of Trump seen during the primary was just a cynical act. Now the act is going to change. "[W]hat's important for you to understand: That he gets it, and that the part he's been playing is evolving," said Manafort.
Surely the very important people at this meeting had to be peeled from the back wall after hearing this. Blown away! An act? You mean that when Trump constantly tells audiences that he will change when he becomes the nominee, that he can become "politically correct" as president, he was… telling the truth? You mean to say that a guy who simultaneously promises an enormous border wall to repel Mexican rapists and a permissive touch-back amnesty might have been pulling a few legs along the way?
Subscribe to The Week
Escape your echo chamber. Get the facts behind the news, plus analysis from multiple perspectives.
SUBSCRIBE & SAVE
Sign up for The Week's Free Newsletters
From our morning news briefing to a weekly Good News Newsletter, get the best of The Week delivered directly to your inbox.
From our morning news briefing to a weekly Good News Newsletter, get the best of The Week delivered directly to your inbox.
Still, as unsurprising as this is, don't believe the supposed import of this makeover talk. Trump will never be able to button it up. Not totally. Even as Manafort was promising Republicans that Trump would come around with a much more establishment-friendly message and campaign, Trump himself was changing his position on questions of transgendered access to bathrooms. On Thursday morning, to the liberal press, he said transgendered people should be able to use whatever bathrooms they want. Later, talking to Sean Hannity on Fox News, he defaulted to a states-rights position on the issue. He still couldn't help but add, "But they are losing business, and they are having people come out against." In other words, hey North Carolina, you should have the right to do something I obviously think is stupid.
Trump is never going to stop being Trump. And his campaign cannot succeed by flip-flopping now. You may have noticed that throughout the primaries, Trump often seemed to be trying to have it both ways. He could demand the border fence one day, and then say "I love the Mexican people" the next. He could call America's major trade deals bad, and then immediately say, "I believe in free trade." To close observers, it just sounded incoherent. But nobody is going to forget his signature positions. Just because he'll start saying "I love Mexicans" more doesn't make the footage of him saying "Somebody is doing the raping" go away.
That footage — and plenty more — will be featured prominently in ads from Hillary Clinton and progressive super PACs. It will be used to make upwardly mobile suburban white people — the backbone of the Republican Party — deeply uncomfortable with Trump's candidacy.
Oh, and then there will be the footage of him saying several years ago on national television that he's "very pro-choice" and wouldn't restrict abortion in any way.
Or that he is for gun control. Here's Trump in 2000: "I support the ban on assault weapons and I support a slightly longer waiting period to purchase a gun."
Say goodbye to two of the major activist groups who dutifully fill up the treasuries of GOP-allied direct mail operations, and who volunteer to go door to door during election time.
In a way, Trump followed the exact opposite ethic of his former nemesis. Jeb Bush said that a Republican candidate should be willing to lose the Republican primary in order to win the general election. Dutifully, Bush lost the primary. Trump has done the opposite — he was willing to lose the general election to win the primary. He used every trick he had for generating free media, and whipping up the intense support of about one-third of the Republican electorate in the primary contests. It just so happens that he did this in a way that cost him the chance of ever winning over the enthusiastic support of the rest of the party apparatus, and any chance of winning a normal general election campaign.
Becoming an establishment creature now would dispirit many of Trump's core supporters. It would wreck any momentum his candidacy had at renovating the Republican Party's stale ideology. Trump will have worse problems than even Mitt Romney did in trying to explain the convenient evolution of his views. Trump's unreliability extends even to his own stunts. Months ago he skipped a Fox News debate to raise $6 million for veterans. They haven't seen the money.
Trump cannot succeed in a general election without an unforeseeable intervention from beyond our normal politics — think a sudden economic crash, a terrorist attack, or the likelihood of war. A little campaign makeover certainly won't change what is now the most well-defined and lustily disliked campaign in modern memory. The Trump reboot will not make Trump viable. It just makes his new campaign manager viable. This is nothing more than another layer of orange-hued makeup on an orange-hued corpse of a campaign.

Continue reading for free
We hope you're enjoying The Week's refreshingly open-minded journalism.
Subscribed to The Week? Register your account with the same email as your subscription.