Diagnosing the Avengers' injuries: Medical professionals weigh in
We asked medical experts to analyze an epic superhero battle scene and tell us what would happen if the protagonists weren't so super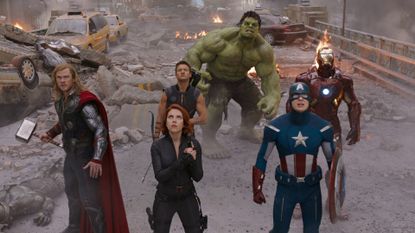 (Image credit: Marvel)
I guess there's a reason they call them "super" heroes. Because even in monstrously violent battles against seemingly unbeatable villains, the good guy always manages not just to win, but to do it without breaking a sweat or suffering even a scrape. This is quite common in superhero movies; the violence and destruction is casually massive, but the damage to our heroes is weirdly negligible.
In reality, of course, our combatants would have far more serious and long-lasting injuries. To learn a bit more about how our protagonists would fare without their hyper-fictionalized superhuman capabilities, I asked two experts to analyze The Battle of New York, the iconic final fight scene from 2012's The Avengers, in which all our favorite characters, from Captain America to Black Widow, face epic physical assaults, and then skip the hospital to go eat shawarma.
Meet the experts: E. Paul Zehr, who has a PhD in neuroscience, is a professor of kinesiology and neuroscience at the University of Victoria, martial artist, and author of Becoming Batman: The Possibility of a Superhero; and Dr. Kirk Magee, an associate professor with the Department of Emergency Medicine at Dalhousie University and an emergency medicine physician with the QEII Health Sciences Centre.
Subscribe to The Week
Escape your echo chamber. Get the facts behind the news, plus analysis from multiple perspectives.
SUBSCRIBE & SAVE
Sign up for The Week's Free Newsletters
From our morning news briefing to a weekly Good News Newsletter, get the best of The Week delivered directly to your inbox.
From our morning news briefing to a weekly Good News Newsletter, get the best of The Week delivered directly to your inbox.
Let's dive in.
1. The character: Captain America

The scene: While fighting Chitauri, Captain America is blasted out a window and lands — hard — on the roof of a car. 

The damage: "Cap would have sustained broken ribs, a fractured pelvis, probably fractures of both the tibia and fibula, and would possibly have a concussion," Zehr says.
Magee takes things a bit further. "At about four stories, or 48 feet, about half of people will die," he says. "At seven stories, 90 percent of people will die. I'm not sure exactly how far he fell, maybe two or three stories, but there's a good chance he could die from that. If he were to survive, he landed face down on a car, so I would suspect he would have some major head injuries as well as some major chest and abdominal injuries."
Other likely injuries include a collapsed or bleeding lung, fractured ribs and sternum, and internal bleeding throughout major organs. "The other part is whenever you are involved in a deceleration injury you run the risk of tearing the aorta, which, if it was a complete tear, he'd die at the scene," Magee says.
2. The character: Loki
The scene: Loki is swung around and smashed, repeatedly, into a concrete floor by The Hulk.
The damage: "Due to the whip-like action of Hulk swinging him, Loki's injuries are worse at either end of his body," Zehr explains. "Loki would have a crushed skull, extensive intracranial bleeding with likely fatal swelling, fractured vertebrae from the cervical or neck region all the way down to lower back, broken ribs, dislocated hips, crushed tibia and fibula, and crushed metatarsal ankle bones." Loki would also suffer internal damage like punctured lungs, a ruptured septum in the heart, a lacerated liver, ruptured spleen, kidney damage, and a ruptured bladder.
"I don't think it would be a survivable injury," Magee says. "The impact of his head alone would be enough to kill him and if not, he would have fractured his spine in multiple places. In the best-case scenario, he would be a quadriplegic."
3. The character: Hawkeye
The scene: With only one arrow left, and to avoid getting hit by incoming Chitauri fire, Hawkeye turns the arrow into a grapple and swings into the window of a nearby building.
The damage: "From the initial impact when the line goes tight, Hawkeye would have dislocated shoulders, a whiplash injury with possible cervical fracture, and concussion," says Zehr. "When he smashes through the glass and rolls, he would have fractures in his toes and ankle bones with, at minimum, an ankle ligament rupture. The slide on the glass would produce abrasion damage to the skin and he would have a possible concussion."
But, Magee says, the impact might be survivable. "He shot out the arrow and swung in through the glass window, so he wouldn't be landing with a lot of force. But, going through a window like that, it would be unlikely you'd get through without cutting yourself. When you go through a window with a shirt with no sleeves and nothing over your face, you're not going through unscathed. The question of survivability would depend on what he cut; if he didn't cut any major vessels he could potentially walk or limp away."
4. The characters: Loki and Black Widow
The scene: Both Black Widow and Loki are using Chitauri chariot-like devices to fly above the battle. Loki is blasted onto the Stark Tower by one of Hawkeye's arrows and Black Widow flips onto the roof to close the portal.
The damage: "Loki would have hip dislocations and fractures in both legs from the femur bones all the way down to the ankle," Zehr says. "He would also have torn ligaments in his ankles with likely evulsion fractures, where bits of the bone come off with the ligaments and tendons."
It doesn't look much better for Black Widow. "She likely dislocates one or both hips, tears up her ankle ligaments, and may break several bones in her legs," Zehr says. "She might live."
That's debatable, says Magee. "I don't think it would matter if she tucked and rolled, I don't think she would survive falling that far. If she was lucky enough to live, she probably wouldn't fully recover from her injuries."
5. The character: Iron Man
The scene: Iron Man intercepts a nuclear missile and guides it toward the Chitauri portal. After reaching a certain altitude, his suit fails, causing him to lose oxygen and other support systems.
The damage: "We don't know how long he was without oxygen and blacked out, so let's assume it's only a few minutes as shown on screen," Zehr speculates. "Combined with the extreme cold reducing his metabolism and the need for oxygen, this isn't such a big deal." But if his suit depressurized, Iron Man could be in big trouble.
"Depending on how high up he is, he can get the bends, which divers get when they come to the surface too quickly; the nitrogen we have in our blood stream begins to boil and these nitrogen bubbles go all over the place and cause symptoms, like joint pain," says Magee. "He could also get the chokes which cause breathing problems and the staggers that cause neurological problems, like numbness and tingling and vertigo. He could also get weird skin symptoms that feel like little bugs crawling all over your skin or a rash. Even if his suit were to remain pressurized, the pressure is changing as he's coming down, so he could get severe ear, tooth, and sinus pain."
6. The character: Iron Man
The scene: After Iron Man's suit fails, he can't fly, so he ends up free-falling until he is saved by The Hulk.
The damage: "Iron Man is almost certainly killed by the reaction force of being hit by Hulk when he leaps up to 'save' him," Zehr says. "Even though the suit protects his skeleton from bending stresses and bone breakage, all his internal organs, including his brain, would be extensively damaged by the impact. Then, he has the secondary impact when they land which either makes things worse or actually kills Tony Stark."

Magee elaborates: "It's like a car; you're belted in and protected by all that steel around you, but your internal organs aren't belted inside you. As you go forward from the force, your aorta can too and as it does, it will tear. You can also tear the gut and the bowel, and if left untreated you could die. The other part is his head; even though he's wearing that helmet it won't absorb all of the impact. He would most likely have a closed head injury — a mild concussion to something more serious bruising or bleeding in the brain."

7. The character: Thor

The scene: Thor intercepts Loki in an attempt to avoid the battle. After a brief fight, Thor is stabbed by his brother.
The damage: While it's hard to see the angle and depth of penetration of Loki's blade into Thor, "at minimum, Thor would likely sustain a severed descending aorta and inferior vena cava leading to extensive and fatal bleeding out," says Zehr. "He would also likely have at least one punctured lung, possible liver damage, possible puncture of his heart wall, and a possible spinal cord injury."
Magee says this scene is one of the most realistic in terms of how the character responds to injury. "There was a grunt of pain," Magee says. "Typically, people don't die right away from a stab wound. If you hit a major vessel, it would take some time for you to bleed enough to pass out; it would take a minute or two at least. It looks like he gets stabbed in the left upper abdomen, so there's lot of things that could get hit. The knife could get his lung, diaphragm, bowel, spleen, but there's also the chance it could hit nothing."

8. The characters: Hawkeye, Black Widow, and Captain America
The scene: As Loki and Thor are fighting, a quinjet hovers nearby with Black Widow, Hawkeye, and Captain America inside. Loki fires at it with his scepter, causing it to crash to the ground.
The damage: "They are not walking away from that crash," says Zehr. "Since not very much of the jet comes apart in the crash, all the energy is being directly transferred to the bodies of those three. Assuming they are all strapped in and don't get bashed around inside the plane, they are all going to sustain huge internal organ damage and concussions with possible intracranial haemorrhage."
Magee says they fact that they walk away from the crash is amazing. "It's like a car crash; it's hard to predict as some people walk away from a crash and some people don't."
9: The character: Iron Man

The scene: To take down a Chitauri Leviathan, Iron Man goes through it, but the force ends up propelling him through a bus shelter, a nearby taxi, and finally onto the ground.
The damage: "Tony Stark would have major internal organ damage and a major concussion with possible intracranial bleeding," Zehr says. "It would not be surprising to find he also had one or both retinas detached."
Magee says the objects Iron Man hit, including the bus shelter, might actually save his life. "They may slow him down instead of him directly hitting the concrete and bouncing."
10: The character: Thor
The scene: After teaming to fight the Chitauri, The Hulk punches Thor across a room.
The damage: "It's hard to know how hard Hulk hits," says Magee, "but Hulk probably punches harder than a horse can kick. When farm animals kick someone, they can get some pretty serious and potentially life threatening injuries. I'm not sure how far Thor flew, but he probably went at least 10 or 15 feet, so at the very least he'd be unconscious with a concussion. More likely, he'd have some bleeding in his brain."
Zehr adds that Thor would likely have a broken neck and various internal damage. "All of that doesn't include the damage induced by whatever he is heard smashing into off scene," he says.

Continue reading for free
We hope you're enjoying The Week's refreshingly open-minded journalism.
Subscribed to The Week? Register your account with the same email as your subscription.