Why Bernie Sanders should build a Tea Party of the left
Time for Congress to feel the Bern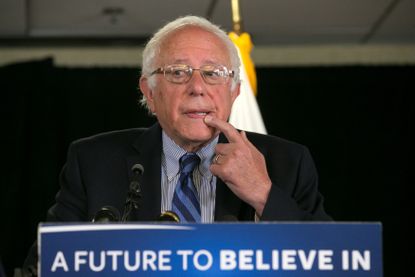 (Image credit: REUTERS/Elijah Nouvelage)
Right now Bernie Sanders may be sitting on his back porch, leaning on the railing with a cup of tea in his hands as he gazes out across the verdant Vermont landscape and asks himself, "Well, what do I do now?"
He knows he'll have to make some show of unity with Hillary Clinton, and do some campaign events to make sure his supporters get out to vote in the fall. But then what? Is he really going to have a great deal of influence on legislation when he goes back to the Senate? Will Clinton actually take his advice on whom she should appoint to key positions in the administration? How can he translate his remarkable campaign into something lasting?
Here's an idea: Bernie Sanders could lead the Tea Party of the left.
Subscribe to The Week
Escape your echo chamber. Get the facts behind the news, plus analysis from multiple perspectives.
SUBSCRIBE & SAVE
Sign up for The Week's Free Newsletters
From our morning news briefing to a weekly Good News Newsletter, get the best of The Week delivered directly to your inbox.
From our morning news briefing to a weekly Good News Newsletter, get the best of The Week delivered directly to your inbox.
In other words, he could focus his efforts on pulling the Democratic Party leftward, and do so in ruthless ways, by mounting primary campaigns against squishy Democrats in Congress, organizing boisterous rallies against legislation he deems insufficiently liberal, and generally making his party live in fear of him. It may not be the friendliest approach, but it could be the path to maximizing his influence.
Consider what the Tea Party accomplished. Even if its period of maximal impact only lasted a few years, it was one of the most successful movements in recent political history. By knocking off a few incumbents and demanding perfect ideological fealty, it pulled the Republican Party dramatically to the right, both by replacing politicians it didn't like and by making the ones who remained live in terror of its power.
And one of the appealing things about the Tea Party model is that it's centered on elections. This is important for Sanders as he tries to take an electoral campaign and translate it into a movement that can be active over an extended period. Elections are great for gathering people together and motivating them because there's an end date and a clear goal everyone agrees on. It's much easier to get people excited around "Let's win on Tuesday!" than around "Let's put some pressure on the health policy subcommittee so we get good amendments included in the markup and maybe in a few months this bill will on balance be better than it would have otherwise been!"
A Tea Party model could allow Sanders to claim some concrete victories, which can have a considerable impact both in keeping people involved and keeping the rest of the party respectful of his power. Tea partiers realized that primary elections enable you to accomplish a great deal with a relatively small number of people. You don't need a huge national effort to make an impact. Remember when Eric Cantor, then the Republican majority leader, lost his primary in 2014 to a Tea Party challenger? It was a political earthquake that struck fear in the hearts of establishment Republicans everywhere. Barely anyone noticed it was happening before election day, and the winner and now congressman, David Brat, won by getting a mere 36,000 votes.
If the Tea Party has faded today, it's only because its victory was so complete. This year tea partiers could barely find any incumbent Republicans to strike down; North Carolina's Renee Ellmers, who lost Tuesday to a conservative challenger, was the closest thing to an apostate they were able to purge.
And though they certainly didn't get the presidential candidate they wanted, tea partiers always focused their energies more on Congress and local races than on the presidency. That way they could win battles and keep people involved without putting all their chips on one high-profile contest.
There are certainly progressive groups that try to promote the most liberal candidates and criticize compromise from party leaders. But their impact on the Democratic Party as a whole has been modest up until now. Bernie Sanders, however, has the ability (and the mailing list) to unite the kind of voters who supported him around a movement with greater potential to shape the party's future.
But in order to do it, he needs to find a way to keep those supporters excited and motivated, which means clear goals that lead to focused action. Other candidates, like Howard Dean and Barack Obama himself, tried to turn their campaigns into sustained movements and found it extraordinarily difficult. Sanders is almost certainly going to find the same thing. But if he can narrow his focus to putting fear into those Democrats who don't fulfill the liberal vision he and his followers share, he might be able to get somewhere.

Continue reading for free
We hope you're enjoying The Week's refreshingly open-minded journalism.
Subscribed to The Week? Register your account with the same email as your subscription.