Why Hillary Clinton really might tap Elizabeth Warren for VP
Will the progressive champion join the ticket? It's looking more likely.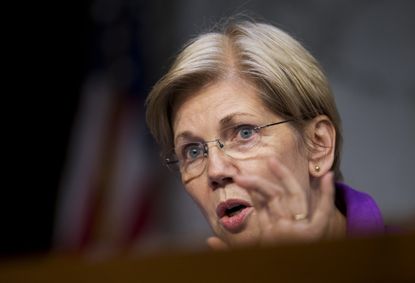 (Image credit: AP Photo/Manuel Balce Ceneta)
Elizabeth Warren endorsed Hillary Clinton on Thursday night. "I'm ready to get in this fight and work my heart out for Hillary Clinton to become the next president of the United States and to make sure that Donald Trump never gets anyplace close to the White House," the Massachusetts senator told Rachel Maddow.
For a long time, those in the know would tell you that as much as liberal Democrats would love to have Warren on the ticket in November, it just wasn't in the cards (I made the argument myself). The cautious Clinton wouldn't risk an all-female ticket, the two don't have much of a personal relationship, and Warren doesn't have foreign policy or national security experience, among other reasons. But the clamor for Warren is rising, and it's still possible Clinton just might pick her.
The truth is that in some liberal circles, Warren never ceased to be anything but the first choice for vice president — once it was clear she wasn't running for the top job herself. There are a substantial number of Democrats who absolutely worship Warren, not just for her policy positions (there are plenty of other Democrats who share them) or even for her effectiveness in actually getting some things done on finance issues (she's responsible for the creation of the Consumer Financial Protection Bureau), but mostly because of her effectiveness as an advocate for liberal causes. Warren has a folksy charisma that few politicians can match; on TV she comes across as friendly, smart, and cheerful all at the same time. She has an ability to present complex ideas in understandable ways, connect policy questions to people's actual lives, and infuse dry issues with emotion and passion.
Subscribe to The Week
Escape your echo chamber. Get the facts behind the news, plus analysis from multiple perspectives.
SUBSCRIBE & SAVE
Sign up for The Week's Free Newsletters
From our morning news briefing to a weekly Good News Newsletter, get the best of The Week delivered directly to your inbox.
From our morning news briefing to a weekly Good News Newsletter, get the best of The Week delivered directly to your inbox.
Which may be why Senate Minority Leader Harry Reid is apparently pushing for Clinton to name Warren to the ticket. And depending on how you look at it, Warren is either a skillful manager of the media, or a press darling; either way, she gets plenty of attention when she wants it, and it's usually positive.
Of late, she's been gleefully going after Donald Trump in ways that are both biting and seemingly designed to drive him crazy; the best he's been able to come up with in response is to call her "Pocahontas" (Warren has in the past related family lore suggesting she has some Native American ancestry). Unlike that lame insult, when she hits him, it cuts quite a bit deeper; in a Thursday speech she said, "Donald Trump is a loud, nasty, thin-skinned fraud who has never risked anything for anyone and serves nobody but himself."
There is one large impediment to picking Warren, which is that Massachusetts has a Republican governor who would appoint Warren's temporary replacement if she becomes vice president. One seat could make an enormous difference to the success of Clinton's program, because Democrats have a chance to win back the Senate — but it's going to be close. Imagine if Clinton picked Warren, and that appointment kept the chamber in Republican hands by a 51-49 margin.
But it may not be quite as much of a problem as it appears. According to Massachusetts law, when a senator resigns, the governor appoints a successor, and then a special election must be held between 145 and 160 days later. But it turns out that Warren could start that clock ticking merely by writing a letter stating her intention to resign at a later date — say, when the next president takes office. We're still over 220 days from inauguration day next January, meaning the special election to fill her seat could occur before the vacancy would do Democrats any harm.
Even in Massachusetts, there's no guarantee a Democrat would win that seat; as you may remember, when Ted Kennedy died, Republican Scott Brown won the special election and served until Warren beat him two years later. But the odds would be in Democrats' favor.
Even if it's not critical that Clinton take concrete steps to win over Bernie Sanders' supporters (despite what some of the more vocal ones are saying now, the overwhelming majority will be with her), there's little doubt that naming Warren as her running mate would make most Democrats beside themselves with glee. She's one of the most effective advocates for progressive ideas in politics today, and she would make a historic campaign even more so, even if we have no idea whether an all-female ticket would lose additional votes because of sexism over and above what would be lost by having Clinton as the nominee.
But even if Warren brought some excitement to the ticket, it might not change the race too much in the end. If you talk to political scientists, they'll tell you that running mates almost never have a demonstrable impact on the outcome of an election, and the few that have (like Sarah Palin) hurt the ticket rather than helped it. And if you think about it, it makes sense: Have you ever decided your vote for president based on who the vice presidential nominee was?
If Elizabeth Warren wouldn't bring too many votes to the ticket that Clinton wouldn't have gotten anyway, as a media figure, she'd certainly make the race more interesting. And from what we know about Trump, having not one but two women criticizing him every day might be enough to drive him out of his mind. Which would probably be good for Clinton, too.

Continue reading for free
We hope you're enjoying The Week's refreshingly open-minded journalism.
Subscribed to The Week? Register your account with the same email as your subscription.