Will Donald Trump ever realize that America prefers a quieter bigotry?
When other politicians deal in subtext and innuendo, they offer you a kind of internal plausible deniability. Trump does not.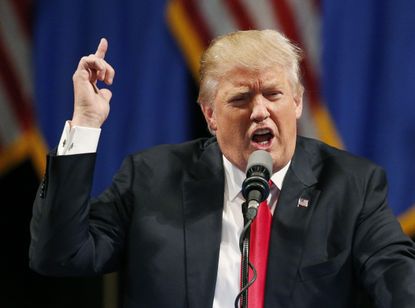 (Image credit: AP Photo/John Locher)
The signature feature of Donald Trump's rhetoric, as I have argued before during this campaign, is that he takes what others might imply, convey with subtlety, or offer as subtext, and slaps it right on the table in front of you. For some people, this kind of straightforwardness is thrilling. For others it's horrifying.
Either way, you know what you're getting and you can't tell yourself otherwise. So it is on the question of religious discrimination, namely, whether the government is sufficiently vigorous in its efforts to discriminate against Muslims. Trump's position is that it most certainly is not.
When it comes to members of the world's second-largest religion, Trump doesn't even bother with "...and some, I assume, are good people," as he said about Mexicans after calling them rapists and drug dealers. Whether you're a Muslim refugee fleeing war and oppression, a Muslim tourist hoping to check out the Grand Canyon, or an American Muslim just going about your daily life, Trump wants you on notice.
Subscribe to The Week
Escape your echo chamber. Get the facts behind the news, plus analysis from multiple perspectives.
SUBSCRIBE & SAVE
Sign up for The Week's Free Newsletters
From our morning news briefing to a weekly Good News Newsletter, get the best of The Week delivered directly to your inbox.
From our morning news briefing to a weekly Good News Newsletter, get the best of The Week delivered directly to your inbox.
Since the attack in Orlando — which is increasingly looking like the work of a violent and troubled man harboring rage against gay people who added a pledge of loyalty to ISIS as a kind of garnish on his dish of murderous hate — Trump has reiterated his intention to ban Muslims from entering the United States. "They come into our country, they want to take it over," he said last week, reiterating his intention to keep mosques under surveillance. He also says he wants to start profiling Muslims as a means of singling them out, but apart from using it to keep certain people out of his rallies, he didn't specify exactly how he would want to deploy the technique. And he accused the Muslim "community" of knowing that the Orlando shooter was ready to commit mass murder and knowing the same about the killers in San Bernardino.
Trump's message to American Muslims couldn't be clearer: You're not really American. You may have been born and raised here, but because of your religion, you aren't one of us.
If it makes them feel any better, he apparently feels that way about Latinos as well; let's not forget that he said repeatedly that the Indiana-born judge in the fraud case against Trump University couldn't be impartial because "he's a Mexican." Only white people, apparently, are truly American without regard to who their parents or grandparents were.
There is no doubt that many of Trump's supporters feel their hearts beat a little faster when they hear their candidate throw off "political correctness" and put his bigotry on display for all to see. But if his goal is to persuade those who aren't already behind him to come on board, he's going to have an awfully tough time.
That isn't because there isn't plenty of anti-Muslim feeling out there, because there is. But even many people who harbor those feelings like to tell themselves that they believe in equality and religious liberty, that they're not prejudiced against anyone, and that everyone's welcome in America. When other politicians deal in subtext and innuendo, they offer you a kind of internal plausible deniability, whereby you can convince yourself that you aren't supporting bigoted policies (let alone a candidate who is an actual bigot).
Trump is not capable of that kind of subtlety. And he thinks America is eating up what he's feeding them. Jenna Johnson of The Washington Post reported this week on the internal deliberations among Trump and his advisors when in December he prepared to announce his plan to bar all Muslims from entering the United States:
Of course, the attendees at a Trump rally are not a representative sample of the American public, a public containing all kinds of people who might balk at what he suggests. Trump hasn't seemed to consider the moderate white voters who don't like to be associated with a candidate whose contempt for non-whites is on such vivid display.
That's not to mention the rapidly growing minority population. When it comes to them, Trump may not be aware that the things you say about one minority group get noticed by members of other minority groups. If you're Latino or African-American or Asian-American or a member of any number of other minorities, you know what it's like to wonder whether your society looks on you with suspicion and defines you as The Other. When a candidate like Trump attacks Muslims, many people who are not Muslim know that it's only a matter of time before he comes after them, if he hasn't already.
So no matter what extravagant claims he makes about the American greatness that will arrive once he's in the White House, they know that Trump's version of a great America is one that's reserved for some people, particularly white Christians.
Trump might have tried to send that message without rubbing everyone's face in it. But that's not his style.

Continue reading for free
We hope you're enjoying The Week's refreshingly open-minded journalism.
Subscribed to The Week? Register your account with the same email as your subscription.