How the GOP could have stopped Donald Trump — in 2009
If only lawmakers had instituted this one economic program...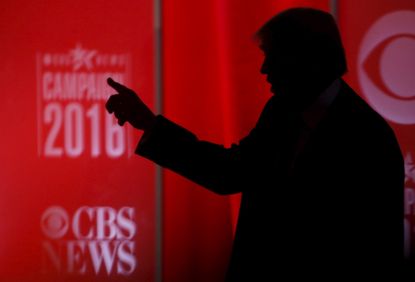 (Image credit: REUTERS/Jonathan Ernst/File Photo)
Sign up to our 10 Things You Need to Know Today newsletter
A free daily digest of the biggest news stories of the day - and the best features from our website
Thank you for signing up to TheWeek. You will receive a verification email shortly.
There was a problem. Please refresh the page and try again.
There was nothing inevitable about Donald Trump's blitzkrieg to the Republican presidential nomination. The fast track from his dictator kitsch-decorated Trump Tower penthouse to the podium tonight in Cleveland's Quicken Loans Arena had many potential off-ramps. What if Trump's GOP rivals had pounced from the start? What if Jeb Bush had spent millions attacking Trump instead of Marco Rubio? Perhaps the indeterminately wealthy businessman wouldn't even have run if all the media "haters" had shown him more respect. After all, it sure doesn't seem like Trump has nearly as much interest in the hard reality of being president as he does in starring in a highly-rated reality show about being elected president.
Trump's candidacy was not inevitable. But this was: Post-Great Recession America was always going to experience a populist backlash among both Republican and Democratic voters. But Washington could have lessened the impact.
The rise of Trump hasn't only been driven by the hangover of the historically lethargic economic recovery. Income inequality, cultural and demographic change, and financial insecurity have all arguably played a role. And bickering, impotent Washington seems unwilling or unable to help.
Subscribe to The Week
Escape your echo chamber. Get the facts behind the news, plus analysis from multiple perspectives.
SUBSCRIBE & SAVE
Sign up for The Week's Free Newsletters
From our morning news briefing to a weekly Good News Newsletter, get the best of The Week delivered directly to your inbox.
From our morning news briefing to a weekly Good News Newsletter, get the best of The Week delivered directly to your inbox.
But what if the big picture were just a bit different? What if the economy had been a bit stronger in recent years, our politics a bit less toxic? What if the GOP were just a bit less receptive to smash-mouth populism? With enough changes at the margins — a "butterfly effect," of sorts — maybe Trump and wife Melania would never have taken that famous escalator ride down to the Trump Tower lobby last summer.
Imagine if back in 2009, Republicans and Democrats had come together to truly deal with the most obvious economic problem of the moment: the collapse of the housing market. Voters across the political spectrum still complain about the injustice of Wall Street getting bailed out, but not homeowners. Of course, homeowners did get some help. During President Obama's first term, nearly 3 million, including about a million who were underwater on their mortgages, were able to refinance under federal programs started during the crisis.
Yet at the nadir of the housing collapse, nearly a third of U.S. homeowners with mortgages were underwater, six times the typical share. Foreclosures exploded. And that massive loss of wealth, economists Atif Mian and Amir Sufi have argued, made the recession even worse, since those losses were more heavily concentrated in middle-class America — which then stopped spending.
Looking back, it's not impossible to imagine that Washington could have constructed a mega-deal to help homeowners. Many Obama administration officials now concede it was a huge mistake not to do more. And some key Republicans might have been open to the idea. Late in the 2008 campaign, John McCain proposed a $300 billion plan to buy bad mortgages. And in early 2009, Senate Minority Leader Mitch McConnell backed a plan from conservative economist Glenn Hubbard to help as many as 40 million homeowners refinance into new, lower-rate mortgages.
But it never happened. Team Obama kept its focus on the struggling financial sector, and the growing Tea Party movement — first ignited in response to Obama's modest housing relief plan — made the issue a no-go for the GOP.
Yet had some sort of plan been enacted, the recovery might have been more vigorous. The Hubbard plan would have been a de facto $200 billion a year middle-class tax cut. And in their book House of Debt, Sufi and Mian suggest $700 billion in principal forgiveness of underwater mortgages would not only have boosted consumer spending but would have "drastically reduced foreclosures and the associated negative effects of foreclosures on the economy."
Imagine that: A stronger economy. Less middle-class economic angst and frustration. A system that didn't seem so "rigged" against the 99 percent.
What's more, a housing deal might have set an example of political cooperation that could have radically altered Washington during the Obama years. Maybe we would have gotten a more bipartisan health reform law, avoiding years of fruitless Republican efforts to repeal ObamaCare. With more a collaborative spirit, maybe Congress avoids all those fights over the debt ceiling and possible government debt default. Maybe the White House and Congress finally reform the tax code and fix entitlements. And Washington wouldn't look so unresponsive, much less utterly broken.
Lots of maybes. But one thing seems pretty certain: Trump isn't the 2016 Republican nominee under that scenario. He might still have been in Cleveland tonight, but probably nowhere near a podium.
Continue reading for free
We hope you're enjoying The Week's refreshingly open-minded journalism.
Subscribed to The Week? Register your account with the same email as your subscription.