Nintendo's Pokemon Go-fueled stock frenzy is everything ridiculous about Wall Street
The company's spectacular rise and fall was due to the revelation of... a readily available fact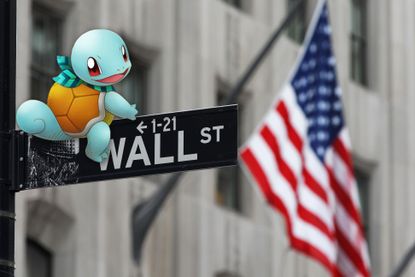 (Image credit: Photo Illustration by Jackie Friedman | Images courtesy Pokémon Super Mystery Dungeon, Trevor Collens / Alamy Stock Photo)
Hopefully a fair number of Nintendo stock owners have strong stomachs. Because over the last few weeks, they've been taken for quite the ride.
The value of Nintendo's shares basically doubled after the launch of Pokémon Go in the U.S. on July 6. The game's massive popularity caught stock analysts and financial journalists unawares, and at its peak in early July, the price of an individual share hit $38.25. That added $17.6 billion to the total value of Nintendo's shares on the financial markets.
Then, just as quickly, the stock dropped.
Subscribe to The Week
Escape your echo chamber. Get the facts behind the news, plus analysis from multiple perspectives.
SUBSCRIBE & SAVE
Sign up for The Week's Free Newsletters
From our morning news briefing to a weekly Good News Newsletter, get the best of The Week delivered directly to your inbox.
From our morning news briefing to a weekly Good News Newsletter, get the best of The Week delivered directly to your inbox.
Nintendo's stock slid 10 percent on July 20, then plunged another 18 percent on July 25. The latter drop wiped out around $6.7 billion in market value, making it the biggest single drop Nintendo's stock has seen since 1990.
The explanation for the July 20 fall-off is entirely banal. Pokémon Go was supposed to be released in Japan on July 19. But that morning an announcement was made that the release would be pushed back, thanks to concerns that the flood of new users might overwhelm the game's servers. It finally came out on July 22, but the surprise last-minute announcement seems to be what set off the flight from the stock.
The July 25 drop is a bit more interesting.
Three days before, Nintendo put out a very brief announcement clarifying its actual place in the web of ties that distribute revenue from Pokémon Go. The game was actually developed by the U.S.-based Niantic, in which Nintendo owns an undisclosed stake. Meanwhile, the rights to Pokémon itself are held by the Pokémon Company, which is "going to receive a licensing fee as well as compensation for collaboration in the development and operations of the application." Nintendo owns a 32 percent stake in the Pokémon Company.
Add it all up, and a lot of the money that will be generated by Pokémon Go will be siphoned off to other claimants before it ever shows up in Nintendo's revenue or profits. "Because of this accounting scheme," Nintendo rather dryly put it, "the income reflected on the company's consolidated business results is limited."
In fact, one estimate by Macquarie Securities analyst David Gibson put Nintendo's "effective economic stake" in Niantic at just 13 percent.
The announcement came out on a Friday. So on Monday, July 25, the stock cratered.
Now, nothing untoward actually happened here. Nintendo did nothing illegal, nor did it break any rules. The complex relationship between Nintendo, the Pokémon Company, and Niantic was delved into by the Guardian before the game was even released. Another analysis by Nomura Securities on July 11 said that "the recent share price rally accordingly looks excessive based on profits from Pokémon Go alone," and both Forbes and Mashable took note.
Basically, a lot of investors just got caught up in the Pokémon Go craze. They saw millions of people flocking to a hot new game and thought, "Cha-ching!" But they erroneously assumed that because Nintendo has published the Pokémon games since their first release in the 1990s, it owned them outright and would, as the Verge put it, "benefit accordingly." That widespread, totally avoidable error is just the latest reminder that the stock market is full of people who don't know what they're doing.
Of course, Nintendo itself will probably be fine. The company has been traded publicly since 1962, and has weathered ups and downs before. By far its biggest stock rise came in 2007, when the individual share price hit a peak of about $78 that October. That massive rise was fueled by excitement over the release of the Wii in 2006. But then eventually everyone who wanted a Wii bought one, and the Wii-U release a few years later under-performed expectations. So the stock fell back to earth by 2011, but never quite as low as it got before. It kept rising, but at a far more modest pace.
When Nintendo announced in 2015 that it would finally start working on games for other platforms like smartphones, the stock jumped modestly again, to a peak of around $25. Then it calmed down.
"This trajectory — great excitement about a new product or strategy, subsequent disappointment and modest overall appreciation — has become a familiar one for Nintendo," Bloomberg observed. And in fact, the company's total value on the stock market is still $12 billion higher compared to just before Pokémon Go came out.
Now, Nintendo will directly produce and distribute the Pokémon Go Plus, a wearable bluetooth device that lights up when players come near Pokémon and Pokéstops. But the anticipated revenue from that product is already baked into the projections that Nintendo will be releasing today. That report will also cover Nintendo's earnings from the first quarter, but those ended before Pokémon Go's release.
So the rollercoaster is still slowing down. And it will be a little while before we know what, if anything, everyone got so excited about.

Continue reading for free
We hope you're enjoying The Week's refreshingly open-minded journalism.
Subscribed to The Week? Register your account with the same email as your subscription.