How Barack Obama taught Democrats to tell their American story
Obama's convention speech was not just a rebuke to Donald Trump. It was a powerful articulation of progressive patriotism.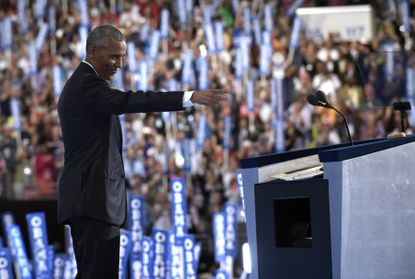 (Image credit: AP Photo/Susan Walsh)
Sign up to our 10 Things You Need to Know Today newsletter
A free daily digest of the biggest news stories of the day - and the best features from our website
Thank you for signing up to TheWeek. You will receive a verification email shortly.
There was a problem. Please refresh the page and try again.
On a July night in Boston in 2004, a 42-year-old state senator gave what we can understand now as probably the most important convention speech in our history, a thunderbolt that made the entire political world sit up and say, "Holy cow. That guy's going to be president one day." Twelve years later, his hair greyer and his face more wrinkled, he gave another convention speech on someone else's behalf. If he had been waiting much of his life to make that speech during John Kerry's convention, the speech he gave for Hillary Clinton was obviously one he'd been waiting to make for the duration of this campaign, if not longer. Watching the rapturous crowd and hearing his unmatched combination of eloquence and delivery, it was hard to avoid the conclusion that Barack Obama will cast an awfully long shadow over Hillary Clinton, should she be fortunate enough to win in November.
Obama's speech was not just a rebuke to Donald Trump's apocalyptic vision of our country, though it certainly was that. Even more, it was a powerful articulation of the progressive version of the American story, and an assertion of patriotism every ounce as strong as that of those who have for eight years questioned whether he is truly American.
There were many compelling passages in Obama's speech, but I want to point to this one, where he directly took on not just Donald Trump himself but the kind of unease about change that Trump has attempted to harness for his benefit. When Trump says he'll "make America great again," he's speaking to people who don't like hearing Spanish spoken on the streets of their town, or who don't like seeing a black man in the Oval Office, or who don't like feeling that they and theirs no longer have a monopoly on economic, political, and cultural power. Trump's telling them that he'll turn back the clock to a time when America felt like it belonged to them. This was Obama's response:
Subscribe to The Week
Escape your echo chamber. Get the facts behind the news, plus analysis from multiple perspectives.
SUBSCRIBE & SAVE
Sign up for The Week's Free Newsletters
From our morning news briefing to a weekly Good News Newsletter, get the best of The Week delivered directly to your inbox.
From our morning news briefing to a weekly Good News Newsletter, get the best of The Week delivered directly to your inbox.
For the last eight years, Obama has been making a case for a progressive patriotism, one based on the idea of "a more perfect union," that phrase from the preamble to the Constitution that he returns to again and again. It's the idea that the American story is one of constant improvement and progression toward the realization of the country's founding ideals. In that story, change isn't incidental, it's essential. And it's a fundamentally different kind of patriotic story from the one conservatives usually tell. It's why Obama frequently brings up dark periods in our country's history, like slavery (as the first lady did on Monday) or Jim Crow or McCarthyism — those periods are a critical part of the story, because they remind us what we overcame.
So over these years, Obama has taught Democrats how to clearly and unequivocally celebrate America while remaining true to their progressive values. And in the process, he turned his party into a confident one, after it had cowered in fear for a quarter-century before his arrival. It seems like a long time ago now, but during that time Democrats were constantly afraid — afraid they'd be called unpatriotic, afraid they'd be called weak on crime, afraid they'd be called tax-and-spenders, and afraid that Republicans who always seemed more skilled and more ruthless would whip the stuffing out of them.
They don't look that way anymore, do they? This may be a party that has suffered defeats at the state level (as the president's party often does), and is still in the minority in Congress. But Donald Trump's campaign of white nationalism has made Democrats more sure than ever that the future belongs to them, their broad coalition, and their inclusive vision.
And more than a few Republicans understand it too. On Wednesday evening, Tony Fratto, who served as a spokesperson for George W. Bush, tweeted, "Watching Democrats talk about America the way Republican candidates used to talk about America." As Obama neared the end of his speech, Rich Lowry, editor of the conservative National Review, tweeted, "American exceptionalism and greatness, shining city on hill, founding documents, etc. — they're trying to take all our stuff."
But it isn't their stuff alone, not anymore.
As Obama delivered his speech, the "Yes We Can" spirit of his magical 2008 campaign coursed through the room. Back then Democrats may have placed absurd hopes on him, believing that with a sweep of his hand and the power of his voice he could melt all opposition and solve any problem. But the true promise Obama embodied in 2008 wasn't the creation of paradise, or eight years without setbacks. It was a consequential presidency that achieved big things, won more battles than it lost, and set the government and the country on a fundamentally different path than the one it had been on.
He's made mistakes, and like anyone there are things I wish he had done differently. There are problems he hasn't devoted enough attention to, and opportunities he let pass by. But he did do some great things. And in the face of unending venom and hatred from his political enemies — to the point where, thanks in part to the man Republicans have nominated for president, he had to show his damn birth certificate to prove he's actually an American — he conducted himself with uncommon dignity, equanimity, and class.
And as was on such vivid and moving display Wednesday night, Barack Obama taught Democrats how to tell their American story. He may not have done everything his supporters hoped he would do. But did he fulfill the promise everyone saw when he took the stage at that 2004 convention? Yes he did.
Continue reading for free
We hope you're enjoying The Week's refreshingly open-minded journalism.
Subscribed to The Week? Register your account with the same email as your subscription.
Sign up to our 10 Things You Need to Know Today newsletter
A free daily digest of the biggest news stories of the day - and the best features from our website
Paul Waldman is a senior writer with The American Prospect magazine and a blogger for The Washington Post. His writing has appeared in dozens of newspapers, magazines, and web sites, and he is the author or co-author of four books on media and politics.