The agonizingly familiar problem with Wells Fargo's board of directors
Here's why Wells Fargo took forever to claw back CEO pay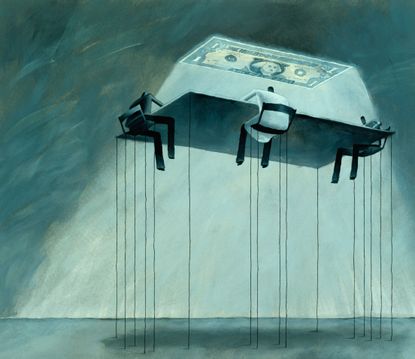 (Image credit: Illustration Works / Alamy Stock Photo)
The hammer may finally fall on Wells Fargo CEO John Stumpf.
The bank, one of the biggest in the country, is now infamous for a massive and systemic scandal, in which a brutal work culture drove thousands of employees to bilk customers out of millions of dollars by opening new accounts and products without permission, and other fraudulent activity. On Tuesday, Wells Fargo's board of directors announced Stumpf will be losing about $41 million in stock compensation, his 2016 bonus, and his salary for the duration of an internal investigation.
Carrie Tolstedt, the senior vice president who led the division where the shenanigans took place before her early retirement this year, is losing $19 million of her stock awards, and both her bonus and severance — though she may still walk away with $43.3 million in stock she already owns.
Subscribe to The Week
Escape your echo chamber. Get the facts behind the news, plus analysis from multiple perspectives.
SUBSCRIBE & SAVE
Sign up for The Week's Free Newsletters
From our morning news briefing to a weekly Good News Newsletter, get the best of The Week delivered directly to your inbox.
From our morning news briefing to a weekly Good News Newsletter, get the best of The Week delivered directly to your inbox.
While certainly a welcome development, it also raises the question: What took so long?
Wells Fargo was dogged by lawsuits and news reports for years over its poisonous sales practices, but the board only acted after Los Angeles prosecutors, federal regulators, and a pack of enraged senators acted first. As Gretchen Morgensen writes at The New York Times, a corporate board is tasked with monitoring the company culture, making its sure its behavior and strategies are sound, and ensuring the CEO does their job and that their compensation properly incentivizes them to do it. "The Wells Fargo board has disappointed in all three," Morgensen concluded.
In many ways, Wells Fargo's corporate board is an admirable standout: Its 15 directors boast a wealth of experience across industry, government, and academia. Two are former banking regulators. Ten of the 15 are either women or people of color. But that didn't stop the board from falling into some of the same traps that bedevil the American corporate world as a whole. The fact is, boards are often way too cozy with the CEO.
Officially, the directors on corporate boards are elected by shareholders, and the boards then hire the CEO. In practice, boards tend to exercise pretty tight control over who goes up for election in the first place, and no single person tends to influence the process more than the CEOs themselves — effectively, CEOs often hand pick the people ostensibly meant to oversee them.
There's also a weird fluidity to the population of U.S. corporate directors across all companies. It's not uncommon for directors to hop from board to board over the course of their career, often overseeing companies and industries for which they have no intrinsic expertise. Nor is it uncommon for directors to serve on multiple corporate boards at once. The Wall Street Journal reported that 5 percent of the directors at S&P 500 companies served on four or more boards in 2015 — which is a significant improvement from 27 percent in 2005.
They also tend to spend only a few hours a week on each of their board positions. One assessment in 2015 found that directors of publicly traded companies averaged 248 hours of work each year for each board they served on. (By comparison, the typical American worker puts in 1,790 hours a year.) That has also risen from 156 hours per year, per board position in 2003, as new regulations following the Enron scandal and the 2008 financial crisis placed greater and more specific demands on directors.
In essence, being on the board of directors is a flexible part-time job. But it's also a very well-paid one: Compensation for directors at the smallest corporations (under $500 million in 2014 revenue) rose from just under $50,000 in 2000 to just over $100,000 in 2014. For the top 200 corporations (over $10 billion in 2014 revenue), it was just under $150,000 in 2000 to over $250,000 in 2014. Those hikes vastly outpaced the 43 percent increase in the S&P 500 stock index over the same time period.
There are arguments for why directors who didn't come up through the company or the industry are good: There are less chances for conflicts of interest or groupthink. But directors are still very often shareholders in the companies they run, just like the CEOs they ostensibly oversee. In fact, compensation for directors and CEOs is increasingly made up of stock. And it's no accident that capital gains and other returns to financial instruments have been the key driver of rising inequality.
A corporation's board of directors is supposed to shepherd the long-term well-being of the company, and make sure the CEO is pursuing that same purpose. But in reality, directors and CEOs are more like members of the same tribe, floating freely from company to company, draining corporations for all the shareholder payouts they're worth.
This problem is usually cited to explain runaway CEO pay or screwy corporate finances. But it also explains a broader malaise in how corporate boards function, and why no one at Wells Fargo was terribly interested in disciplining Stumpf or the bank's upper management. After all, the cross-selling that Stumpf pursued helped drive the value of everyone's stock through the roof.
There are numerous reforms lawmakers could pursue here, from changes to how shareholder voting and corporate governance laws work, to empowering unions and workers' representation on boards, to just clamping down on CEO pay and massive corporate payouts to shareholders with higher income and capital gains taxes.
And there are already signs of improvement. CEO pay itself actually fell by almost 25 percent from 2000 to 2013 (after rising 1,279 percent from 1978 to 2000), suggesting boards are at least starting to get wise. And the ratio of CEO pay to typical worker compensation fell from an eye-watering 353-to-1 to a merely eye-twitching 237-to-1. And as mentioned, directors aren't nearly as madcap about taking on multiple gigs at once as they were a decade-and-a-half ago.
"Fifteen years ago, most people who were on boards were members of the country club, they were friends of the CEO, and they didn't do a heck of a lot of work for the money," Martin Coyne, a former Eastman Kodak executive who has served on several boards, told The Boston Globe. "Now it's a much harder job. You have to do your homework, work at it, stay current on things, and you have a tremendous amount of personal exposure if things go wrong."
Unfortunately, it's wishful thinking to believe that era is far behind us. If we're looking to make Stumpf's fate the rule rather than the exception, we've still got a ways to go.

Continue reading for free
We hope you're enjoying The Week's refreshingly open-minded journalism.
Subscribed to The Week? Register your account with the same email as your subscription.