How Hillary Clinton can solve her third-party problem
For starters, Clinton partisans should stop being jerks to fans of Gary Johnson and Jill Stein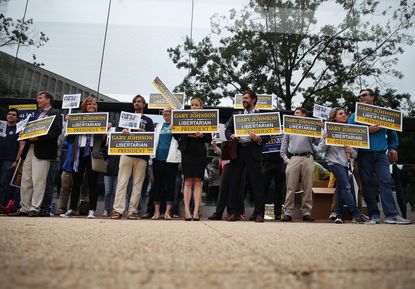 (Image credit: Mark Wilson/Getty Images)
Sign up to our 10 Things You Need to Know Today newsletter
A free daily digest of the biggest news stories of the day - and the best features from our website
Thank you for signing up to TheWeek. You will receive a verification email shortly.
There was a problem. Please refresh the page and try again.
Hillary Clinton has a third-party problem.
The Democratic primary in 2016 featured stark ideological disagreements between Clinton and Bernie Sanders. And as a result, Clinton is having some real trouble locking up her primary opponent's voting base: by and large, young people, who are instead flocking to Libertarian Gary Johnson or Green Party nominee Jill Stein.
This is creating no small amount of frustration among Clinton partisans, who would like young voters to do as Sanders himself has done, and dutifully line up behind Clinton. Yet the Clinton camp is dealing with its frustration all wrong. If they want to convince skeptics to vote Clinton, they need to suppress their anger and start thinking tactically. Here's how:
Subscribe to The Week
Escape your echo chamber. Get the facts behind the news, plus analysis from multiple perspectives.
SUBSCRIBE & SAVE
Sign up for The Week's Free Newsletters
From our morning news briefing to a weekly Good News Newsletter, get the best of The Week delivered directly to your inbox.
From our morning news briefing to a weekly Good News Newsletter, get the best of The Week delivered directly to your inbox.
1. Emphasize the good parts of Clinton's platform. And do it over and over and over again. Sanders got huge traction among young voters (many of whom are crushed under tons of student debt) with his calls for single-payer and tuition-free college. Clinton's plans for means-tested free college, a public option for ObamaCare, and Medicare at 55 aren't as good, and as usual for mainstream Democratic policies, they're much more difficult to explain. But they are still a massive improvement on the status quo. Clinton is doing a serviceable enough job of touting her more liberal proposals, but it's not nearly enough. She needs a continuous drumbeat from now until the election to have a prayer of breaking through.
2. Stop hating on millennials. It sounds obvious, but older Clinton partisans must communicate a basic respect for young voters as people and citizens. Rhetorically speaking, this is the biggest problem with older, anxious liberals: Instead of trying to engage with young people on a plane of respect, they often just vent, tossing off "jokes" about how much they hate millennials, or raising the voting age to 30, or pre-blaming millennials for a loss that hasn't even happened yet.
It's true that some young voters are ignorant about basic political history and may have ill-considered political views. In that they are no different from older voters (who are incidentally supporting Trump at twice or more the rate of under-30 voters). There's plenty of ignorance to go around in this wretched country.
3. Stop blaming Ralph Nader for the Bush presidency. It's fine to reference Nader as part of an argument against vote-splitting in a swing state, but it is simply preposterous to lay the entire causal weight of the Bush victory at his feet. Bush became president because (i) 50.5 million people voted for him, including 2.9 million people in Florida; (ii) our idiotic system of presidential elections sometimes allows popular vote losers to win; (iii) conservatives on the Supreme Court stopped the Florida recount, very obviously so they could hand the election to their preferred candidate; and (iv) a variety of much, much smaller factors, including 200,000 Democrats voting Republican in Florida, Al Gore's unusual loss of his own home state, and several third parties potentially bleeding away enough votes from Gore to swing Florida to Bush. The Greens were the biggest of these, but there were actually eight parties in Florida that got more votes than Bush's margin of victory.
It's important to be clear on this point, because references to Nader often comes off as a hostile attack (and indeed are often meant to be). Several prominent liberals were beside themselves to find that some college guy in South Carolina hadn't heard of Nader, with the implication that naive youths were risking President Trump because they hadn't learned their history.
4. Don't vilify Johnson and Stein. It's simply false to say a vote for Gary Johnson or Jill Stein is a vote for Trump, which has become a liberal refrain of late. It might help Trump, depending on the state and who those third-party voters are, but that is not the same thing as voting for Trump. Just look at Trump voters arguing that a third-party vote is a vote for Clinton.
In today's negative-polarized days, hatred is by far the most important political emotion. Attempting to buffalo young voters into voting Clinton with a disingenuous argument about how they're really Trump supporters is highly likely to inspire resentment and backfire.
5. Make a positive tactical argument. This is key: Focus on how swing state voters' best tactical move to shift politics in the direction they support, or at least prevent them from accelerating in the other direction at warp speed, is to vote Democratic. Acknowledge that Clinton is a highly non-ideal candidate, but that she is simply the only option to keep Trump out of the White House. And as Corey Robin argues, conventional volunteering and phone banking — and not getting in flame wars on Twitter and Facebook — is the best place for this.
One of the many unfortunate aspects of our ancient Constitution is how it makes this sort of Byzantine reasoning necessary. But until we get a proportional parliament, and people can just vote for their favorite out of several parties, it will have to be done, and carefully.
Continue reading for free
We hope you're enjoying The Week's refreshingly open-minded journalism.
Subscribed to The Week? Register your account with the same email as your subscription.
Sign up to our 10 Things You Need to Know Today newsletter
A free daily digest of the biggest news stories of the day - and the best features from our website
Ryan Cooper is a national correspondent at TheWeek.com. His work has appeared in the Washington Monthly, The New Republic, and the Washington Post.