Bob Dylan, Donald Trump, and the damaging quest for American nostalgia
These men are not similar — except insofar as they inspire a passionate fandom and tap into an American desire to go back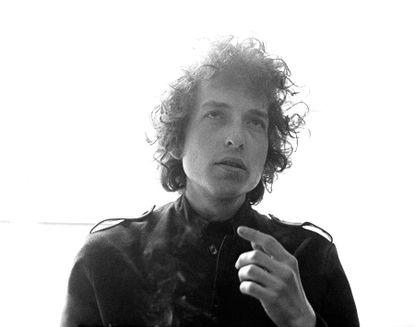 (Image credit: Pictorial Press Ltd / Alamy Stock )
Sign up to our 10 Things You Need to Know Today newsletter
A free daily digest of the biggest news stories of the day - and the best features from our website
Thank you for signing up to TheWeek. You will receive a verification email shortly.
There was a problem. Please refresh the page and try again.
Bob Dylan received the Nobel Prize for Literature on a day bursting with political shrapnel. These are not easily separable events.
Some Americans are celebrating Dylan's win, some are confused, and others are downright angry. The Nobel is changing, and so are the times: As I type this, the Republican nominee for the highest office in the land is leading a chorus of people in chanting "LOCK HER UP" of his opponent. It is unprecedented. This man says he wants to Make America Great Again — he has made this his catchphrase. There should be no overlap between this and the Nobel, but it is difficult to separate Bob Dylan's long history channeling Americana, his gift for somehow embodying American nostalgia, from this particular moment in American history and this unhinged man's call for a similarly nostalgic return to whatever America used to be.
These men are not similar — except insofar as they inspire a passionate fandom and tap into an American desire to go back.
Subscribe to The Week
Escape your echo chamber. Get the facts behind the news, plus analysis from multiple perspectives.
SUBSCRIBE & SAVE
Sign up for The Week's Free Newsletters
From our morning news briefing to a weekly Good News Newsletter, get the best of The Week delivered directly to your inbox.
From our morning news briefing to a weekly Good News Newsletter, get the best of The Week delivered directly to your inbox.
Does it matter whether the Swedish Academy was thinking of this nod to Dylan as an extended project in canon formation? As an expansion of what "literature" can mean? As an avant-garde comment on literary greatness?
It matters, but not today. Today, we consider America first.
In the weeks leading up to the announcement of the prize, the American press was peppered with articles analyzing the Swedish Academy's reluctance to honor the perpetual American candidates. (1993 was the last time an American had won the literature Nobel.) We are quite sure, we Americans, that a particular crop of authors deserves the honor — Philip Roth, Thomas Pynchon, and Don Delillo and sometimes, depending on our national mood, Cormac McCarthy. The Academy has not agreed (and Joyce Carol Oates keeps slipping into the list, to everyone's consternation). The result is that the masculine cluster we credit with best articulating our nationhood has gone irritatingly unrecognized by external observers. They have refused to honor our fine manly songs of ourselves, and we have started to take it a little personally.
And today, finally, we have an American winner! Alas, the Swedish Academy is nothing if not a subtweeter, and this was a peculiar win. Back in 2008, Horace Engdahl, then the permanent secretary of the Nobel jury, memorably condemned the United States for its parochial literary landscape: "The U.S. is too isolated, too insular," he said. "They don't translate enough and don't really participate in the big dialogue of literature ... That ignorance is restraining." This was a slap in the face to the American literary tradition as we insist on construing it — those Great American novels — and it's hard not to see something just a little patronizing, a mite didactic, in the Nobel Committee's decision to locate specifically American literary greatness not in a writer at all, but rather a musician (albeit a very gifted one).
It is, however, of a piece with the Swedish Academy's tendency to send political signals. People will debate the matter of Bob Dylan's "literary" greatness for months — I'll disclose here that I don't personally find his writing, at least in his memoirs, particularly impressive — but more than his writing has factored into the Nobel decision. He is being hailed (by Sarah Danius, the permanent secretary of the Swedish Academy) as a "very original sound poet" who "embodies the tradition," as someone who has been "at it constantly, reinventing himself, creating a new identity." He has merits the Nobel would like to recognize for their own sake, in other words.
But Dylan is also, arguably, a reminder of how America used to talk to itself — a relic of what American greatness used to mean. The Jewish Minnesotan who affected an Oklahoma accent and tried to climb into and channel Americana is more than a nostalgic figure; he was someone who named what was happening the last time America was in this much trouble. He was one of several musicians who created enough beauty out of our national turmoil that thinking back elicits less relief at putting a painful history behind us than nostalgia for a struggle that gave rise to something — anything — good.
Ever an expert in covert messaging, the Swedish Academy has rather neatly co-opted Trump's motto. In the midst of an election season that's tearing the Republican Party in two, splitting the country and endangering the world, the Nobel is using Dylan to invite a ravaged United States to consider its history and its myths — even its insular, parochial art — and to Make America Great Again.
It is an unwelcome invitation. American Greatness has not made much room for women, and having just witnessed one Twitter campaign dedicated to repealing the 19th Amendment and another calling women reporting their assaults "fakers," I find myself uncharmed by the invitation to celebrate American nostalgia, whether Mad Men's, Trump's, Dylan's, or Sweden's. We have time-traveled this week, and the casual misogyny that structured our recent history and normalized sexual assault threatens to break through to the present. This election season wrung out my historical wistfulness. "I can't stop thinking about this," Michelle Obama said of the Republican candidate's proud boasts that he grabbed women by their genitals. "It has shaken me to my core in a way I couldn't have predicted." It is a view I share. In such a context, Dylan's "what do you mean you can't repeat the past, of course you can," is far from comforting.
Donald Trump has usurped the language of American greatness. This is, perhaps, just as well. We will not make America great again by Trump's peristaltic standards because no such America could be great to begin with. And Dylan's America — no matter how fondly the Swedish Academy invites us to recall it — was little better.
As for what greatness can mean in the present? The concept is under construction. Its early scaffolding is drab and workmanlike. Take Hillary Clinton's new essay in Time: "If there's one core belief that has guided and inspired me every step of my career in public service, it's this: The U.S. is an exceptional nation," she writes, and we barely finish the inert conditional because of how little beyond the merely declarative it contains. Morally, though, it soars above a con man's impassioned calls to imprison his enemies for America. A plainspoken pragmatism beats the ecstatic male prophetic bursts we've come to associate with greatness — whether in novels or music or rallies. We are insular, just as Horace Engdahl said, so insular that what we call our "dialogue" on American greatness has historically ignored half the population. It will have to make room for women if it is to exist at all. (It is beginning. Michelle Obama has been the only person capable of leavening this bleak season with anything like a truly inclusive idealism.)
And there will be occasions for inspiration, even if there aren't many right now.
But for today, at least, as the nation staggers under the weight of sexual assault charges, lawsuits, conspiracy theories, and calls for imprisonment, I'm done with the lopsided language of inspiration and fandom. I'm done celebrating men who are much too accustomed to being celebrated, done with the adoration we lavish on people who stand on stages, done with the feverish waves that seize the screaming crowds — whether in response to Dylan's introspective narcissism or Trump's hysterical egomania. It has become clear this week that there is little that's truly universal there, little that connects the overworked concept of American greatness to the women under attack today.
We will not Make America Great Again. Whatever greatness we're capable of is in our future. As for the Nobel, I expect Bob Dylan will fulfill the legend of his greatness by not caring at all about his award. Neither, therefore, will I.
Continue reading for free
We hope you're enjoying The Week's refreshingly open-minded journalism.
Subscribed to The Week? Register your account with the same email as your subscription.
Sign up to our 10 Things You Need to Know Today newsletter
A free daily digest of the biggest news stories of the day - and the best features from our website
Lili Loofbourow is the culture critic at TheWeek.com. She's also a special correspondent for the Los Angeles Review of Books and an editor for Beyond Criticism, a Bloomsbury Academic series dedicated to formally experimental criticism. Her writing has appeared in a variety of venues including The Guardian, Salon, The New York Times Magazine, The New Republic, and Slate.