How the media rediscovered its convictions to take on Donald Trump
Trump has simply insulted reality too often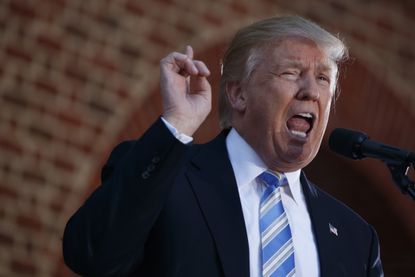 (Image credit: AP Photo/Evan Vucci)
How do you solve a problem like Donald Trump? If you're a journalist, do you frame his latest outrage through its effect on the campaign or the country?
For instance, each of the following two frames about his "rigged election" talk could have easily appeared in media across the United States. Both are useful for journalists — but only one is essential.
Frame one: Donald Trump warned supporters that the presidential election was rigged against him and urged them to be extra-vigilant against voter fraud. He implied he wouldn't accept the results of an election that he did not win.
Subscribe to The Week
Escape your echo chamber. Get the facts behind the news, plus analysis from multiple perspectives.
SUBSCRIBE & SAVE
Sign up for The Week's Free Newsletters
From our morning news briefing to a weekly Good News Newsletter, get the best of The Week delivered directly to your inbox.
From our morning news briefing to a weekly Good News Newsletter, get the best of The Week delivered directly to your inbox.
Frame two: Donald Trump threw the legitimacy of an American presidential election in doubt, claiming, in the face of evidence to the contrary, that big media, liberal Democrats, and the Republican establishment were conspiring against him. His words will give his supporters ammunition to challenge the results, and perpetuate his grievance-fueled campaign.
Let's call the first frame "the game frame," after Thomas E. Patterson, the Harvard political scientist who noticed that the media, after the 1960s, covered the election like a contest, because it was easy, cheap, and rewarding for them to do so. In the game frame, the governing metaphor is logically consistent only within a very short time frame, one that the digital news landscape has compressed to mere days, sometimes a single day. The game frame is useful because it allows journalists to avoid offending the pieties of its audience, who are influenced, more and more, by a self-reinforcing cacophony of digital detritus and commentary. But the game frame is fundamentally agnostic about which is right. It avoids conclusions and judgments because its metaphors impoverish the vocabulary its native speakers can use.
The other — the "real" frame — assumes a reality anchored by a set of facts. Its time horizon is an entire election cycle. Its governing principle is not a metaphor or a contest; it is, simply, a set of norms about which everyone agrees to agree, when all is said and done.
These two frames have always been present in campaign coverage, usually in healthy competition with each other. Presidential candidates could spar about tax policy, but they always released their tax returns, because transparency was a norm.
Presidential candidates had character flaws and made mistakes in life, and acidly zinged each other during debates, but they usually acknowledged the dignity of the office during their races and struggled with decisions about how low to go. Moral sensibility was a norm.
Presidential candidates spawned from different movements and with different levels of experience and knowledge, but nominees possessed a minimal set of qualifications and a basic knowledge about the world. Being temperate was a norm.
In the past, strong institutions, the political parties, the media, and even the expressed conviction of a majority of voters all enforced these norms.
This is one reason why American presidential elections have been remarkably competitive.
Even media bias was often self-correcting; perhaps the cosmopolitan sensibilities of journalists gave short shrift to the pain and anxieties of conservatives, but the fear of being seen as biased, the economic pressure to maintain ratings and increase advertising dollars, and the he-said/she-said norms of political reporting negated the effect of intentional anti-Republican prejudice.
In the past, there has been overlap between these frames, too. The presidential candidates cared about satisfying the demands of both of them, and voters punished those who simply ignored reality. In the modern era, populist insurgents, outliers, gadflies, and hecklers have also populated our politics, but the reality frame kept them from interfering in the process of an orderly transition of power itself.
No more.
During the past 10 years, the leaders of the Republican Party, for reasons that are easily articulated by political scientists but uncomfortably Margaret-mumbled by journalists, consciously abandoned these norms for the sake of power and expediency. At the same time, as Ron Fournier has noticed (and noticed and noticed), Americans' faith in virtually every other mediating institution of our public life has bottomed out.
Our consumption of media has changed. Narratives are not as powerful as they were, which means that longer time frames simply loom less large in our field of view. We give more weight to moments and less weight to cycles. This point shouldn't be overlooked: One reason why the game frame seems so powerful is that we tend to live digitally in moments as much as our brains think in stories. We simply want to feel, to eat those Member Berries. Douglas Rushkoff, the poet laureate of modern media literacy, calls this "present shock."
Republicans set themselves up for a candidate who, through the force of his personality, could trigger conservative erogenous zones — while eschewing every other norm — and delight the id of enough of their voters. They did this knowingly. Their complicity is as galling as it is obvious.
I am happy to say, though, that the reality principle is fighting back, little by little. We are re-arming our norms.
When The Huffington Post added a disclaimer about Donald Trump to its stories, I thought they were more precious than prescient. I was wrong; they were right. Truth-telling chyrons became an actual thing, too.
During the past half year, the language of news analyses, usually the way to express an opinion in the news hole, has become common in the major metropolitan dailies. Hedges are becoming less frequent. Content-heavy, serious satire shows (Samantha Bee's, John Oliver's) are influencing newsrooms as much as The New York Times' A1 choices used to influence the rundown of the evening news.
The comeback has been led by the avatars of legacy journalism.
The New York Times was at the top of its game reporting on Donald Trump's ill-conceived university.
The Washington Post's David Fahrenthold has brought a new level of transparency to his reporting about the Clinton foundation and Trump's charities — and, of course, he broke the story about Trump's sexual braggadocio caught on tape. It was encouraging to me that the Post's lawyers took only five hours to vet that scoop. They are adjusting, too, to the new reality.
BuzzFeed has been doing good political journalism for so long that I consider it a legacy institution. Its own K-File unit adapted very quickly to the moment-to-moment news cycle, and the journalism its produced has been worth the money CNN probably paid to acquire them.
When journalists are diffident to the truth, the public senses our diffidence. When we champion truth, the public senses our confidence.
My advice to young journalists: Leave the game frame to the amateurs. Build credibility by adopting the reality frame. Tell people what you know.
Donald Trump has insulted reality too often, and his loss — and he will lose — should fortify truth-tellers everywhere.

Continue reading for free
We hope you're enjoying The Week's refreshingly open-minded journalism.
Subscribed to The Week? Register your account with the same email as your subscription.