How Trump is making America meaner
Horror stories are coming in from across the country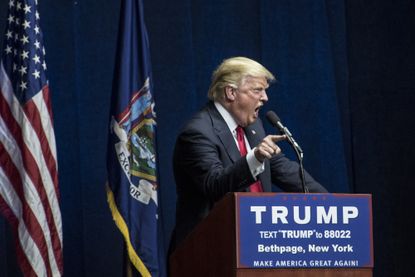 (Image credit: Andrew Renneisen/Getty Images)
Sign up to our 10 Things You Need to Know Today newsletter
A free daily digest of the biggest news stories of the day - and the best features from our website
Thank you for signing up to TheWeek. You will receive a verification email shortly.
There was a problem. Please refresh the page and try again.
The stories are coming in from all over. A man stands up on an airplane and shouts, "Donald Trump, baby! ...We got some Hillary bitches on here?" A Florida man upset at how long his drink is taking at a Starbucks angrily accuses the barista of discriminating against him because he's white. "You're trash," he tells her. "I voted for Trump. You lost." A customer at a craft store in Chicago doesn't like being asked to buy a reusable bag, and gets into an argument with the clerk. "And I voted for Trump! So there!" she shouts. "And look who won! And look who won! And look who won!"
Those are the relatively benign ones. The Southern Poverty Law Center collected reports of 867 hate incidents just in the 10 days following the election, directed at racial and religious minorities, immigrants, LGBT people, and others, often with specific references to Trump. To give you the flavor, "A Sudanese-American family in Iowa City, Iowa, for example, found a note attached to their door that read, 'You can all go home now. We don't want niggers and terrorists here. #trump.'" Again and again, the victims said that until this election they had never experienced anything like it.
These are only anecdotes, and it's possible that they don't represent a genuine shift in society; it's a big country, after all, and Americans were managing to be jerks to each other pretty well before this. But it's hard not to suspect that something has changed, particularly since this kind of naked expression of people's ugliest feelings is something the president-elect explicitly encouraged during the campaign.
Subscribe to The Week
Escape your echo chamber. Get the facts behind the news, plus analysis from multiple perspectives.
SUBSCRIBE & SAVE
Sign up for The Week's Free Newsletters
From our morning news briefing to a weekly Good News Newsletter, get the best of The Week delivered directly to your inbox.
From our morning news briefing to a weekly Good News Newsletter, get the best of The Week delivered directly to your inbox.
There's little doubt that Trump supporters feel emboldened, by the campaign he ran and by his victory. And if my emails and Twitter mentions are any indication, they're the angriest bunch of winners you've ever encountered; given how mad they are you would think they'd lost. What Trump gave them was permission to vent their feelings, offered from the highest level, and his victory has made the permission even broader.
For years, conservatives have been perturbed by "political correctness," which in practice usually means someone calling you out when you act like a horrid human being. Egged on by the likes of Rush Limbaugh and Bill O'Reilly, they came to believe that it was an immensely powerful force of oppression, to the point where many will say that white people suffer more discrimination than black people in America today. Donald Trump said to them, sometimes literally and sometimes by implication, that they could do almost anything and excuse it by saying that any objection was nothing more than political correctness. Punch that protester? Sure, go ahead — he had it coming! Buy yourself a "Trump That Bitch" T-shirt? You're a rebel, don't let The Man tell you what you can't wear! Celebrate with a Nazi salute? Well...maybe that's going a little far, but we get you — economic anxiety, right?
And now some of Trump's supporters have decided that you don't have to be at a rally to let your flag fly. If you're driving by someone who looks like an immigrant, or you hear people speaking Spanish, or a woman gets in your way on the street, there's no need to be polite — that's so 2015. Just tell them what you really think of them, watch them recoil in horror and fear, and feel the rush of power course through you.
Trump might protest that he has on occasion disavowed his supporters' ugliest outbursts, which is true — but only in one way. For instance, right after the election he was interviewed on 60 Minutes, and Lesley Stahl asked him about Trump supporters harassing minorities. "I am very surprised to hear that," he said. "I am so saddened to hear that. And I say, stop it. If it— if it helps. I will say this, and I will say right to the cameras: Stop it." This fit a pattern, whether it was about his endorsement by the KKK or his support from neo-Nazis. He would subtly encourage it, then only when directly pressed by an interviewer would he disavow or criticize what was being done in his name. He was certainly never saddened enough to condemn that kind of thing without somebody demanding it on camera.
But his biggest fans know he just does that to assuage the critics. They know that his campaign wasn't really about jobs, or about foreign policy, or about health care. It was about whether this is your country and you can tell anyone who doesn't belong to get the hell out — or at least tell them that you're in charge and they'd better watch it. More people may have voted for Hillary Clinton, but Trump won, so you'd better treat me with the deference I deserve and know your place. And if I want to yell at you or insult you or maybe do something even worse, then that's my prerogative. Because this is Trump's time.
One can only imagine what would have happened if Clinton was on her way to becoming president; after all, early in Barack Obama's term an elected member of the House of Representatives thought it was okay to shout out "You lie!" like a drunk frat boy during a presidential speech to a joint session of Congress. The rage at a Clinton victory might have been overwhelming. Or the people now harassing minorities and women might have gone back to feeling constrained by societal norms of mutual respect, grumbling to themselves about the people that they hate but not lashing out.
We'll never know for sure. What we do know is that at least for the moment, Donald Trump seems to have made America a meaner, crueler place. And he hasn't even taken office yet.
Continue reading for free
We hope you're enjoying The Week's refreshingly open-minded journalism.
Subscribed to The Week? Register your account with the same email as your subscription.
Sign up to our 10 Things You Need to Know Today newsletter
A free daily digest of the biggest news stories of the day - and the best features from our website
Paul Waldman is a senior writer with The American Prospect magazine and a blogger for The Washington Post. His writing has appeared in dozens of newspapers, magazines, and web sites, and he is the author or co-author of four books on media and politics.