Trump's great man theory of economics
As president he's going to give us exactly what he promised during the campaign: a compelling if simplistic show, based not on facts and details, on policies and adjustments to market forces, but on one man's will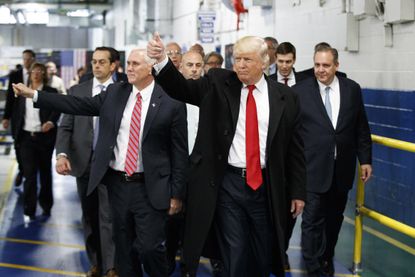 (Image credit: AP Photo/Evan Vucci)
Sign up to our 10 Things You Need to Know Today newsletter
A free daily digest of the biggest news stories of the day - and the best features from our website
Thank you for signing up to TheWeek. You will receive a verification email shortly.
There was a problem. Please refresh the page and try again.
Macroeconomic policy is for losers. Real presidents don't care about that stuff — they do deals, terrific deals, deals with so much winning you're gonna get bored of all the winning.
And that, my friends, appears to be how the next president of the United States will make our economy great again. In other words, as president he's going to give us exactly what he promised during the campaign: a compelling if simplistic show, based not on facts and details, on policies and adjustments to market forces, but on one man's will.
We saw it in action with Trump's "deal" to keep some jobs at two Carrier factories in Indiana from moving to Mexico. After intervention from the president-elect and his running mate, who also happens to be the state's governor, the company agreed not to send 2,000 jobs to Mexico as it had planned. In exchange they got $7 million in tax breaks, and more importantly, avoided a PR nightmare and the possibility that some of their parent company's ample defense contracts might be endangered.
Subscribe to The Week
Escape your echo chamber. Get the facts behind the news, plus analysis from multiple perspectives.
SUBSCRIBE & SAVE
Sign up for The Week's Free Newsletters
From our morning news briefing to a weekly Good News Newsletter, get the best of The Week delivered directly to your inbox.
From our morning news briefing to a weekly Good News Newsletter, get the best of The Week delivered directly to your inbox.
For his part, Trump got terrific headlines, great pictures posing with happy Carrier employees, and the ability to trumpet to all who would listen that he had saved 1,100 jobs. As it happens, he wasn't telling the truth about that (shocking, I know) — the number of jobs slated to go to Mexico that will be staying is actually 800. Which is great for those 800 people, but doesn't do much for the economy overall.
But the Carrier deal embodied everything about how Trump said he'd bring us to that economic paradise. It wasn't about large, impersonal market forces, just one guy, sitting across a table from some other guys, telling them what's what and getting results. In one poll, 60 percent of respondents said it made them feel more favorably toward Trump.
But it can't be much of a model for Trump once he takes office. For him to equal the 15 million jobs that have been created since the Great Recession bottomed out in 2010, he'd have to to what he did with Carrier a mere 18,750 more times, or once a day for 51 years. And since those would be just jobs saved and not new ones created...well, you get the idea.
That's not the point, though. As Trump may or may not understand, most of what happens in the economy is outside the president's control. Presidents get more credit than they deserve when things go well and more blame than they deserve when things go poorly. And while Trump may find some more photo ops to have, there's only so much he'll be able to do directly, only so many firms threatening to move jobs overseas and willing to be talked out of it.
Trump says he wants to slap a 35 percent tariff on the goods of any company that moves jobs overseas, but Republicans in Congress don't like the sound of that, and he can't target specific companies in that way without their approval. He can try to renegotiate trade deals, but that won't produce the manufacturing explosion in the industrial Midwest that he promised, since most of the manufacturing jobs we lost in the last few decades disappeared not because of foreign competition, but because of automation. He can pull back environmental regulations, but that won't revive the coal industry — its biggest problem is competition from cheap natural gas, and Trump also wants to expand the fracking that brought natural gas prices so low.
Trump should get credit for one thing: He understood that the way to sell an economic program is to simplify it, to talk about jobs, jobs, jobs — and not just any jobs, but high-paying, secure jobs that don't require a lot of experience and education. That's part of why he described the future he'd create as a reversion to the 1950s and 1960s, where you could graduate high school, go down to the factory, and get a job with good wages and benefits on which you could raise a family.
There were a lot of things he left out about that picture, like the fact that it's automation that has made those kinds of jobs so much harder to find, or that the wages and benefits were so good back then because unions were so much stronger than they are now — and that he and Republicans in Congress will be doing everything they can to destroy collective bargaining once and for all. He also didn't spend a lot of time detailing the substance of their economic program, which is essentially the same set of trickle-down policies Republicans always advocate, including gargantuan tax cuts for the wealthy and the evisceration of regulations on Wall Street.
To excited Trump voters — particularly those in the white working class in key states in the Midwest — none of that mattered. What did matter was the picture Trump painted of an economic and cultural restoration, brought about through the irresistible force of his will.
He won't be able to deliver a return to labor-intensive, high-wage manufacturing, any more than he'll be able to roll back the clock on the increasing diversity of American society and culture. But it's possible, as Jeff Spross pointed out, that if he can avoid screwing up the economy the way Republicans usually do, things could chug along and keep improving, and four years from now Americans might be quite pleased with his performance.
Either way, he'll be governing mostly through photo-ops, simple messages, and a healthy menu of outright lies, even more than most presidents do. How long can he get away with it? There's no way to know yet, but if you're waiting for the voters who supported him to realize he can't deliver what he promised and turn on him, it may take a while.
Continue reading for free
We hope you're enjoying The Week's refreshingly open-minded journalism.
Subscribed to The Week? Register your account with the same email as your subscription.
Sign up to our 10 Things You Need to Know Today newsletter
A free daily digest of the biggest news stories of the day - and the best features from our website
Paul Waldman is a senior writer with The American Prospect magazine and a blogger for The Washington Post. His writing has appeared in dozens of newspapers, magazines, and web sites, and he is the author or co-author of four books on media and politics.