Why I march
We all don't have to stand tall at the exact same time. But some of us do have to do it now. And Saturday is my turn.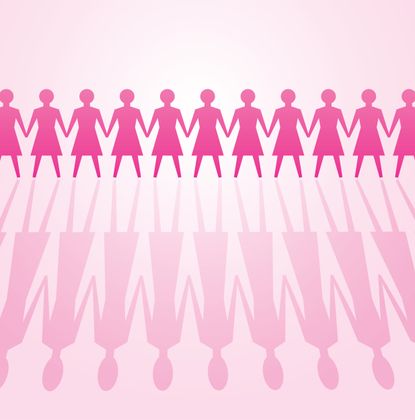 (Image credit: Zoonar GmbH / Alamy Stock Photo)
I spend about half my time as someone I half-jokingly, and with a wink, refer to as Awesome Mom.
As Awesome Mom, I volunteer at my children's school, donate checks to a bunch of non-profits, exercise to fit into my skinny jeans, manage the demanding health-care needs of one of my sons, cook impressive meals from scratch, read great novels, and try to be a supportive friend and a great lover to my husband. Oh, and I do all of this while keeping a clean house and sparkly bathrooms.
Then there's the other half of my time, when a different person clamors to get out. Let's call her Working Mom.
Subscribe to The Week
Escape your echo chamber. Get the facts behind the news, plus analysis from multiple perspectives.
SUBSCRIBE & SAVE
Sign up for The Week's Free Newsletters
From our morning news briefing to a weekly Good News Newsletter, get the best of The Week delivered directly to your inbox.
From our morning news briefing to a weekly Good News Newsletter, get the best of The Week delivered directly to your inbox.
Six months out of every year, I work full time. And as Working Mom, it's all I can do in my spare moments to slap together pre-cooked meals for my family, argue with my husband over pretty much anything, listen to self-help audiobooks, eat a gluten-filled bagel every morning, drink too much wine, occasionally smoke, binge-watch TV late at night, and merely think about working out or meeting up with a friend to chat. But while Working Mom may fall short at home, she can move mountains out in the world. She wants to be seen and needs to be heard. On so many levels, she is in stark contrast to Awesome Mom — and she wants to be, too.
After all, sometimes Awesome Mom is exhausting to be around. She works hard to live up to society's standards of what she believes is expected. She strives to be a wonder woman. She's been raised to understand the importance of pursuing a degree or two, work hard for a few years establishing her career, and then marry for love. Afterwards, she stays home taking care of her young children. During this time of endless diaper duty, laundry, and shuttling kids to and from activities, she wonders if this is going to be as good as it gets.
Awesome Mom devotes the same drive and intensity to everything she once gave to the outside world. Now she is passionate about raising her kids and emotionally supporting her husband in his professional endeavors. Awesome Mom provides stability, routine, and clean clothes. She holds the family to a high standard of personal values set forth by her belief in the American Dream.
Working Mom is less inclined to worry about social graces or making gluten-free vegan snacks for the neighborhood kids. She sometimes forgets to pick up her kids from piano class or call a friend on her birthday. Working Mom can sniff out the disappointment from others when things start slipping through the cracks. But she focuses instead on social justice issues and leaves a bevy of unrest in her wake. She desperately wants to shed light on the fact that although being a mom is one of the most rewarding aspects of her adult life, she wants to be acknowledged for her other pursuits as well. She wants to be seen and heard. She needs to be.
I am both of these women. I am Awesome Mom and and I am Working Mom. Both parts of me need each other. I rely on each to survive as a woman in modern-day America. And I'll need both of them on Saturday.
On that day, I march.
I'm not marching for politics, not really. And I'm not walking with thousands of women from all over the nation in Washington, D.C., to represent any one disenfranchised group in particular. I'm also not marching to declare partisan warfare in my community. I don't want to jeopardize all that I've worked so hard to establish in my personal life, with my friends and with my colleagues.
So why am I marching?
I am marching for the women, men, and children who do not think they have a voice.
I am marching to stand up for Awesome Mom, who knows her pussy is unfortunately up for grabs.
I am marching for Working Mom, who still feels she has to use her sexuality to get ahead professionally.
I am marching for our daughters, who have sadly learned that cute, coy, and ladylike behaviors are traits that open all sorts of doors.
I am marching for our sons, who see women objectified daily and know that their moms see this also.
I am marching to be seen and heard.
I am marching for change.
I am marching because I am both Awesome Mom and Working Mom wrapped up in one hot, contradictory, wonderful mess. I want to believe that I can be more than what I was taught to be. I want to believe I can move mountains in new and different ways. I want to stand tall and use my voice while working hard at being a great mom, employee, friend, and citizen.
We all don't have to stand tall at the exact same time. But some of us do have to do it now. And Saturday is my turn.

Continue reading for free
We hope you're enjoying The Week's refreshingly open-minded journalism.
Subscribed to The Week? Register your account with the same email as your subscription.