Neil Gorsuch is the Supreme Court pick Donald Trump had to make
He's just what conservatives wanted, and no less than they demanded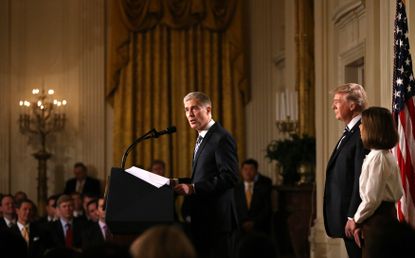 (Image credit: REUTERS/Carlos Barria)
One of the biggest reasons why many social conservatives and evangelical Christians turned out for Donald Trump on Election Day was because the thought of allowing Hillary Clinton to pick a Supreme Court justice to succeed Antonin Scalia was abhorrent to them. To woo these conservatives, Trump made them a promise: He would nominate someone "very much in mold" [sic] of Scalia. With the pick he announced on Tuesday, Trump is clearly and unambiguously making good on that promise.
Neil Gorsuch is the pick President Trump had to make.
The composition of the Supreme Court has a profound effect on American politics and jurisprudence. Activists, legal groups, and legislators invest their money, time, and moral resources in causes that can survive the scrutiny of the Court. If Scalia had been replaced by a liberal or progressive, or even the kind of temporizing centrists Republicans have nominated before, like David Souter, the entire game board of American politics would begin to tilt even more against conservative causes and the people who champion them.
Subscribe to The Week
Escape your echo chamber. Get the facts behind the news, plus analysis from multiple perspectives.
SUBSCRIBE & SAVE
Sign up for The Week's Free Newsletters
From our morning news briefing to a weekly Good News Newsletter, get the best of The Week delivered directly to your inbox.
From our morning news briefing to a weekly Good News Newsletter, get the best of The Week delivered directly to your inbox.
But if Gorsuch takes Scalia's seat, it means conservatives will have avoided a calamitous reversal of their fortunes, one they have been contemplating for nearly a year, ever since Scalia's death.
Conservatives fear that emerging legal and social trends are rapidly turning against religious liberty. Not just the liberties of privately owned companies, but also against religious colleges being able to make dorm policies consistent with their faith, or Catholic hospitals to continue their work without being legally compelled to provide abortion. Without a committed textualist in the Scalia seat, left-wing groups would feel empowered to apply greater legal pressure on claims for religious liberty.
During his time serving on the Tenth Circuit Court of Appeals, Gorsuch has compiled a record of judicial opinions that place him squarely in the "textualist" and "originalist" camp of legal interpretation that Scalia so championed. On such cases dealing with religious liberty, conservatives will be pleased by Gorsuch's track record. He has ruled in favor of religious plaintiffs, like Hobby Lobby and the Little Sisters of the Poor, when their cases came before the Tenth Circuit. He also ruled in favor of a Native American prisoner seeking accommodation for his religious use of a sweat lodge.
But these religious liberty cases do not mark him out as notably beyond the mainstream, since the Supreme Court landed on the same side as Gorsuch in the Hobby Lobby case and punted on the case brought by the Little Sisters. He has never ruled on or written about abortion in a way that would make him easy for pro-choicers to attack. As such, liberals may be frustrated in trying to oppose his nomination. While Gorsuch is an excellent writer, his legal work doesn't provide the Scalia-like acid prose style that will excite opposition.
Rest assured, he will still get opposition. His views on abortion may not exist in his paper trail, nor can they be logically deduced from his other work. But, our society being as polarized as it is, Democrats will presume he is a pro-life fanatic based on the intellectual affinities he's expressed on other topics. Gorsuch praised Scalia, therefore he must be one of them.
Confirmation hearings for Gorsuch may make mention of a book he co-authored about the legal issue of assisted suicide, in which he lays out a temperate but persuasive case against legal euthanasia. Or they may also focus on his unwillingness to give the benefit of the doubt to executive branch agencies in their regulations when cases aren't clear.
Because he would be replacing Scalia, Gorsuch's advent on the Supreme Court does not represent a major advance for social conservatives. But at age 49, Gorsuch is young for a justice, which means his seat could be securely occupied for years to come. If Trump had failed to nominate someone with Gorsuch's credentials, social cons may have tried to scuttle the nomination the way they did when Bush tapped Harriet Miers for consideration a decade ago. That would have opened a major right flank of battle in an already embattled administration.
President Trump has fulfilled his promise to help conservatives hold their line in the Supreme Court. This, however, is just the minimum ask from social conservatives. The real test ahead is whether the Trump White House is willing to fight for this nominee, and whether it will fight in the future, not just to hold the line for their conservatives supporters, but to advance it.

Continue reading for free
We hope you're enjoying The Week's refreshingly open-minded journalism.
Subscribed to The Week? Register your account with the same email as your subscription.