The agony of Sean Spicer
When you go to work for Donald Trump, you can't complain when you wind up with Trump all over you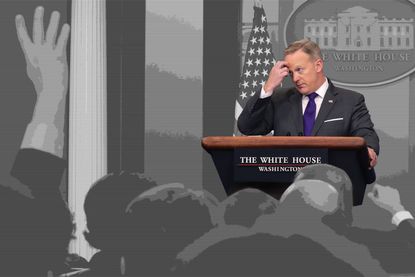 (Image credit: Chip Somodevilla/Getty Images)
Imagine for a moment that you're Sean Spicer. After years working your way up through the ranks of Republican communications professionals — doing press relations for a bunch of members of Congress and congressional committees, starting a PR firm, becoming communications director for the Republican National Committee — you've finally reached the job people like you aspire to. Two of them, actually: Not only are you White House press secretary, the most visible spinmeister in all the land, you're communications director, too, which means it's your job to both craft the spin and spit it out. Your peers will look on you with envy and admiration, you get a charge walking into that building every day, and after a few years you'll move on to corporate communications work that will pay more money than you'll know what to do with.
Alas, things are not going quite as well as you hoped.
Your predecessors may have been tested in times of war or economic collapse, and you no doubt imagined yourself conveying the administration's inspiring words during such a moment, calming the nation and fortifying its resolve. But instead, you've gone from one public relations disaster to another, of your and your boss' making. Indeed, you've become, after President Trump himself, the most mocked person in Washington; you even became an internet meme. And you haven't even been on the job for a month.
Subscribe to The Week
Escape your echo chamber. Get the facts behind the news, plus analysis from multiple perspectives.
SUBSCRIBE & SAVE
Sign up for The Week's Free Newsletters
From our morning news briefing to a weekly Good News Newsletter, get the best of The Week delivered directly to your inbox.
From our morning news briefing to a weekly Good News Newsletter, get the best of The Week delivered directly to your inbox.
Let's take a quick review of Spicer's descent into ignominy, because it was truly remarkable. In only his second day on the job, Spicer was instructed to walk in front of the television cameras and lie — not only that, he knew that everyone knew he was lying. After his boss became incensed at reports that his inauguration had a significantly smaller crowd than some others, particularly Barack Obama's in 2009, something had to be done. "Over the objections of his aides and advisers — who urged him to focus on policy and the broader goals of his presidency," The Washington Post reported, "the new president issued a decree: He wanted a fiery public response, and he wanted it to come from his press secretary." So Spicer came before the White House press corps in his very first briefing, insisted that "this was the largest audience to ever witness an inauguration — period — both in person and around the globe," berated the press for suggesting otherwise, and stormed off without taking any questions.
Most White House press secretaries take months or years to squander their credibility. Spicer did it in five minutes.
One way to look at that event is that it was a test. Spicer was not part of the Trump campaign, which means that he hadn't had the time to earn the new president's trust before becoming his mouthpiece. So right away, Trump made him prove his loyalty, through an act of abject humiliation. Once it was over, he was tied to Trump, and Trump's lies, for good.
But Trump's favor is fickle. He wasn't pleased with Spicer's performance; he didn't even like the grey pinstripe suit Spicer was wearing. When Kellyanne Conway (whom Trump had preferred for the press secretary job) defended Spicer by saying he was merely offering "alternative facts," it only led to a whole new round of mockery.
And then came the unkindest cut: a Saturday Night Live skit in which Spicer was played by Melissa McCarthy, shouting angrily, spouting absurdities, and pushing reporters around with her podium. Trump might have been sympathetic, having been parodied himself a time or two. But no:
So in addition to everything else, Sean Spicer is now the victim of President Trump's bottomless sexual insecurity. Can't the guy catch a break?
Probably not, because his job is to clean up after Trump's messes, which will require defending every ridiculous thing Trump does or says. So when Trump claims that the media is covering up terrorist attacks that happen all the time, Spicer's shop has to scramble to produce a list of supposedly ignored incidents (it included such under-reported events as the attacks in San Bernardino and Orlando), knowing full well it will only lead to more unflattering fact-checks and outright mockery.
But that's part of the bargain, and the press flak's dilemma: Your integrity is forever tied to that of the person you're advocating for. Which is why, as painful as this must all be for him, we shouldn't bother pitying Sean Spicer.
Sure, he's being publicly humiliated on an almost daily basis. Sure, he's held in contempt by the reporters he's supposed to be building a relationship with. Sure, he's a laughingstock. But nobody held a gun to his head and forced him to take the job. When you go to work for Donald Trump, you can't complain when you wind up with Trump all over you.
And something tells me that whether Spicer stays in the White House for a month or a year or more, he'll still get those high-paying corporate gigs when it's over. He'll be just fine.

Continue reading for free
We hope you're enjoying The Week's refreshingly open-minded journalism.
Subscribed to The Week? Register your account with the same email as your subscription.