Legion's big mystery
Just how crazy is the protagonist of FX's new Marvel Universe show?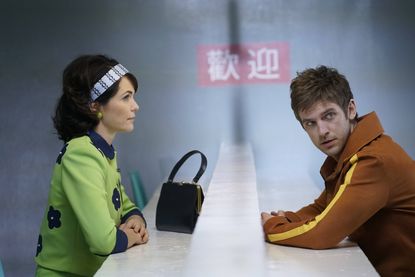 (Image credit: Chris Large/FX)
FX's new Marvel Universe show Legion is the Being John Malkovich of superhero shows. It is stylized, surreal, and so cerebral that the protagonist's memory becomes a literal labyrinth for people to crawl around.
Legion explores the story of David Haller, a mutant with exceptional telepathic and telekinetic abilities who (until recently) didn't understand himself to have any such powers. David (played by Downton Abbey's Dan Stevens) has lived in and out of mental institutions as a diagnosed schizophrenic, but as a "telepath," the voices he hears — which have been chalked up to mental illness — are real. Some of them, anyway: The big question driving Legion isn't whether David Haller is a superhero or schizophrenic. It's whether he's a superhero and schizophrenic.
Creator Noah Hawley asks the question by subjecting us directly to David's fragmented perspective. A scene will start in one location and flip to another without warning: First David is being questioned at a large red table by a man with grey hair. Then he'll continue what seems like the same conversation in a therapist's office, or we'll switch to a scene at the mental hospital. Then it flips back, and the man with grey hair is asking him about what he just said to the therapist. To the viewer, this is disorienting and confusing and upsetting — which is clearly how David himself feels.
Subscribe to The Week
Escape your echo chamber. Get the facts behind the news, plus analysis from multiple perspectives.
SUBSCRIBE & SAVE
Sign up for The Week's Free Newsletters
From our morning news briefing to a weekly Good News Newsletter, get the best of The Week delivered directly to your inbox.
From our morning news briefing to a weekly Good News Newsletter, get the best of The Week delivered directly to your inbox.
It's fascinating to wonder how genuinely unhinged one would feel if one were privy to the innermost thoughts of everyone around — how that chatter would infect your world and make ordinary conversations almost impossible to follow or track. But that's not all Legion is attempting: David appears to hallucinate people, too. His friend Lenny (Aubrey Plaza) shows up in scenes she shouldn't, and his memories are frequently contaminated by (among other things) a truly terrifying yellow-eyed devil. It falls to the viewer — and to some folks who come along to help David manage his abilities — to make sense of this confusing array of symptoms.
As a cinematically ambitious psychological thriller, then, Legion is much less like the series of interconnected Marvel adaptations that have been released on Netflix — Daredevil, Jessica Jones, and Luke Cage — than the latest addition to a growing genre of ambitious television shows built around unreliable narrators who may or may not be mentally ill, like Mr. Robot and The OA. In addition to wondering whether or not we can trust what they're telling us, we're also wondering whether or not they're actually the good guys (although in this case we probably know).
At their best, these series explore the deep wells of self-deception and fantasy out of which character is made. But they only work as long as their characters' neurotic compulsions and ego-protecting delusions are in the service of a larger story. At worst, it's instability for its own sake, and encourages a viewing practice so paranoid that the story literally can't develop. Instead of tracking whether a choice is justified, or a moment earned, the viewer's constant question becomes — as David asks his girlfriend Syd — "Is this real?"
That question can only take you so far. These shows run into trouble when they use narrative unreliability like a magician's card trick, manipulating the audience into thinking they've seen something remarkable by misdirection and illusion. I've written before about a recent epidemic of bad philosophical TV — high-concept television that aims high but loses its footing and resorts to magic (or fetishizes uncertainty). I'll admit here that Legion seems vulnerable to that charge. It's easy to imagine a subreddit overflowing with intricate conspiracy theories that end up going nowhere.
If mental illness weren't a factor, this show could be a transcendent investigation of how memory intersects with telepathy. But because it is, it's worth mentioning — as one possible pitfall — that the comic book character on which David is based (spoiler alert) had a version of dissociative identity disorder with multiple personalities. That's different from schizophrenia, and while Legion declares some independence from the Marvel Universe, it's not clear whether the show understands that distinction. For now, schizophrenia seems to be the operative name for David's hypothetical malady.
Here's the thing: If some characters turn out to be dissociative identity disorder "alters" for David — possibilities include Lenny (Aubrey Plaza) and his suspiciously named girlfriend Syd Barrett (Rachel Keller) — it will be hard to forgive the extent to which those characters' existences seem to be independently confirmed by other parties. It's hard to do dissociative identity disorder well — United States of Tara is a notable exception — and this show so firmly refuses to ground any of what it offers that I can imagine the "reveal" being a showy but technically unconvincing renarration of everything we've seen as David's dysfunction.
Then again, Legion might sew its fragments together beautifully. The show is confident, stunningly beautiful, and truly funny despite its sometimes terrifying subject matter. While Rachel Keller's character is underwritten — as is the love story — Jean Smart, Jeremie Harris, and Aubrey Plaza are scintillating, and the atmosphere is awesomely spooky, even Lynchian. This is a ride worth going on, even if there are risks.

Continue reading for free
We hope you're enjoying The Week's refreshingly open-minded journalism.
Subscribed to The Week? Register your account with the same email as your subscription.