Let's hope Acosta is not another Puzder
Did President Trump just replace one awful labor secretary nominee with another?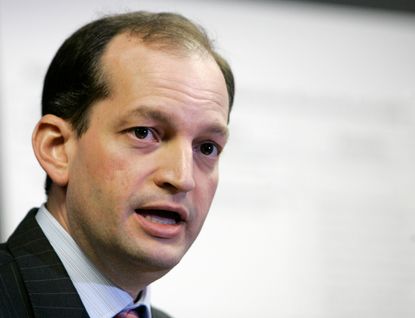 (Image credit: AP Photo/Alan Diaz)
Exit Andy Puzder. Enter Alexander Acosta.
Puzder was President Trump's initial pick to be secretary of labor. But on Wednesday the fast food CEO withdrew his nomination amid a growing batch of scandals and reports that as many as 12 Republicans were withholding their support. By noon on Thursday, Trump had announced Acosta as the replacement nominee, which suggests the White House saw the writing on the wall well before Wednesday and was already prepping their next move.
The irony of Puzder's withdrawal is that while he was an utterly atrocious pick for labor secretary, the scandals — over a domestic abuse allegation and an undocumented immigrant he once hired — didn't have much to do with his agenda. This is a shame because his thoughts about labor alone should have been enough to scuttle his nomination.
Subscribe to The Week
Escape your echo chamber. Get the facts behind the news, plus analysis from multiple perspectives.
SUBSCRIBE & SAVE
Sign up for The Week's Free Newsletters
From our morning news briefing to a weekly Good News Newsletter, get the best of The Week delivered directly to your inbox.
From our morning news briefing to a weekly Good News Newsletter, get the best of The Week delivered directly to your inbox.
Puzder repeatedly argued against efforts by unions and lawmakers to increase the minimum wage, and against the decision by Obama's labor secretary to expand the number of workers eligible for overtime pay. He claimed such policies would actually hurt workers by destroying jobs and shoving them out of full-time pay. In 2015, Puzder even argued that programs like Medicaid and food stamps "have the unintended consequence of discouraging work rather than encouraging independence, self-reliance, and pride" — citing his first-hand experience running Carl's Jr. and Hardee's as evidence.
There's a pretty consistent theme here. Puzder basically understood labor as a feudal relationship between employers and employees. Because workers are utterly dependent on their lord for their livelihoods, the only way to help them is to shower their employers with tax breaks and cut away the regulatory red tape that holds them back.
This flies in the face of everything the labor secretary is supposed to stand for. Empowering workers to make demands of their employers, or setting limits on what employers can demand, is the whole point of having the department in the first place. But in Puzder's view, workers must be made as powerless and exploitable as possible for their own good, since this maximizes employers' profits and encourages their beneficence. This core philosophy would have made Puzder an appalling pick for the position regardless of his scandals.
So the danger of how Puzder went down is the Trump White House might take the wrong lesson from it: They may conclude they just need someone with the same philosophy, but with a cleaner personal track record.
Is that the sort of labor secretary Alexander Acosta will be? So far it's unclear.
He once clerked for Samuel Alito, who has cut an anti-worker, pro-corporate swath with his opinions as a justice on the Supreme Court. But Acosta was also a member of the National Labor Relations Board, where he served from December 2002 to August 2003 and apparently authored over 125 opinions. Those opinions could give a sense of of how Acosta views the proper relationship between employers and employees. Is it a trickle-down feudal relationship? Or is it a partnership between equals?
Interestingly, Acosta also spent time as a U.S. attorney in Miami, where he prosecuted hundreds of cases dealing with health care, banking, and mortgage fraud. He's pushed for a standardized Spanish version of Miranda rights for police to read to suspects, and tried to highlight the importance of protecting the civil rights of Muslims. At the same time, while Acosta was an assistant attorney general for the civil rights division of George W. Bush's Justice Department, a government investigation found that an official under his authority made improperly politicized hires.
Acosta was also the chairman of a community bank in Florida and he would be the first Hispanic Trump has nominated to a Cabinet position.
Acosta is basically a mixed bag, and we don't know much of what's in it yet. Activists, reporters, lawmakers, and other observers should keep an open mind, but be thorough and ruthlessly vigilant.
Editor's note: A previous version of this article misstated part of Acosta's work history. It has been corrected. We regret the error.

Continue reading for free
We hope you're enjoying The Week's refreshingly open-minded journalism.
Subscribed to The Week? Register your account with the same email as your subscription.