What happens when President Trump faces a genuine emergency?
Trump will inevitably face a deadly hurricane or pandemic. It will be a disaster.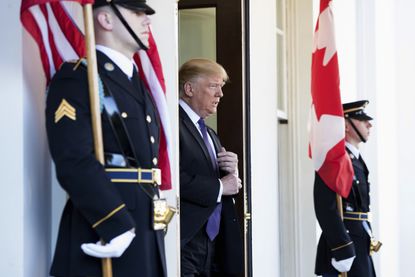 (Image credit: AP Photo/Andrew Harnik)
Donald Trump's presidency, now just over a month old, feels like one continuous national disaster. Yet all of his myriad problems have been entirely self-created — the result of poor nominations, constant lying, inattention to important details, and above all incompetence. Trump is not just a political novice — he is obviously incapable of learning on the job.
Which raises the question: What happens when President Trump faces a genuine emergency, like a bad hurricane or pandemic? A serious disaster is a virtual certainty.
Now, the GOP as a party doesn't have a great track record here. Disaster relief is one of those areas where there is simply no alternative to competent, efficient action from federal agencies, but Republican skepticism of government only undermines competence and increases cost.
Subscribe to The Week
Escape your echo chamber. Get the facts behind the news, plus analysis from multiple perspectives.
SUBSCRIBE & SAVE
Sign up for The Week's Free Newsletters
From our morning news briefing to a weekly Good News Newsletter, get the best of The Week delivered directly to your inbox.
From our morning news briefing to a weekly Good News Newsletter, get the best of The Week delivered directly to your inbox.
Under Republican rule, incompetent party loyalists get placed in charge of the relevant agencies, especially the Federal Emergency Management Agency (FEMA), contracts are doled out to politically connected firms, and when there's an emergency, it's horrifically bungled. Witness George W. Bush's grotesque botch of the response to Hurricane Katrina, which killed over 1,200 people and caused over $108 billion in damage — and from which New Orleans still has not fully recovered. All the ingredients were there: The witless party hack in charge, the agency contracted into Swiss cheese, and above all the uncomprehending president, seemingly bewildered at the idea that the government is supposed to protect its citizens.
President Obama was no stellar manager in every respect — the Healthcare.gov rollout comes to mind — but he unquestionably did a good job with emergency management. He handled the Ebola outbreak, several good-sized hurricanes, many bad floods, and more without any big errors. These days liberal Democrats are often uncomfortable with old-fashioned bureaucracies, but emergencies provide the jolt to snap through any hesitation and push them to have the courage of their convictions.
As Daniel Franklin wrote at the Washington Monthly back in 1995, this is a story going back decades. FEMA was an incompetent mess in 1992, but the Clinton administration painstakingly built it into a high-quality, effective emergency response machine. Bush let his rich friends devour it, then Obama built it back up again.
Now there is every sign that Trump — with his even more corrupt and loyalist-driven approach — is going to return to Republican form. Only this time, he adds an extra layer of chaos and incompetence.
On appointments, he's way behind the average in getting his Cabinet confirmed, and he's already lost his first nominee for secretary of labor. Worse, his first national security adviser — an important part of any crisis-management team — has already resigned in disgrace, and seemingly nobody wants to replace him. Trump would certainly appoint some inexperienced friend of his to FEMA, but he also might just forget to appoint anyone at all.
The reality of Trump as a person is also horribly suited to disaster response. As Obama's former emergency manager explains, wise leadership in an emergency means careful delegation and attention to detail. Emergencies are complicated, and the various response agencies have different or overlapping areas of expertise and authority.
In a disease outbreak, for example, FEMA will have to closely coordinate with the Centers for Disease Control and other agencies, developing a response based on how the disease is transmitted, what the treatment options are, the best methods of containment, and so on. Such agencies often do not automatically play well together (lack of coordination was one of the worst problems with Katrina), so this requires intelligent, firm leadership to happen. Obama's famously unflappable personality was a good fit here.
But Trump is not just temperamentally the exact opposite of Obama, he also believes conspiracy theories about vaccines causing autism. Chances are good that sometime soon we're all going to find out what happens when the man responsible for preventing pandemics is a 3 a.m. rage-tweeter who doesn't believe in basic medicine.

Continue reading for free
We hope you're enjoying The Week's refreshingly open-minded journalism.
Subscribed to The Week? Register your account with the same email as your subscription.