Trump's address to Congress shows he's finally figuring out how to be the president
This is what learning on the job looks like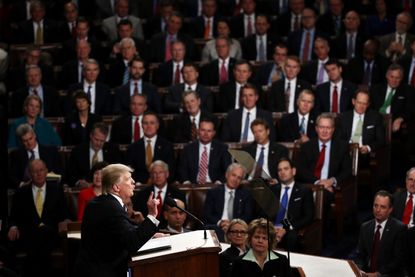 (Image credit: Win McNamee/Getty Images)
Donald Trump gave his best-ever political speech before Congress last night.
Let's stipulate that this was a low threshold to clear, lowered even more by the impression given over the last several weeks that his presidency was failing upon launch. Trump is a natural bar booth talker not made for the podium, and yet somehow, the pace of applause and the rat-a-tat style crafted by his speechwriters made Trump into a more competent and savvy version of himself.
There were flashes of the Trump we know. The one who is willing to recite horror stories of immigrant crime in order to juice support for his border wall and his hardline enforcement approach. But Trump spent most of the speech attempting to ground his conservative-nationalist agenda in a wider appeal. He said his nationalist trade and immigration policies would help the children in the "inner cities" of Chicago, Baltimore, and Detroit be more likely to get a job, or protect them from drugs and violence.
Subscribe to The Week
Escape your echo chamber. Get the facts behind the news, plus analysis from multiple perspectives.
SUBSCRIBE & SAVE
Sign up for The Week's Free Newsletters
From our morning news briefing to a weekly Good News Newsletter, get the best of The Week delivered directly to your inbox.
From our morning news briefing to a weekly Good News Newsletter, get the best of The Week delivered directly to your inbox.
The live comments section that is my social media feed jeered the president for making us fearful. The vision of America that Trump laid out can't be found at their food co-ops and co-working spaces. Our cities are a source of pride, they said, and many of the most diverse cities are thriving and have low crime rates. That's true. Many American cities are thriving. But there are second- and third-tier cities that are rotting by comparison. And even America's successful diverse cities tend to be some of the most segregated places in America by neighborhood. Somehow these functional cities haven't gotten people as a mass to trust each other beyond the way the market causes them to interact.
Trump also put his travel ban and immigration policies in the context of America's perennial nagging fear that it will one day become weak, doddering, and vulnerable, like its European elders. Trump was the anti-Angela Merkel: "We have seen the attacks in France, in Belgium, in Germany, and all over the world," he said. "It is not compassionate, but reckless, to allow uncontrolled entry from places where proper vetting cannot occur."
He invoked recently spiky crime rates in some cities and promised to restore a sense of safety. Crime is not an issue that the president can solve directly, but he can use the issue to signal vaguely what side he's on, and Trump has over and over again allied himself with law enforcement.
Trump's promise to "develop a strategy to more effectively prosecute people who engage in crimes against law enforcement officers" was derided as being a reaction to a "statistically minuscule problem." That's true. But it proves that Trump is learning something important about the job. Every White House manages to mine minuscule but richly symbolic culture-war issues — like hospice nuns not providing free birth control to employees as part of their compensation — for major partisan advantage. Yes, the promise is demagogic, and that's precisely what makes it presidential, too.
Trump still hasn't entirely solved the problems he had coming into the speech, namely that the Republican Congress can't agree on a way forward for health care reform, and has deep disagreements over tax reform. The Trump administration's focus on its executive order travel ban, and its slowness on filling sub-Cabinet positions has left a vacuum of leadership on these issues.
But overall, he will have re-energized his fans, and given conservative media some relief from what has been a tedious job defending his presidency, or at least enduring its critics.
And there were some moments where Trump managed to evoke something like hope. Looking forward to the 250th anniversary of America's founding, in 2026, Trump invoked some of the major achievements that a great people should expect: cures to disease, millions lifted into work, better schools and jobs. Even "American footprints on distant worlds."
These are "not too much to ask," Trump said, in a grandiose understatement. Now we wait for the follow-through.

Continue reading for free
We hope you're enjoying The Week's refreshingly open-minded journalism.
Subscribed to The Week? Register your account with the same email as your subscription.