The death of honest debate in America
Stop shouting. Listen. Think. Learn.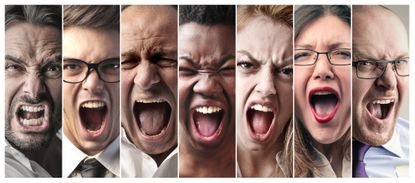 (Image credit: iStock/bowie15)
Sign up to our 10 Things You Need to Know Today newsletter
A free daily digest of the biggest news stories of the day - and the best features from our website
Thank you for signing up to TheWeek. You will receive a verification email shortly.
There was a problem. Please refresh the page and try again.
Does social media drive social isolation, or does social isolation drive social media?
A new study published in the American Journal of Preventive Medicine attempts to explore these (and many other) questions. The study tracked almost 1,800 young Americans between 19 and 32 years of age, and measured their use of 11 social media platforms along with their own self-reported level of perceived social isolation. Those who landed within the highest quartile of social media use reported the highest levels of isolation. They were three times more likely to report feelings of isolation than those in the lowest quartile of use. The study refrains from postulating a causative relationship, but still notes the strong correlation.
So the question still begs: Does isolation derive from continued use of social media, or do people use social media more because they feel socially isolated?
Subscribe to The Week
Escape your echo chamber. Get the facts behind the news, plus analysis from multiple perspectives.
SUBSCRIBE & SAVE
Sign up for The Week's Free Newsletters
From our morning news briefing to a weekly Good News Newsletter, get the best of The Week delivered directly to your inbox.
From our morning news briefing to a weekly Good News Newsletter, get the best of The Week delivered directly to your inbox.
Well, think about it like this: In almost every context of social interaction and politics, we see increased division to the point where tribalism has begun to eclipse debate, and isolation almost seems to be the point.
Two recent incidents at well-respected universities underscore this trend. A riot broke out at the University of California at Berkeley last month when campus Republicans invited right-wing provocateur Milo Yiannopoulos to speak. Criticism arose immediately when the event was announced, even before Yiannopoulos' career-strangling comments on pederasty came to light, but the group persisted, explaining that they did not agree with all of Yiannopoulos' statements and positions but wanted to engage him on those points in the spirit of free speech on the campus that gave birth to the free speech movement. Rather than allow that engagement, opponents of Yiannopoulos rioted, necessitating the shutdown of the event.
That this was not an isolated trend became clear last week at Middlebury College in Vermont. Charles Murray, a controversial academic who has taken decades of criticism over his analysis of IQ scores in The Bell Curve, was invited to speak by a conservative student group, an event that was co-sponsored by the political science department at Middlebury. Professor Allison Stanger agreed to moderate the talk despite her own profound opposition to Murray's politics, a choice she explained on her Facebook page. "[W]hile my students may know I am a Democrat, all of my courses are nonpartisan," Stanger wrote, "and this was a chance to demonstrate publicly my commitment to a free and fair exchange of views in my classroom."
The social interaction potential at Middlebury turned out to be no better than at Berkeley a month earlier. Riots broke out at the campus while activists repeatedly attempted to disrupt the event. Rather than engage, they drowned out the speech with chants and by pulling fire alarms, even after the college tried moving Murray to another location on campus. For her efforts to promote civil and social engagement, Stanger ended up in the hospital after she and Murray got attacked while leaving the building.
It "felt like a scene from Homeland rather than an evening at an institution of higher learning," Stanger recalled on Facebook later. "We confronted an angry mob as we tried to exit the building. Most of the hatred was focused on Dr. Murray, but when I took his right arm both to shield him from attack and to make sure we stayed together so I could reach the car too, that's when the hatred turned on me. One thug grabbed me by the hair and another shoved me in a different direction. I noticed signs with expletives and my name on them."
While speaking on a panel at the Conservative Action Political Conference last month, I criticized the use of the word "enemies" by both Donald Trump and Hillary Clinton while describing political and media opponents. That comment got an immediate and harshly negative response from a small segment of the (conservative) audience, who angrily retorted that anyone opposed to their point of view wanted to destroy America and were therefore "enemies" indeed.
On both sides, America's political environment has devolved into a kind of tribalism, where those with heterodox points of view must not be engaged, but silenced altogether and terrorized from the public square.
So what's the lesson? Social media may not cause social isolation so much as it channels it. Twitter especially seems most prone to choosing sides and shutting down those with opposing points of view, but Facebook may not be far behind, as politics intrudes on relationships with friends, families, and co-workers. Those platforms allow people of similar passions to form new tribes and to enforce orthodoxy of the tribal doctrines that unite them. Every heterodox utterance becomes the bait for an online version of a Berkeley or Middlebury riot, where all tribes can collide without ever engaging.
The problem isn't social media or social isolation, but the replacement of discussion of complex issues with tribalism and the momentary satisfaction of triumphalistic shutdowns.
Continue reading for free
We hope you're enjoying The Week's refreshingly open-minded journalism.
Subscribed to The Week? Register your account with the same email as your subscription.
Sign up to our 10 Things You Need to Know Today newsletter
A free daily digest of the biggest news stories of the day - and the best features from our website
Edward Morrissey has been writing about politics since 2003 in his blog, Captain's Quarters, and now writes for HotAir.com. His columns have appeared in the Washington Post, the New York Post, The New York Sun, the Washington Times, and other newspapers. Morrissey has a daily Internet talk show on politics and culture at Hot Air. Since 2004, Morrissey has had a weekend talk radio show in the Minneapolis/St. Paul area and often fills in as a guest on Salem Radio Network's nationally-syndicated shows. He lives in the Twin Cities area of Minnesota with his wife, son and daughter-in-law, and his two granddaughters. Morrissey's new book, GOING RED, will be published by Crown Forum on April 5, 2016.