Take the president literally
Trump is president. We have to take him seriously and literally.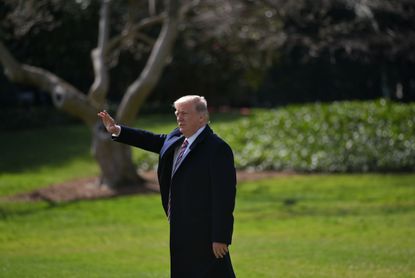 (Image credit: Mandel Ngan/Getty Images)
Sign up to our 10 Things You Need to Know Today newsletter
A free daily digest of the biggest news stories of the day - and the best features from our website
Thank you for signing up to TheWeek. You will receive a verification email shortly.
There was a problem. Please refresh the page and try again.
Back in September, Salena Zito had one of those pithy insights every writer longs for, saying something that seems to capture concisely and precisely what others had been feeling but couldn't quite put their finger on. Commenting on one of the bogus claims Donald Trump would repeatedly make to his cheering crowds, she wrote, "When he makes claims like this, the press takes him literally, but not seriously; his supporters take him seriously, but not literally."
The line would be repeated on television and in print too many times to count as an explanation both for what the press supposedly missed about the Trump phenomenon and why his voters seemed unconcerned with the spectacular torrent of lies Trump spewed at them.
Today, Trump is president. And as such, no one can afford not to take him seriously. So can we finally start taking him literally, too?
Subscribe to The Week
Escape your echo chamber. Get the facts behind the news, plus analysis from multiple perspectives.
SUBSCRIBE & SAVE
Sign up for The Week's Free Newsletters
From our morning news briefing to a weekly Good News Newsletter, get the best of The Week delivered directly to your inbox.
From our morning news briefing to a weekly Good News Newsletter, get the best of The Week delivered directly to your inbox.
In fairness, the news media has been doing its best. When President Trump says something preposterous — for instance, that former President Obama had his phone tapped during the campaign — it gets dutifully fact-checked, and administration representatives and Republicans in Congress are asked to defend it. It's no easy task, which is why some occasionally fall back on the seriously/literally distinction. GOP Rep. Devin Nunes, the chair of the House Intelligence Committee, was asked on Tuesday about Trump's phone-tapping allegation, and he responded, "The president is a neophyte to politics. He's been doing this a little over a year. And I think a lot of the things that he says, you guys sometimes take literally. Sometimes he doesn't have 27 lawyers and staff looking at what he does, which is at times, I think, refreshing."
Sorry, that's not good enough anymore.
There are surely lots of Trump voters who still aren't worried about whether what President Trump says on a daily basis is "true" or has any basis in "facts." But they may be starting to suspect that when it comes to his actions and not his words, things are about to get very literal.
Take, for instance, the health-care plan that Republicans unveiled this week. President Trump had earlier promised "insurance for everybody," and said that they'd have it at a lower cost than what they're paying now. Here's what he's saying now about the GOP's widely panned plan:
Got that? Of course not, because it's utterly nonsensical. During the campaign and especially after, many Trump supporters told journalists that they weren't really worried that Trump would take away their health coverage, because he's a good man and he'd never do a thing like that. It was all just talk.
Well they're in for a surprise. Who do you think the Republican plan hits hardest? It isn't Wall Street fat cats, it's people of modest incomes, who will lose either the Medicaid coverage they've relied on or the subsidies that have made coverage affordable (the latter will be replaced by much less generous tax credits). Those white working-class voters are going to get it good and hard, as are the older voters — more likely to be Republicans — who will be charged much more for insurance and get much less help (which is why the AARP is opposing the plan).
Speaking of Wall Street, you might have noticed that all that anti-elite talk hasn't been coming from Trump so much lately. Turns out that we should have taken it neither seriously nor literally, as much of his economic brain trust comes straight from Goldman Sachs.
But what about the border wall? Trump voters knew that the wall was real, even if the pledge to get Mexico to pay for it was just bluster. They were right about that: The administration is now proposing to pay for the wall by making drastic cuts to the Coast Guard, the TSA, and FEMA. Who needs any of that stuff when you've got a big, beautiful wall?
The wall may not have much practical effect, but it will send a powerful symbolic message. What it won't do is reverse the hands of time, bring back all those unionized factory jobs with high pay and great benefits, and remake America into a culture purged of people not like "us." That's something Trump's voters were promised too, and on that they took him seriously.
Mario Cuomo famously said that you campaign in poetry but govern in prose. Trump was never one for poetry, but he campaigned with wild claims and constant appeals to base emotions that crowd out anything resembling reason. His own proclivities haven't changed — he's just as likely as ever to lie, make things up, and promise things he can't possibly deliver. But now there are real consequences, because he's creating policies that affect people's lives. Literally.
Continue reading for free
We hope you're enjoying The Week's refreshingly open-minded journalism.
Subscribed to The Week? Register your account with the same email as your subscription.
Sign up to our 10 Things You Need to Know Today newsletter
A free daily digest of the biggest news stories of the day - and the best features from our website
Paul Waldman is a senior writer with The American Prospect magazine and a blogger for The Washington Post. His writing has appeared in dozens of newspapers, magazines, and web sites, and he is the author or co-author of four books on media and politics.