Why the Republicans' civil war is a sign of political strength
Is the GOP just too big to govern?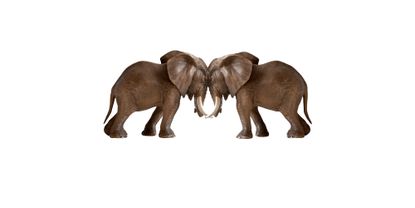 (Image credit: iStock)
It's been a fun news week if you believe, or want to believe, there's a civil war in the Republican Party. But as entertaining as this fractiousness is, it is also a sign that the GOP may simply have too much electoral strength to govern. The different members of the party don't need each other enough to be disciplined. And so they fight.
To recap: A few days after Republican leadership in the House let the public see its new health-care bill, the Congressional Budget Office released its estimate that 24 million Americans who get health insurance under ObamaCare would lose it or drop it under the plan devised by Speaker Paul Ryan. Close news watchers, always looking for the hidden hand of Trump's adviser Stephen Bannon in the news then saw something that looked like a Bannonite plot unfolding in real time.
Someone in the White House leaked to Politico that the Trump administration's in-house estimates on the RyanCare plan featured even greater numbers of people losing insurance. And then Bannon's old haunt on the web, Breitbart, also printed a story with a recording of Ryan from last October saying that he didn't intend to defend Trump then or in the future. One could theorize that Trump and Bannon were working together to punish Ryan for his lack of loyalty, or that Bannon alone was trying to manipulate the Republican policy debate by hammering Ryan in the press. Which is to say, in front of Trump.
Subscribe to The Week
Escape your echo chamber. Get the facts behind the news, plus analysis from multiple perspectives.
SUBSCRIBE & SAVE
Sign up for The Week's Free Newsletters
From our morning news briefing to a weekly Good News Newsletter, get the best of The Week delivered directly to your inbox.
From our morning news briefing to a weekly Good News Newsletter, get the best of The Week delivered directly to your inbox.
This fight reveals the problem of strength. Because our federal system gives greater weight to less densely populated areas where the Republicans are strong, they are an electoral heavyweight. They control both houses of Congress, and their strength in the states is so great that political journalists at least feel forced to explain that the GOP can't quite pass constitutional amendments on their own. But the party is also shaped by the extremely high number of safe seats that are either features of our regionalized politics or expansive gerrymandering. A party with so many safe seats and comfortable majorities sure has a hard time governing.
Trump ran his campaign almost entirely as himself rather than as a normal Republican. He stayed away from policy details on health care, promising only that it would be terrific and take care of everyone. Republicans in the House and Senate felt no need to rally to his ideas and so campaigned on their own or none.
That has left the new Republican-dominated government divided in a few ways. The most juicy divide is the one between the populists like Bannon and the tax-cutting wonks like Ryan. But there are other fissures that will make governing difficult.
The internationalist hawks like Lindsey Graham and John McCain can scuttle a plan whenever they recruit just one more Republican senator. These are men who may not ever run again and have little to lose. Then there are the liberty Republicans. Justin Amash in the House just laughed when a television host suggested that resisting the health-care bill could put him at odds with Ryan or Trump and mean the loss of his seat. "It's not going to cost me my seat," he said, with a satisfied grin. Similarly Rand Paul or Ben Sasse in the Senate can justly claim that voters support them for taking principled stands, not for getting on board with the usual GOP agenda.
The Republican Party's success has become a kind of affliction. It is elected to oppose Democrats, but there is nothing like a party-wide mandate on issues like health care or trade. Even immigration will be tough, as business-class Republicans take advantage of these divisions in the party.
Absent some crisis — or a major electoral shakeup in 2018 — its impossible to see how these disparate factions can come to together on some of the major issues Trump's administration is expected to address. Is the GOP simply too big to govern?

Continue reading for free
We hope you're enjoying The Week's refreshingly open-minded journalism.
Subscribed to The Week? Register your account with the same email as your subscription.